Free Picks
»
NBA Picks
» 2020 San Antonio Spurs Odds to win NBA Championship with Expert Predictions
2020 Spurs Championship Odds: Popovich Will have To Work His Magic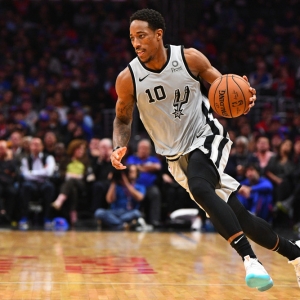 San Antonio Spurs Betting Storylines
In the spring of 1997, I graduated from college. It seems like that was a lifetime ago. This isn't just nostalgia, though. That time is relevant here, too. As I was walking across the stage and tossing my hat, the San Antonio Spurs were struggling to a 20-win season. David Robinson was nearing the end of his prime, and things seemed a little desperate. During that bleak season, coach Bob Hill was fired. The GM named himself the replacement. That's almost always a horrible idea, but it turns out it's not when that GM was Gregg Popovich. The team earned a lottery pick, took Tim Duncan, and has never missed the playoffs since. Five titles. The most wins for a coach in league history. And never a misstep. Even last year, with Duncan retired and Kawhi Leonard gone in dramatic fashion, Pop found a way to keep the streak rolling. But this year that is going to be even tougher to manage. The West is deeper than it was, and this team has some concerns. But there is magic in San Antonio, and counting them out is a tough thing to do.
San Antonio Spurs Additions and Departures
The Spurs didn't make a big splash in the offseason, but they did add a couple of guys who can deliver real value. Chief among them is DeMarre Carroll, the veteran forward who the team grabbed from the Grizzlies for Davis Bertans and the rights to a Euro. Carroll is 33, so he's not going to get better as time goes along. But he is useful off the bench. Most notably, he shoots well from outside. San Antonio doesn't shoot from deep nearly as much as teams in the league are nowadays, so this addition could help.
The other addition, this time through free agency, is Trey Lyles, It is a little concerning - more than a little, really - that the guy is entering his fifth season and has joined his third team. The Nuggets paid handsomely to get him - traded away the draft rights to Donovan Mitchell - and let him walk two seasons later. It wouldn't be a good idea to be too optimistic about Lyles as a result. But he's talented and is solid depth - and potentially more if Pop can get through to him like other coaches have failed to.
The biggest addition could be one from inside. In his second year, point guard Dejounte Murray became the youngest player named to an NBA All-Defensive team. But then he tore his ACL entering last season and missed all year. He's back now and should be healthy and ready to go. Add in Lonnie Walker IV, a 2018 first-rounder who was injured and missed much of last year but looks to be in great shape entering this year, and progress could come from within.
The team had two draft picks this year - their own and one from Toronto in the Kawhi Leonard deal. At 18th, they took Croatian forward Luka Samanic, who has been, like every young Croatian player, been compared to Tony Kukoc. And at 29th they took forward Keldon Johnson, who had one strong year at Kentucky. Both guys will have a good chance to earn opportunities.
San Antonio Spurs Futures Odds and Trends
San Antonio Spurs Futures Odds
NBA title odds : +6600
Western Conference title odds : +4000
Southwest Division title odds: +450
DeMar DeRozan MVP Odds : +8000
Season win total: 45.5
Will the San Antonio Spurs make the playoffs: Yes -220, No +180
The Spurs were 43-37-2 ATS last season, so they produced some decent profits for bettors that consistently had faith in them. That was the ninth-best mark in the league. There was a little money to be made on the over as well - they went over the total 43 times and under 38.
San Antonio Spurs Predictions and Futures Odds Picks
DeMar DeRozan is a long way from the most efficient player in the league, but he can score, and he played well for the Spurs last year, using the massive chip on his shoulder to fuel him in positive ways after being dealt from Toronto. He, and LaMarcus Aldridge, are the core of this team, and there are squads out there that have a worse duo. And the youth in the backcourt - particularly Murray and Derrick White - could be very good. Lonnie Murray could break out this year, too. This team is going to play strong defense. Scoring enough is less certain - when Rudy Gay is your third biggest offensive threat, you don't have a great offense. It is very tough to assess where this team is at, though. Their ceiling is a lower playoff spot, and there are a lot of teams that will be fighting for that spot . I am definitely more pessimistic about their playoff chances than the odds suggest that the oddsmakers are. But they have deserved the benefit of the doubt, so I am not going to count them out yet. At this point the only thing we can do is sit back and wait to evaluate this team.
Read more articles by Trevor Whenham
Get all of Today's NBA Picks
Get all of Today's Guaranteed Expert NBA Picks