Free Picks
»
NBA Picks
» Free NBA Picks: Saturday, April 13, 2019, Opening Line Report and Handicapping
Free NBA Picks: Saturday, April 13, 2019, Opening Line Report and Handicapping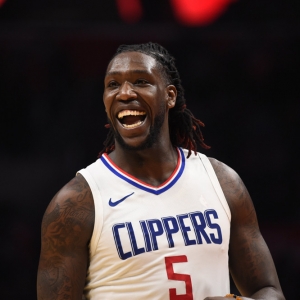 OK, this is the LAST time I talk about the freaking Lakers this season. But, the news of the week and which has overshadowed the start of the playoffs was Magic Johnson shockingly quitting as team president after L.A.'s final game of the year Tuesday night. I watched that entire impromptu press conference online and haven't seen anything like that before. Magic is arguably the best and most popular Laker ever, and his legacy in the eyes of those fans won't ever be tainted. But he has been a colossal flop as both a head coach and now president of his beloved organization. How can he quit without informing team owner Jeanie Buss first? That's just absurd; probably 90 percent of Americans would love to up and quit their jobs but can't do so because they aren't gazillionaires like Magic. The Lakers indeed are a mess, and Coach Luke Walton might actually survive now because Buss likes him. Magic had authority to fire Walton and was going to but instead took his ball and went home. LeBron James was reportedly blindsided by the news as well, but he's not going to be requesting a trade. LeBron went to L.A. for his off-the-court ventures. It's quite amazing what that failed Anthony Davis trade did this season in tearing apart both the Pelicans and Lakers franchises. Here's a look at Saturday's four playoff openers.
No. 6 Nets at No. 3 76ers (-7, 231.5)
A 2:30 p.m. ET start on ESPN. It was just two seasons ago that these teams had the two worst records in the Eastern Conference. This looks to be the most interesting first-round East series because the Nets are possibly the most fun team in the East to watch. They are going to play fast and unleash around 40 three-pointers per night. If they are hitting, they can beat anyone. The Nets also enter with some momentum, having won their final three of the regular season. It's truly amazing the turnaround under GM Sean Marks and Coach Kenny Atkinson. The Sixers lost four of their final six but didn't have a heck of a lot to play for with the third seed locked up in most of those.
Easily the big question for Game 1 is the status of the NBA's best center, Joel Embiid. The Nets have no one who can deal with him - few teams do. Embiid is dealing with a sore left knee that caused him to miss 14 games since the All-Star break (some of those simply to rest). He missed five of the final seven, and GM Elton Brand said it was "possible" that Embiid sits Game 1. I find that hard to believe. These teams split four regular-season meetings - Brooklyn dominated in 58 minutes with Embiid off the floor.
Key trends: The home team is 4-1 against the spread in the past five meetings. The "over/under" is 5-0 in Philly's past five at home overall.
Early lean: Nets and under.
No. 7 Magic at No. 2 Raptors (-8.5, 216)
Starts at 5 p.m. ET on ESPN. No one seems to mention Steve Clifford as a possible Coach of the Year winner, but the Magic improved from 25-57 last year under Frank Vogel to 42-40 under Clifford this season. That was largest turnaround in the NBA and the second-biggest improvement in franchise history. The Magic won their first division title since 2009-10 and are in the playoffs for the first time in seven years. This team could take a step back next year, though, because All-Star center Nikola Vucevic is a free agent. Orlando might not pay big bucks to Vucevic as the team drafted Texas center Mo Bamba at No. 6 overall in the 2018 draft. He's out injured.
Toronto has yet to reach the NBA Finals in franchise history, and this might be the franchise's last, best chance for a while if Kawhi Leonard leaves in free agency for the Clippers this summer as many believe the Los Angeles native will do. While it was probably a 90 percent chance that Leonard was going to the Clippers when this season started, it might be down to 50-50 now as he has enjoyed his time in Toronto. The franchise has catered to his every wish, never playing Leonard both ends of a back-to-back. These teams split four regular-season meetings. The Magic have dropped 10 of their past 12 in Toronto.
Key trends: The Magic are 4-1-1 ATS in the past six meetings. The over is 4-1 in the previous five in Toronto.
Early lean: Raptors and over.
No. 8 Clippers at No. 1 Warriors (-12.5, 232)
ABC prime-time game. The Warriors would never say this, but I assure you that they preferred the Clippers in the first round over Oklahoma City or San Antonio. Part of that is simply the travel as it's only about an hour flight from San Francisco/Oakland to Los Angeles and the Warriors get to stay in the Pacific Time Zone. Steph Curry tweaked his foot on Tuesday and didn't play Wednesday's meaningless loss in Memphis, but he's fine. Curry finished fifth in the NBA in scoring at 27.3 ppg, second-best of his career. This could be the beginning of the end of the Warriors as we know them with Kevin Durant and DeMarcus Cousins both set for free agency. Cousins for sure won't be back for financial reasons, and many believe Durant is leaving.
Obviously nice for the Clippers to make the playoffs, but it might hurt their long-term development as they now send their first-round draft pick to Boston. That was Top 14 protected. Probably no chance the Clippers win this series, and they could look a lot different next season with the potential of luring Kawhi Leonard in free agency. This sentence hasn't been said often: The Clippers are more stable than the Lakers. The Clippers won the first meeting this season vs. Golden State but lost the final three - the last two weren't close.
Key trends: The Clips are 4-1 ATS in their past five in Oakland. The over is 4-1 in those.
Early lean: Clippers and over.
No. 7 Spurs at No. 2 Nuggets (-5.5, 211)
Tip off at 10:30 p.m. ET on ESPN. Might be the best coaching job yet for future Hall of Famer Gregg Popovich in getting this team into the postseason after trading Kawhi Leonard in the summer. Amazingly, this franchise hasn't missed out on extra basketball since 1996-97 when it tanked following David Robinson's injury. The Spurs closed the season on a three-game winning streak, two of those on the road. That's notable because they were just 16-25 away this season.
Denver had the NBA's best home record at 34-7. It clinched the No. 2 seed on Wednesday in a come-from-behind 99-95 win over the visiting Timberwolves. The Nuggets scored the game's final 15 points. Nikola Jokic had another monster game with 29 points and 14 rebounds. These teams split four regular-season meetings, naturally the home team sweeping.
Key trends: The Spurs are 1-5 ATS in their past six after a win. The under has hit in four straight meetings.
Early lean: Nuggets and under.
Read more articles by Alan Matthews
Get all of Today's NBA Picks
Get all of Today's Guaranteed Expert NBA Picks