Free Picks
»
NBA Picks
» Free NBA Picks: Sunday, April 14, 2019, Opening Line Report and Handicapping
Free NBA Picks: Sunday, April 14, 2019, Opening Line Report and Handicapping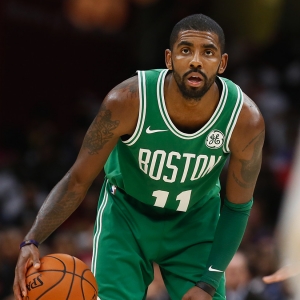 You can make some nice cash betting on a No. 7 or No. 8 seed to upset a No. 2 or No. 1 in the first round of the Stanley Cup playoffs. Shoot, perhaps the Columbus Blue Jackets can knock off the historically good Tampa Bay Lightning this month after shockingly rallying for a Game 1 win in Tampa. However, I don't recommend those long-shot series upset wagers in the NBA. Since the league expanded the playoffs to 16 teams in 1984, there have been only five examples of a No. 8 upsetting a No. 1. It last happened in 2012 when Philly knocked off Chicago, although the Bulls lost Derrick Rose to season-ending injury in Game 1. In addition, a No. 7 has upset a No. 2 only five times. That hasn't happened since Spurs over Mavericks in 2010. That's the only example of a No. 7 beating a No. 2 since the format switched to a best-of-seven series in 2003. Here's a look at Sunday's playoff openers.
No. 5 Pacers at No. 4 Celtics (-7, 209.5)
A 1 p.m. ET start on TNT. Indiana and Boston meet in the playoffs for the sixth time overall and first since the 2004-05 first round. Which Celtics will show up? The one with the most talented roster east of Oakland or the one that has been wildly inconsistent this season? Your guess is as good as mine, although I expect some significant changes this offseason should the Celtics be upset in this series. Anthony Davis coming to Beantown among them. The C's will be without guard Marcus Smart, a stellar defender, for at least all of this series and probably the second round if Boston gets there. He has a torn oblique on his left side. Numbers don't really explain how important Smart is to the team.
Kudos to Indiana for earning the No. 5 after losing star Victor Oladipo for the final few months, but the Pacers probably aren't that good and enter having lost nine of 13. In fact, they have lost 14 of their past 19 vs. teams that made the playoffs while winning 11 of 12 against ones that didn't. Good defensive team, led by rising star Myles Turner. Indiana won the first meeting with Boston this season but dropped the last three. The Pacers were outclassed at home on April 5, 117-97, that essentially clinched the No. 4 for Boston.
Key trends: The Pacers are 5-2 against the spread in the past seven meetings. The "over/under" is 7-3 in the previous 10.
Early lean: Celtics and over.
No. 6 Thunder at No. 3 Trail Blazers (-3, 225)
Tip of 3:30 p.m. ET on ABC. I don't think any team in the playoffs is happier right now than the Thunder. When the week began, they were staring at the No. 8 seed and a potential first-round matchup against the Warriors. However, the Thunder beat the visiting Rockets on a last-second Paul George shot on Tuesday and then won easily at short-handed Milwaukee (George sat out) on Wednesday to earn the No. 6 seed. Even better news that the Blazers slotted in at No. 3 instead of Denver or Houston. Portland's a fine team, but lost its third-best player and only post presence, Jusuf Nurkic, a few weeks ago to a season-ending injury. Steven Adams could have a monster series.
The Blazers claimed the third seed with a 136-131 comeback home win over the Kings on Wednesday behind 37 points from rookie Anfernee Simons. It's almost like the team didn't want this seed because the Blazers rested all their starters and were down as many as 28. Portland also had home-court advantage in the first round last year as the third seed but was swept by New Orleans. Oklahoma City was 4-0 vs. Portland this season. The only other first-round series that saw a regular-season sweep was Milwaukee over Detroit in the East.
Key trends: OKC has covered all four meetings this season. The over is 16-5-1 in the Blazers' past 22 at home.
Early lean: Thunder and over.
No. 8 Pistons at No. 1 Bucks (-12, 219.5)
TNT game at 7 p.m. ET. The Bucks finished with the NBA's best record and are favored to win the Eastern Conference for the first time. Wait, you say, that can't be right since Milwaukee has been in the NBA Finals before. Yeah, they were a Western Conference team then. While the Bucks have the NBA's best all-around player and sure-fire MVP in Giannis Antetokounmpo, they aren't healthy. The Freak is dealing with a calf injury, but obviously he's playing. Malcolm Brogdon (foot) and Nikola Mirotic (thumb) have each missed weeks. It's possible Mirotic will play in Game 1 as he's in Week 3 of a 2-4-week timetable. Coach Mike Budenholzer said even if so that Mirotic would come off the bench because he likes how Sterling Brown has been playing with the starters.
Detroit earned the East's final playoff spot on Wednesday with an easy win at the putrid Knicks. However, star Blake Griffin sat out with a knee injury and he's very much in question for Game 1 if not overall. If Griffin didn't play in a must-win game, you know he's hurting. I would imagine Griffin gives it a go, but he might not be very effective (wasn't Tuesday). The Bucks won all four regular-season matchups and only one was close - although they haven't played since late January.
Key trends: The Pistons are 3-7-1 ATS in their past 11 in Milwaukee. The under is 5-2-1 in the previous eight meetings.
Early lean: Bucks and under.
No. 5 Jazz at No. 4 Rockets (-6.5, 214)
It's a 9:30 p.m. ET start. Houston had a chance going into the season's final two nights of earning the No. 2 seed and avoiding the Warriors until the conference finals. However, the Rockets lost on a last-second shot in Oklahoma City on Tuesday and then didn't get any cooperation from Denver or Portland on Wednesday to finish No. 3 and still avoid the Warriors until the West Finals. Now, the Rockets would have to face Golden State in the next round - not that getting past Utah will be all that easy.
The Jazz closed the season with an OT loss at the Clippers on Wednesday but already were locked into their seeding so they rested nearly everyone of note. The Bucks are the only team with a better win percentage than the Jazz since Jan. 1. Utah lost in five games to Houston in last year's second round, while the teams split four meetings this season. They haven't played since Feb. 2.
Key trends: The road team is 6-1-1 ATS in the past eight meetings. The under is 5-2 in the previous seven.
Early lean: Jazz and under.
Read more articles by Alan Matthews
Get all of Today's Free NBA Picks
Get all of Today's Expert NBA Picks