Free Picks
»
NBA Picks
» Free NBA Picks: Thursday, April 18, 2019, Opening Line Report and Handicapping
Free NBA Picks: Thursday, April 18, 2019, Opening Line Report and Handicapping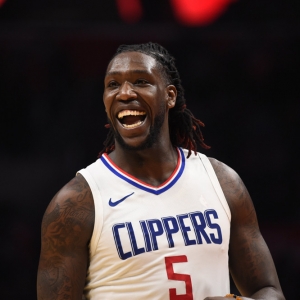 Could Andrew Bogut be the reason the Golden State Warriors win a third straight NBA title? That's possible in the wake of the news that Dubs big man DeMarcus Cousins tore his quad muscle in Monday's stunning loss to the Clippers, almost surely ending his season. While players recovering 100 percent from torn ACLs are common these days, a torn Achilles' tendon is a much worse injury - especially if you are a big guy. (I wonder if the torn quad was related to that for Cousins.) Kobe Bryant wasn't a big man but he was never the same after that injury. Almost no one ever is, and the bigger the player the lesser of a chance of a 100 percent return to form. Dudes as big as Cousins probably aren't supposed to be hammering their Achilles' tendon for miles a night on a hardcourt. Bogut played in his native Australia this season but wanted to return to the NBA for the stretch run and the playoffs, and the Warriors won the "bidding" for his services over the Philadelphia 76ers. That could be huge now. Will Bogut put up huge numbers? Nope, and probably won't play more than 20 minutes a night. But his size is what the Warriors need. Kevon Looney will probably start going forward. Here's a look at the playoff Game 3s around the NBA on Thursday as every series shifts venues.
No. 3 76ers at No. 6 Nets (+3, 227.5)
An 8 p.m. ET tip on TNT. Philadelphia split two early-season games in Brooklyn during the regular season. The Sixers were 20-21 on the road overall, but the Nets were just five games over .500 at home. The Philly players downplayed their Game 1 home loss, but they were in another dogfight for the first half of Game 2 on Monday before throwing up 51 third-quarter points to blow the game open on the way to a 145-123 win. That third-quarter point total matched the league record for any quarter in a playoff game, set by the 1962 Lakers against the Detroit Pistons. Last year's Rockets reached 50 in a quarter against Minnesota. That's it for 50-point postseason quarters. Philly opened the third on a 21-2 run and shot 18-for-25 overall in the third, 4-for-6 from deep and 11-for-11 from the charity stripe.
Still, this team isn't winning the East, in my opinion. Joel Embiid again was a game-time call but again played. I watched that game. And while he had 23 points and 10 rebounds, he's not close to 100 percent with knee tendinitis. Ben Simmons, after ripping the Philly fans after Game 1, had a triple-double of 18 points, 12 assists and 10 rebounds. It's funny, though, how much the Nets leave him open for jumpers and Simmons won't take them. That's going to cost the 76ers eventually. The only Nets starter in double figures was D'Angelo Russell with 16, but they got the split they wanted.
Key trends: The Sixers are 2-5 against the spread in their past seven road games. The "over/under" is 11-4 in their past 15 overall. The over is 5-1 in the Nets' past six on Thursday.
Early lean: Nets and over.

No. 2 Nuggets at No. 7 Spurs (-3.5, 212)
NBA TV at 9 p.m. ET. Denver lost both games in San Antonio this season, scoring 103 points in each, and almost never wins there. The Spurs were an excellent 32-9 at home this season, while the Nuggets were 20-21 on the road. It won't get much publicity simply because the Nuggets and Spurs are both rather under-the-radar franchises from a national perspective (i.e. those east of the Mississippi), but Jamal Murray had one of the great fourth-quarter performances in recent years in Tuesday's 114-105 victory to even this series 1-1.
Denver was down as much as 19 in the third but outscored San Antonio 39-23 in the fourth largely due to Murray, who scored 21 of his 24 points in the quarter. He was 8-for-9 shooting in the quarter compared to 8-for-32 in the first seven of the series. Still, I'm very nervous if a Nuggets fan because their team was outplayed badly for three more quarters. Nikola Jokic had another good game with 21 points, 13 rebounds and eight assists. DeMar DeRozan led the Spurs with 31 points, while LaMarcus Aldridge had 24. The San Antonio bench did very little.
Key trends: The Spurs have failed to cover their past five home games. The under is 10-4 in the Nuggets' past 14 on the road. It's 10-3 in San Antonio's previous 13 at home.
Early lean: Spurs and under.
No. 1 Warriors at No. 8 Clippers (+8.5, 237)
Tipoff at 10:30 p.m. ET on TNT. These teams split two meetings in L.A. this season. The Dubs were 27-14 on the road and the Clippers 26-15 at home. Not sure I've ever seen a title favorite completely wilt like Golden State did on Monday. I get that the Cousins injury might have taken some of the wind out of the players' sails, but blowing a 31-point lead (and Cousins was hurt in the first quarter so probably had nothing to do with it)? L.A.'s truly stunning comeback for a 135-131 win was an NBA postseason record for biggest comeback. Yet it's nothing new for this team. It was L.A.'s third win this season of 25 points or more. Before this year, no team had more than one 25-point comeback win in a season since play-by-play data became available in 1996-97. It was the third win by a Doc Rivers-coached team in the playoffs all-time after rallying from at least 20 down. The Clippers also did it in 2014 vs. the Thunder, and the Celtics did it in the 2008 NBA Finals vs. the Lakers.
In the final 19:30 on Monday, the Clippers outscored the Warriors 72-37 and shot 27-for-39 from the field, while the Dubs were 8-for-27 with 14 turnovers. Truly shocking. Lou Williams led L.A. with 36 points off the bench, a franchise playoff record for a reserve. Fellow bench stud Montrezl Harrell had 25 points and 10 rebounds. None of the starters played that well other than Danilo Gallinari (24 points). Steph Curry led the Warriors with 29 points, while Kevin Durant had 21. What's with taking just eight shots and giving it away nine times, though? Curry's fourth foul seemed to change everything as Steve Kerr sat him for an eight-and-a-half-minute stretch during the third quarter. That said, Golden State still led by 17 when he returned.
Key trends: The Warriors are 5-1 ATS in their past six in L.A. The over is 5-1 in those.
Early lean: Warriors and over.
Read more articles by Alan Matthews
Get all of Today's NBA Picks
Get all of Today's Guaranteed Expert NBA Picks