2018 ACC Basketball Predictions and Expert Betting Picks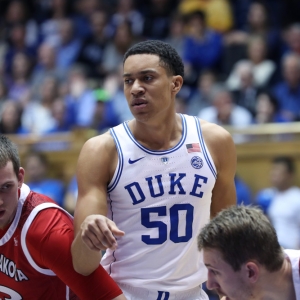 The ACC, by virtue of its sheer size, is always one of the deepest and most talented conferences in college basketball. This year is no different. The league looks poised to send anywhere from 8-10 teams to the NCAA Tournament and boasts a host of teams with Final Four potential.
It looks like there is three pretty clear tiers to the league in this go-round. Duke, North Carolina, Virginia, Virginia Tech, Syracuse and Florida State are the best of the bunch. Clemson, North Carolina State, Notre Dame, Boston College and Miami are all good, but not great, teams, with potential. And then the final foursome of Louisville, Wake Forest, Georgia Tech and Pittsburgh are pretty awful and will be generally noncompetitive.
There will be talent. There will be blowouts. There will be upsets. And there will be a whole lot of money to be made in the nation's premier hoops conference.
Here are Doc's Sports 2018 ACC basketball predictions and ACC basketball rankings:
The Favorite: Duke
Duke is once again loaded with future pros and impressive one-and-done talent. R.J. Barrett was the No. 1 recruit in the country. Cam Reddish is a potential star. Zion Williamson is a physical freak (6-7, 285) that can dunk from the free throw line. And Tre Jones and Joey Baker, two guys that would be heralded at 98 percent of the teams in the country, are afterthoughts. The Blue Devils are hunting their first ACC regular-season title since 2010 and their first National Championship since 2015. The freshmen will lead the way. But if the Blue Devils are going to live up to the hype - something they really haven't done during Coach K's one-and-done pivot - they will need power play from big men Marques Bolden and Javin DeLaurier.
The Challenger: North Carolina
Roy Williams has a nice blend of youth and experience to work with in Chapel Hill. Seniors Cameron Johnson, Luke Maye and Kenny Williams are the core of the team and combine for more than 40 points and 18 rebounds per game. Nassir Little, Coby White and Rechon Black are all Top 60 recruits and give the Heels an abundance of options on the wings. Their season will be determined by point guard play. Departed guards Joel Berry and Theo Pinson did all of the ball handling for this team the last three years. Who is going to replace that? If Williams can figure out the PG, this team should be playing deep into March. If not, there will be fits and starts all season long for this bunch.
The Dark Horse: Virginia
When last we saw the Cavaliers they were on the losing end of the biggest upset in NCAA Tournament history, getting run out of the gym by Maryland-Baltimore County in the first No. 1-No. 16 upset ever. How this team - which is basically the same group of guys - handles the weight of that burden will be a key to their season. But there's nothing stopping this group from making Tony Bennett's first Final Four. Ty Jerome, Kyle Guy and De'Andre Hunter can defend and score. Mamadi Diakite, Jack Salt and transfer Braxton Key make up an athletic and well-rounded frontcourt. And with Bennett's Pack Line defense, the Cavaliers can play with, and beat, any team in the country.
The X-Factor: Florida State
The Seminoles got hot at the right time last year and made a somewhat improbable run to the Elite Eight, finally losing just 58-54 to Michigan. Florida State returns seven of its top nine scorers from that team and adds high-scoring transfer David Nichols. This team is long, athletic and experienced. Seniors Phil Cofer and Terance Mann are 6-7 and 6-8, respectively, and they can get it done on both ends of the court. Leonard Hamilton teams are known for their defense and rebounding, and this is a group that, if focused, could really take off this season. But they did go just 9-9 in ACC play last year and need to prove that they can play at a high level more than just sporadically.
The Disappointment: Louisville
It is tough to call the Cardinals a potential disappointment because it's difficult to assess where their actual expectations lie. Chris Mack was a great hire. And I have no doubt that he will get Louisville back among the elite programs in the country. But it won't be this year. And I think the Cardinals will likely miss the NCAA Tournament for the second season in a row, something that hasn't happened since 2001-02 when the Cardinals were back in Conference USA. Louisville lost four of their top five players from last year's team, and they will be adjusting to a new coach with new systems. It will take some time, and this year could be ugly.
The Rest:
Miami - Again this year it looks like people are writing off and overlooking the Hurricanes. But Jim Larranaga always gets more out of his teams than anyone expects. And I actually like Miami as a bit of a sleeper in the ACC and as a potential tournament team. They are one of just four ACC teams, along with Duke, UNC and Virginia, that have won at least 10 league games each of the last four seasons. And I think they will do it again. Chris Lykes and Dejan Vasiljevic are as entertaining of a backcourt as there is in college basketball. Miami has size and experience in the post. And if one of their newcomers can pan out, then Larranaga will have a good, tight seven- or eight-man rotation.
Virginia Tech - It is now or never for this group of Hokies. They have won 10 ACC games each of the last three years and made it to back-to-back NCAA Tournaments for the first time since 1985-86. But one still can't help but feel like this group hasn't reached its potential yet. The backcourt of Justin Robinson, Ahmed Hill and Chris Clarke (who is currently suspended) is as good as any in the country. And if Khadim Sy is healthy, he will pair with Ty Outlaw and Kerry Blackshear to give this team some much-needed post presence. Buzz Williams needs to find a way to get this team to play defense. And if they do, they have Sweet 16 potential.
Syracuse - Syracuse was gifted a totally undeserved NCAA Tournament bid last March and made the most of the opportunity, winning three games and making a run to the Sweet 16. They have the entire team back this year, led by Tyus Battle and Oshae Brissett. The Orange also added some potential difference-makers in Buddy Boeheim, Jalen Carey and Elijah Hughes. If one of those three can add some scoring and outside shooting, and if Syracuse's big men can develop a bit (especially Marek Dolezaj), then the Orange could be a major factor in the ACC race.
Notre Dame - Last year was a massive disappointment for the Irish as injuries undercut what could have been an outstanding team. Matt Farrell and Bonzie Colson are gone, and this looks like a bit of a rebuilding season for Mike Brey's squad. T.J. Gibbs is outstanding. And there are still some experienced role players - like D.J. Harvey, John Mooney and Rex Pflueger - that may be capable of stepping up. This team lacks high-end talent. But I wouldn't be in a hurry to count out Brey.
Clemson - Armed with one of the best and most experienced backcourts in the ACC, the Tigers are hoping for a solid follow-up to their Sweet 16 season a year ago. The Tigers did lose two crucial pieces (Gabe DeVoe and Donte Grantham). And they are completely unproven and overmatched in the post. But Brad Brownell always gets his teams to defend. And if they can keep games close, then the experience of super-seniors Marcquise Reed and Shelton Mitchell should take over.
North Carolina State - Stability has been nonexistent in Raleigh over the last four years. And It's still an issue in Kevin Keatts' second season at the helm. The Wolfpack have nine new players on the roster this season, and they are a hodgepodge of freshmen, transfers and holdovers. It's really impossible to know what to expect from this group until we see how their rotation shakes out. Keatts was able to coax an NCAA Tournament berth out of this group last year and is the real deal as a head man. This is a high-risk, high-reward team.
Wake Forest - Danny Manning has kind of been running in place with this program since taking over in 2014. He's mustered just one NCAA Tournament bid (and that was a First Four loss) and three ugly losing seasons in four years. This year's outlook isn't that encouraging after losing four of his five top scorers. This is a clear rebuilding season, with a young and unproven roster, and it will be interesting to see if Manning is still around next fall.
Boston College - The Eagles lost one of the league's best players, Jerome Robinson. However, Jim Christian has this Eagles program on relatively steady footing. And I think B.C. will continue to make strides after increasing their win total each of the past three seasons. Guards Ky Bowman and Jordan Chatman combined for 30 points and 10 rebounds last season. If the young frontcourt, sophomores Luka Kraljevic and Steffon Mitchell and junior Nik Popovic, can take the next step, then this team could be competitive again this year with the potential to go back to the NCAA Tournament next season.
Georgia Tech - This team sucks and is going nowhere. Josh Pastner somehow failed upwards from Memphis to Georgia Tech. I feel pretty confident that he'll be toiling at some mid-major school sooner rather than later. In the meantime, this team will continue to play some of the ugliest basketball in the ACC while pulling an occasional upset over a second-tier ACC school.
Pittsburgh - Pitt didn't wait long to put Kevin Stallings out of his misery, firing him after an 0-18 mark in ACC play last year. In steps Jeff Capel, who wasn't particularly successful at either of his first two coaching stops (VCU and Oklahoma). But he's from Duke, so I guess he gets the benefit of the doubt. Capel will reap the benefits of Stallings' efforts, to a certain degree. Stallings played a ton of freshmen last year, and they should be much better off this time around. This program is still a long ways away from being competitive in league play.
Projected ACC Standings:
1. Virginia
2. Duke
3. North Carolina
4. Florida State
5. Virginia Tech
6. Syracuse
7. Miami
8. Clemson
9. Notre Dame
10. North Carolina State
12. Boston College
11. Louisville
13. Wake Forest
14. Georgia Tech
15. Pittsburgh
Robert Ferringo is a member of the Basketball Writer's Association of America and a professional sports handicapper for Doc's Sports. He is considered one of the best college basketball handicappers in the country and has an unrivaled run of 11 of 12 winning nonconference seasons and 10 of 12 winning regular seasons. Robert's $100-per-Unit clients have banked a remarkable $61,300 in the last 12 years with his nonconference picks (November and December) alone. There is no better moneymaker in the nation and Robert is looking forward to another amazing season. You can sign up for his college basketball picks and get more information here.
Read more articles by Robert Ferringo
Get all of this Weeks College Basketball Picks
Get all of this Weeks guaranteed Expert College Basketball Picks