2018 Big East Basketball Predictions and Expert Betting Picks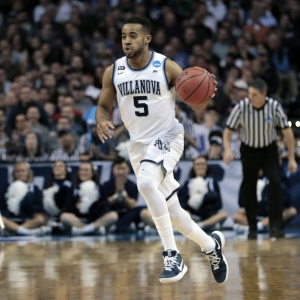 The Big East continues to thrive in the post-conference realignment era of college basketball. The conference sent more than half of its members to the NCAA Tournament last year with two teams, Xavier and Villanova, both earning No. 1 seeds. The Big East also boasts the reigning national champion, Villanova, as the Wildcats cut down the nets for a second time in three years with their victory in San Antonio last spring.
This looks like a bit of a transitional season for the Beast, however. Chris Mack's departure from Xavier (for Louisville) leaves that program in a precarious position. And the departure of a slew of experienced starters and stars from several other top tier teams - Butler, Providence, Creighton and Seton Hall - leaves the conference in a rebuilding year.
Here are Doc's Sports 2018-19 Big East Conference college basketball predictions:
The Favorite: Villanova
Jay Wright continues to bolster his Hall of Fame coaching resume, earning a second national title and continuing an 18-year run of success at this Philadelphia institution. There's no reason to doubt that Wright can keep things rolling. The Wildcats have been by far, bar none, the most profitable team in college basketball betting over the last five years, posting an incredible 112-65 mark against the spread. That 63 percent success rate makes them one of the best wagers in sports betting history over that stretch.
Villanova may keep cashing tickets this year. They lost four NBA draft picks from last year's team and start the season at "just" No. 9 in the country. Everyone expects this team to take a step back. But Wright has two veteran holdovers, Phil Booth and Eric Paschall, a key transfer, Joe Cremo, and a trio of Top 50 freshmen that will see minutes immediately. I know I'm not going to be in a hurry to bet against this group.
The Challenger: Marquette
Steve Wojciechowski hasn't really impressed me as an in-game coach over his four years in Milwaukee. But he may have his best team yet at Marquette and could, like Xavier last year, steal the regular season conference title from the Wildcats. Guard Markus Howard (20.4 points per game) is one of the best scorers in the country. And Wojo has an eclectic group of players to surround Howard with. Forward Sam Hauser can beat teams inside and out. Sacar Amin and Matt Heidt are veteran role players. Joey Hauser is a stretch-four freshman that could make an impact right away. And Fordham transfer Joe Chartouney and Nebraska transfer Ed Morrow are proven commodities that bring both talent and savvy. There's a lot to be excited about with this group. And if they improve their defense they have a high ceiling.
The Dark Horse: Butler
Kelan Martin, who became a college basketball stud about as quietly as any player I can remember, departs. But Kamar Baldwin has shown in his first two years that he's more than capable of becoming an all-league go-to guy. Backcourt mate Paul Jorgensen brings attitude and moxie. If either Duke transfer Jordan Tucker or junior forward Sean McDermott can break out then this Bulldog team will be in business. They could use more from sophomore point guard Aaron Thompson, who started from his first day on campus. And the health of bruising big men Nate Fowler and Joey Brunk is a key for this team. I don't think they are good enough to win this conference. But they will certainly make it tough on anyone that is trying.
The X-Factor: St. John's
The Red Storm got a huge boost when Auburn transfer Mustapha Heron had his hardship application accepted by the NCAA, making him eligible immediately. Heron, Auburn's leading scorer, will join with future pro Shamorie Ponds to give the Red Storm one of the best backcourts in the country. Swing forwards Justin Simon and Marvin Clark are both double-digit scorers that combined for 25 points and 12 rebounds per game last year as well. However, the Red Storm is one of the smallest teams in the country. They do not have a player on the roster taller than 6-9! Chris Mullin's team is going to get destroyed on the backboards and will be forced to try to outscore teams. The talent level is high, though. And there will be nights when their four perimeter players simply run teams out of the gym.
The Disappointment: Creighton
Greg McDermott has won 20 or more games and played in the postseason in seven of his eight years on the bench at Creighton. The one down year on his resume was 2015, the year after his son, Doug, and a stacked senior class graduated. I see another drop-off coming for the Bluejays this year. Four of their top five players are gone, including the stacked Marcus Foster-Khyri Thomas backcourt. Their best player this year is coming back from a torn ACL. And the rest of the roster is bit parts, role players, and new faces that are moving up a level. Creighton has made a successful transition from the Missouri Valley to the Big East. But I don't see this team making it back to the NCAA Tournament this year and I think they will be an afterthought throughout league play.
The Rest:
Xavier (+800) - You can't lose Trevon Bluiett and J.P. Macura, one of the best duos in school history, and expect to be as strong the next year. And you really can't expect to be as strong when you lose a coach like Chris Mack, who split for Louisville. Longtime Mack assistant Chris Steele takes over the program and there is a solid foundation here. Tyrique Jones, Paul Scruggs, Quentin Goodin and Naji Marshall is a solid quartet that are tough physically and mentally. And if transfers Zach Hankins or Ryan Welage can provide some scoring pop and inside presence then this team is still going to be in the fight for an NCAA Tournament bid.
Providence - Ed Cooley has an outstanding system in place in Providence. So despite losing three solid seniors I think that the Friars can actually be better this season. Center Nate Watson is going to make a leap and I wouldn't be surprised to see him as an all-Big East first team performer. Watson looks like a future pro. Alpha Diallo is another talent, and Cooley will fill in the rest with the other bit parts that it takes for his system to flourish. Don't be surprised if this team grinds its way into the league's top tier and back to The Big Dance.
Seton Hall - The four-man senior class of Desi Rodriguez, Khadeen Carrington, Angel Delgado and Ismael Sanogo was one of the best in school history, with three of those players starting all four years on campus. It is on to a new era and the Pirates will try to rely on stud junior Myles Powell and Syracuse transfer Taurean Thompson to ease the transition. There is not a ton of talent (or experience) beyond that. And this is a team that looks like it could take a step back this year only to take a step forward next season, with or without Powell.
DePaul - DePaul isn't so bad that it will get blown out by 20 points every night. So I guess that's a step in the right direction. But the Blue Demons are still pretty awful and nothing seems to work at this Chicago college. Eli Cain and Max Strus are actually a pretty solid backcourt duo. And assistance comes from Illinois castoff Jalen Coleman-Lands. But they don't have enough size, heft or athleticism in the post to keep opponents from doing what they want in the paint. Until these guys get tougher and meaner they will remain the league's punching bag.
Georgetown - This was a bigger rebuilding job than people realize. And it is going to take Patrick Ewing some time. He has the league's best big man, Jessie Govan, but not much else to work with on a team that is primarily freshmen and sophomores. The Hoyas are going to battle every night. But their lack of talent will keep them in the Big East's lower tier.
Projected Big East Standings
1. Villanova
2. Marquette
3. Butler
4. Xavier
5. Providence
6. St. John's
7. Seton Hall
8. Creighton
9. Georgetown
10. DePaul
Robert Ferringo is a member of the Basketball Writer's Association of America and a professional sports handicapper for Doc's Sports. He is considered one of the best college basketball handicappers in the country and has an unrivaled run of 11 of 12 winning nonconference seasons and 10 of 12 winning regular seasons. Robert's $100-per-Unit clients have banked a remarkable $61,300 in the last 12 years with his nonconference picks (November and December) alone. There is no better moneymaker in the nation and Robert is looking forward to another amazing season. You can sign up for his college basketball picks and get more information here.
Read more articles by Robert Ferringo
Get all of this Weeks Free College Basketball Picks
Get all of this Weeks Expert College Basketball Picks