2019 AAC Predictions: Memphis Leads the Way in Search of National Championship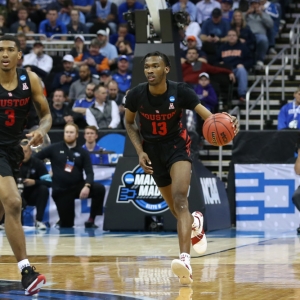 The American Athletic Conference still sits in limbo between power conferences and mid-major leagues, and the AAC is still trying to find its place in college basketball's national hierarchy.
Well, if this league is ever going to seize national respect, this is the year to do it.
The AAC has averaged five combined bids to the NCAA and NIT tournaments over the six years of its existence. They sent six teams to those postseason tournaments last year. And that doesn't include South Florida, which won the CBI championship.
This year the AAC has eight teams that will all be vying for postseason bids. And Memphis, thanks to one of the nation's best recruiting classes, is one of the most exciting and intriguing squads in college basketball. Throw in Connecticut's swan song (they are returning to the Big East next year), and some interesting new coaching hires, and there is no shortage of fascinating storylines in this league.
Here are Doc's Sports 2019-20 American Athletic Conference college basketball predictions:
The Favorite: Memphis Tigers
There is a palpable hype surrounding this program right now. Penny Hardaway won 22 games in his rookie season on the bench. And with the No. 1 recruit in the nation, potential one-and-done center James Wiseman, leading the nation's No. 1 recruiting class, I am not expecting a sophomore slump out of Penny. D.J. Jeffries and Precious Achiuwa are also Top 20 recruits and will blend with last year's returning talent. Hardaway wants to run and gun, and he will definitely have the horses to do it. There are issues, though. With just one senior and no juniors on the roster, this is the youngest team in the country. There is also the question of chemistry, and the Tigers will have a bull's eye on their back because of the tremendous amount of hype they've received heading into the year.
The Challenger: Houston Cougars
For the second straight year, the Cougars enter the season trying to replace serious firepower in their backcourt. For the second straight year, it might not matter. Kelvin Sampson may flout the occasional NCAA rule. But the guy can coach. And he has a roster stocked with versatile athletes. Kansas transfer Quentin Grimes was ruled eligible and will pair with DeJon Jarreau to give the Cougars a pair of very capable guards. The Grimes ruling was crucial, as I don't think Houston would've had a chance to defend their league title without him. Houston has been one of the best bets in college basketball the past two years, going 43-24 against the spread. They may continue to win games, but I don't think they will be nearly as good at the window. Be wary.
The Dark Horse: South Florida Bulls
South Florida has a ton of momentum after the best season in school history. Last year's 24 wins was a school record, and their CBI title was the first basketball championship in program history. In fact, those 24 wins were only one fewer than South Florida had mustered the previous three seasons combined. With all five starters back, USF is upping the ante and trying to earn the school's fourth-ever NCAA Tournament bid. Point guard David Collins and forward Alexis Yetna are a potent inside-out duo, and point guard Laquincy Rideau is a difference-maker on both ends. South Florida has higher expectations. They will also have a real schedule after facing the No. 335-rated slate last year. We'll see if they are ready to step up and meet the challenge.
The X-Factor: Connecticut Huskies
Dan Hurley suffered through an ugly first season in Storrs, going 16-17 and failing to make a postseason tournament. That was the third straight losing season for Connecticut, something that hasn't happened here in over 30 years. The Huskies will try to avoid four straight years below .500 without departed star Jalen Adams. Now the burden falls on guards Christian Vital, James Bouknight and Alterique Gilbert. Availability is going to determine if this team can make a move. If all three can stay healthy and eligible, then the Huskies will be interesting. If not, it will be another long, cold winter in Gampel Pavilion.
The Disappointment: Cincinnati Bearcats
Mick Cronin is out and new coach John Brannen, formerly of Northern Kentucky, is in. Brannen will hope to continue Cincinnati's streak of nine straight NCAA Tournament appearances. Those hopes rest solely on the back of senior Jarron Cumberland, the league's reigning player of the year. His cousin, Jaevin, also transferred in. The Cumberlands will team up with Tre Scott and Keith Williams as the Bearcats shift, slightly, away from Cronin's grinding defensive style. Cumberland - his game and his demeanor - is nasty. But is he going to be able to hold up, physically and mentally, while getting such little help? Who knows how he will jibe with Brannen. And Cumberland is already dealing with a nagging foot injury. Add it up, and this might be a team to fade.
The Rest:
Temple - Aaron McKie is just the third head coach of the Temple basketball team since 1982 and just the fifth Temple coach since 1952. He is hoping to hit the ground running in his first season on the bench and will lean on high-scoring guards Quinton Rose and Nate Pierre Louis. That won't be enough to get Temple dancing, though. And it will be up to McKie to coax some production out of the frontcourt if the Owls want to climb the AAC standings.
Tulsa - Frank Haith is trying to snap a three-year NCAA Tournament drought for the Golden Hurricane. He shouldn't hold his breath. Haith has always been excellent at targeting and training young guards. He'll need someone in the backcourt to bust out if this team is going to avoid a losing season, though. Forwards Martins Igbanu and Jeriah Horne are capable wings. But that is really all this team has to work with. It won't be enough.
SMU - Three short years ago Tim Jankovich had a 30-win team that coasted to the AAC regular season and tournament championships. Things have gone downhill quickly since then, and now Jankovich is on the hot seat. If Jankovich is coaching for his job, then he's in trouble, because Ethan Chargois isn't enough. SMU has only two freshmen and no seniors, so improvement is going to have to come from Jankovich developing the guys on the roster.
East Carolina - Shockingly, Jason Gardner decided not to transfer on to a real program. The sophomore forward is one of the most talented players in the league and averaged 16.3 points and 8.5 rebounds last year. He'll hope that one of a trio of JUCO transfers can break out and give him a suitable running mate. It looks like another year in the basement for the Eagles as Joe Dooley continues his attempt at a rebuild.
Central Florida - I was the only handicapper in the country pushing UCF stock last year. By the end of the season, everyone was on the bandwagon, and UCF almost peaked with an upset of Duke in the NCAA Tournament. Now Johnny Dawkins will have to start from scratch in rebuilding his roster. Transfers Matt Milon and Dazon Ingram are a good starting point. But they won't be nearly enough to make up for what the Knights lost.
Wichita State - Last year, Gregg Marshall and the Shockers missed The Big Dance for the first time in eight years. That doesn't mean the season was a failure, though, as Marshall actually overachieved with an entirely new, extremely young team. This fall, 12 of 13 guys on the roster are freshmen or sophomores, so Marshall is probably still a year away from making it back to the NCAA Tournament. But it will be interesting to see if the Shockers can overachieve on the court - and at the betting window - for a second straight year.
Tulane - Ron Hunter, erstwhile of Georgia State, will try to stabilize this Tulane program. They bottomed out last year while going 4-27, and they have averaged an 8-23 record the last three seasons. I wouldn't expect any instant results from Hunter, who will have to spend some time recruiting guys that fit his system.
Projected American Athletic Conference Standings:
1. Memphis
2. Houston
3. South Florida
4. Cincinnati
5. Temple
6. Connecticut
7. Wichita State
8. SMU
9. Tulsa
10. Central Florida
11. East Carolina
12. Tulane
Robert Ferringo is a member of the Basketball Writer's Association of America and a professional sports handicapper for Doc's Sports. He is considered one of the best college basketball handicappers in the country and has an unrivaled run of 12 of 13 winning nonconference seasons. Robert's $100-per-Unit clients have banked a remarkable $63,050 in the last 13 years with his nonconference picks (November and December) alone. There is no better moneymaker in the nation and Robert is looking forward to another amazing season. You can sign up for his college basketball picks and get more information here.
Get all of this Weeks College Basketball Picks
Get all of this Weeks guaranteed Expert College Basketball Picks