2019 ACC Tournament Expert Picks with Odds and Betting Predictions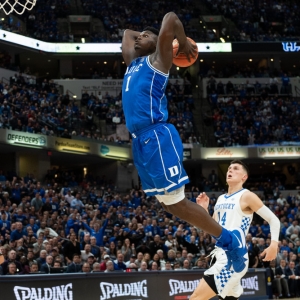 The ACC Tournament is back in Carolina. The last two years this league went honeymooning in New York City, and in 2016 they were moonlighting in Washington D.C. But now the boys of the Atlantic Coast Conference are going to settle their championship in their own backyard, spending the week wrestling in the state's capital.
Fittingly, the top story entering this week's tournament involves Tobacco Road rivals North Carolina and Duke. Duke is getting its best player back, and the two schools could be heading toward another potentially epic league tournament matchup.
But that isn't the only storyline to track this week. Virginia is attempting another regular season-tournament championship sweep. Syracuse, Clemson and North Carolina State are trying to lock up NCAA Tournament bids. And several other coaches are hoping that a couple postseason wins can help them keep their jobs.
The ACC Tournament begins Tuesday at the Spectrum Center in Charlotte with the league crowning a champion on Saturday night. Here is Doc's Sports 2019 ACC Tournament preview and predictions:
The Favorite: Virginia (+100)
For the fourth time in six years, Virginia earned at least a piece of the ACC regular-season championship. That's more titles during that stretch than Duke and North Carolina combined. The Cavaliers aren't exactly a dynasty, but they are the dominant force in the league right now. They have lost just twice this season, dropping both games to Duke, and right now they appear on track to earn another No. 1 seed in the NCAA Tournament. The Cavaliers are No. 1 in the nation in scoring defense and in the Top 5 in most major defensive categories. Offensive efficiency hasn't been a problem either, and the Cavs are the No. 3 3-point shooting team in the country. Virginia has a tight seven-man rotation, and if they will have any problem in Charlotte this week it would be getting worn down due to lack of depth.
The Contender: North Carolina (+390)
The Tar Heels went 16-2 in ACC play this year, earning North Carolina a share of the regular-season title. The Heels have won seven straight, and that stretch includes a regular-season sweep of their blood rival, Duke. In fact, Carolina's only loss over the past two months came against Virginia. Freshman Coby White is one of the most explosive point guards in the country, and seniors Luke Maye and Cameron Johnson combine for 31.4 points and 16.4 rebounds per game. This is one of the most explosive offensive teams in the country. The Tar Heels have 10 players averaging at least 10 minutes per game, so depth is not an issue. They are playing their best basketball of the season right now and will be a force in Charlotte this week.
The Sleeper: Duke (+200)
The Blue Devils are one of the most intriguing teams in the country right now. Without Zion Williamson over the past six games they have been a well below-average team, losing three times and luckily escaping with wins over Wake Forest and Syracuse. Williamson will be back for the ACC Tournament. But how sharp will he be? Will Duke be monitoring his minutes? How aggressive will Williamson be coming back from injury? When Zion is at his best, he pairs with R.J. Barrett, Cam Reddish and Tre Jones to form the most talented freshmen class in the country, and one of the most talented teams, period. Can they snap out of this late-season swoon and get back on a potential championship track?
The Spoiler: Louisville (+3600)
The Cardinals are another dangerous and interesting team in the ACC field. At one point they were 7-1 in league play and 16-5 overall, with a win over North Carolina (in Chapel Hill) as part of a six-game winning streak. They've gone just 3-7 since then, though, and have had an offensive swoon. The Cards can lock down defensively, though, and if they win their second-round game they get another crack at a UNC team that isn't beyond them athletically. A win there could derail a third potential Duke-UNC matchup. The Cardinals have a lot of guys that shoot 3-pointers, with seven guys canning between 32 and 37 percent from deep. What they need is for two or three of them to get hot if they want to make any real noise this March.
Bubble Team To Watch: Syracuse (+6500)
The Orange have had a rough few weeks. Between their head coach accidentally killing a man with his car to four losses in five games, the Orange have been circling the drain since a 20-point win over Louisville on Feb. 20 all but punched their ticket to the NCAA Tournament. The Orange are one of the best defensive teams in the country, and their 2-3 zone has been known to wreak havoc in March. But offensively this team is off the rails. The Orange may be playing their way out of the field, and a loss to the Pitt-Boston College winner could push Syracuse out of the Field of 68. A win would set up a rubber match with Duke, a team the Orange have faced twice this year but never at full strength. This team has a lot to lose this week.
Potential Early-Round Matchup To Watch:
No. 8 North Carolina State (+1) vs. No. 9 Clemson (Noon, Wednesday, March 13)
This has the makings of a play-in game for the NCAA Tournament. Both N.C. State and Clemson are on the fringes of the tournament field, and both desperately need this one. Clemson has won four of five, and they are coming off a monster comeback win over Syracuse on Saturday in their Senior Day game. The Tigers are one of the most experienced teams in the country, with four senior starters from a squad that was in the Sweet 16 last year. North Carolina State is a little bit more dangerous, though, since they have more depth and more diverse offensive attack. These two teams met once this year, and it was a great game. The Wolfpack erased a 66-60 deficit and Braxton Beverly hit a buzzer beating 3-pointer for a 69-67 win. I would expect a similar dogfight in the first game of the day on Wednesday.
2019 ACC Conference Tournament Predictions: This is always one of the most difficult tournaments to predict because it is one of the deepest, most talented crops of hoops talent in the country. There have been six different winners over the last seven years. That said, over the last 13 years, only one team outside of the top three seeds (Duke in 2017) has won the ACC tournament. The last time there was a repeat winner was Duke in 2010-11. But I think that Virginia is set up well to win their second championship in a row. They have a better team than what they brought to New York City last year and a favorable path, with either Florida State or Virginia Tech waiting in the semifinals. They handled both of those clubs during the regular season. Also, I think that either Duke or North Carolina will be worn out from their third meeting with each other in three weeks. I'll go with the Cavaliers to cut down the nets.
Robert Ferringo is a member of the Basketball Writer's Association of America and a professional sports handicapper for Doc's Sports. He is considered one of the best college basketball handicappers in the country and has posted 10 of 12 winning seasons. He is looking for a monster March run and will have an 8-Unit Conference Tournament Game of the Year this week. You can sign up for his college basketball picks and get more information here .
Read more articles by Robert Ferringo
Get all of this Weeks College Basketball Picks
Get all of this Weeks guaranteed Expert College Basketball Picks