2019 Big East Tournament Expert Picks with Odds and Betting Predictions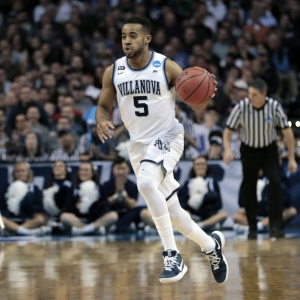 The Big East Tournament has become a rite of March. The league's championship has been held at The Mecca of Basketball, Madison Square Garden, every season dating back to 1983. This year's Big East Tournament will be held from March 13 through March 16, and it should be one of the most exciting, most unpredictable, and most emotional tournaments in the nation.
This league is one of the most competitive and parity-driven in college basketball. Villanova and Marquette, two Top 25 teams, are clearly the two best teams. The next four teams in the 10-team league all finished 9-9, with a host of tiebreakers used to determine seeding. Throw in two very dangerous teams at the bottom of the bracket (Providence, Butler), and this tournament promises to be full of chaos.
Here is Doc's Sports 2019 Big East Conference Tournament preview and predictions (with odds courtesy of MyBookie.ag):
The Favorite: Villanova (+200)
The Wildcats shook off a slow regular-season start and weathered a sloppy stretch run to claim their fifth Big East regular season title in the last six years. Villanova is also looking to become the first program to ever win three consecutive Big East Tournament championships. The Wildcats have won six straight Big East Tournament games, and they are 11-1 with three titles over the last four years. But this is not the same caliber of Villanova as we have seen over the last four years. Phil Booth and Eric Paschall are as good of a one-two punch as there is in the country. The rest of the team is young, athletic and completely unproven in big games. Villanova's lack of a post presence has been exposed over the last month as they have lost five of their last eight. They also haven't won on the road since January. The Wildcats are still the class of the league. But they are also increasingly vulnerable.
The Contender: Marquette (+210)
The Golden Eagles have Markus Howard, and no one else does. Howard is one of the best scorers in the country and has tallied 28 or more in five of his last eight games. The junior guard cannot be stopped. However, his support dried up over the last few weeks, and the Golden Eagles head to MSG having lost four straight games. Brothers Sam and Joey Hauser are a pair of 6-8 stretch-four players, and their outside shooting is critical to Marquette's success. These two need to get hot and stay hot. Marquette has a lot of big bodies that are able and willing post defenders and rebounders. However, the Golden Eagles need to find ways to get their big men involved in the offense. And if Marquette is going to cut down the nets in NYC, it will be because role players like Ed Morrow, Joe Chartouny and Matt Heldt step up their game.
The Sleeper: Creighton (+460)
In a conference full of exceptionally streaky teams, the Bluejays are one of the streakiest teams. They have gone on four separate winning and losing streaks of at least four games this year. Creighton is currently riding a wave and have won their last five games. This team has a lot of guys that can make shots without having one guy for opposing defenses to key on. Of course, that lack of top-end talent is also their weakness. Creighton is No. 8 in the nation in 3-point shooting (39.6 percent) and No. 18 in field goal shooting. If they get hot for a few days, they could blitz their way to a few wins and earn a spot in the title game.
The Spoiler: St. John's (+1300)
The Red Storm are one of the most intriguing teams in the country right now. They are squarely on the NCAA Tournament bubble. They have both the talent to go on a major run over the next two weeks while also having a style of play to completely flame out. The Red Storm have zero post presence. They don't play anyone taller than 6-7. This team essentially plays four guards and one forward. But those guards, particularly Shamorie Ponds and Mustapha Heron, are really, really good. St. John's beat Marquette twice and took down Villanova. They can beat the best this league has to offer. They have also lost three straight to two of the weakest teams in the league, and right now I don't think anyone knows what to expect from this group. I don't trust them with my money for a second. That could be foolish. Or brilliant.
Early-Round Matchup To Watch:
No. 3 Seton Hall (-4) vs. No. 6 Georgetown (9:30 p.m., Thursday, March 9)
Seton Hall is coming off its best week of the season, beating Marquette and Villanova in back-to-back games. The Pirates have one of the best individual talents in the country, Myles Powell, and he is capable of carrying this team for a weekend. Seton Hall is a young team that has made a habit of wild rallies and monster comebacks. They are also playing close to home and should have a strong crowd supporting their desperation NCAA Tournament run. Georgetown is an equally young team with an equally potent superstar, Jessie Govan. The Hoyas just beat Seton Hall in double overtime on March 2, and they are also coming off a huge upset win over Marquette. Georgetown has improved by leaps and bounds offensively. Yet if they are going to pull an upset here, they will have to bow their backs and be better than the No. 327 defensive rating they have posted this year.
2019 Big East Conference Tournament Predictions: Oh boy. There are landmines everywhere in this bracket. I think Villanova has a favorable path to the championship game, with potential games against four of the weaker teams in the league. I still think that Marquette is the best team. However, either St. John's or Seton Hall is more than capable of knocking them off. If Marquette makes the finals, I think they are going to win the title. Unfortunately, I don't think that is going to happen. The Big East is notorious for upsets. I will call for a surprise winner and I will predict that neither of the top two seeds in this tournament will end up cutting down the nets.
Robert Ferringo is a member of the Basketball Writer's Association of America and a professional sports handicapper for Doc's Sports. He is considered one of the best college basketball handicappers in the country and has posted 10 of 12 winning seasons. He is looking for a monster March run and will have an 8-Unit Conference Tournament Game of the Year this week. You can sign up for his college basketball picks and get more information here .
Read more articles by Robert Ferringo
Get all of this Weeks Free College Basketball Picks
Get all of this Weeks Expert College Basketball Picks