2019 Missouri Valley Tournament Odds and Expert Betting Predictions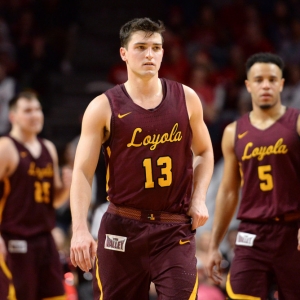 Arch Madness will never be the same.
With Creighton and Wichita State having moved on to the greener pastures of major conference basketball, the Missouri Valley is missing two of its biggest, best and most accomplished programs. On one hand, it has made the MVC Tournament much more balanced and wide open. On the other hand, one decade ago the Missouri Valley Conference was one of the Top 10 leagues in the country. This year it is No. 17.
Parity has infected The Valley. Not the good kind of parity. The mediocre kind. One single game separated the No. 3 seed from the No. 7 seed, with two teams finishing 10-8 and three going 9-9 in league play. Overall, just one team in the MVC has more than 20 wins, and only two of 10 have more than 17 victories.
As such, what this year's Arch Madness may lack in star power, it will make up for in hopefulness and desperation as every team has a realistic chance of cutting down the nets and earning the league's automatic bid.
Arch Madness, also known as the Missouri Valley Conference Tournament, will take place from March 7-10 at the Enterprise Center in St. Louis, Mo. Here is Doc's Sports 2018 Missouri Valley Tournament preview and predictions, with my own projected odds:
The Favorite: Loyola Chicago (+180)
After winning 32 games and making a run to the Final Four last season, the Ramblers entered this year as the overwhelming favorite to win the Missouri Valley. Things didn't exactly go as smoothly as expected. Though Loyola Chicago did rebound from a 9-7 start to earn a piece of the regular-season title. Now they are looking for back-to-back Valley championships on the backs of Clayton Custer, Marques Townes and big man Cam Krutwig. Loyola is all about pace and execution. Their pace is glacial, and their execution on offense is pristine, with the Ramblers at No. 8 in field goal offense. Loyola is No. 7 in points allowed this year, though their defense is just No. 203 in field goal defense and No. 302 in 3-point defense. These guys are vulnerable.
The Contender: Drake (+400)
The Bulldogs have been one of the best bets in college basketball this year, going 22-7 against the spread in their 29 games. This team has way surpassed its expectations, and they enter the tournament on a 6-1 SU and ATS run. Drake has a more wide-open, freewheeling style than any other team in The Valley. They share the ball and knock down shots and are one of the only squads in this field that actively tries to win by outscoring opponents rather than just shutting them down. Senior Nick McGlynn is one of the best and most versatile players in the league, and if Drake is going to cut down the nets it will be because he carries them.
The Dark Horse: Southern Illinois (+550)
The Salukis are one of the most experienced teams in the country. They have a group of six seniors that will be making their final attempt at punching a ticket to The Big Dance, and I think that this team is going to be a tough out. Center Kavion Pippen is one of the league's best big men. And if Armon Fletcher is knocking down shots, he can be one of the best two-way players in the league. The Salukis won their final three regular-season games to steal the No. 3 seed. They have a tough opening matchup with Northern Iowa. And if they win that, they will likely have to take out No. 2 seed Drake. I think they can do it. This is definitely a team to keep an eye on.
The Spoiler: Illinois State (+850)
The combination of Milik Yarbrough and Phil Fayne likely won't go quietly. Fayne, along with Keyshawn Evans, have lost in the Missouri Valley title game twice in the last three years. They have come tantalizingly close to cutting down the nets, and now this is their last chance at a title. Illinois State played poorly down the stretch, going just 2-6 in their last eight games. That cost them, because in order to win the MVC they will now have to win four games in four nights. I don't know that they shoot the ball well enough to pull that off. But I do think they have a shot to trip up Drake and Southern Illinois with an upset or two.
Early-Round Matchup To Watch:
No. 4 Missouri State (-1.5) vs. No. 5 Bradley (3 p.m., Friday, March 8)
The Braves have a chance to do some damage in this bracket, and they have the potential to knock off two of the favorites to win this tournament. Bradley will take on No. 4 seed Missouri State in the opener and then, if they win, they have a shot at top-seeded Loyola in the semifinals. The Braves are 9-4 in their last 13 games, and they have one of the best defensive units in the league. Missouri State won both of the two regular-season meetings and embarrassed Bradley 55-37 on the Braves' home court in February. Missouri State enters the tourney having lost three of their last four games, including two at home. And they have to avoid getting caught looking ahead to a potential third matchup with Loyola, a team that the Bears beat twice during the regular season.
Missouri Valley Conference Tournament Predictions: Loyola was one of the biggest surprises in sports last year. As much as everyone would love to see Sister Jean Act Part II this March, I don't think that it is going to happen. The Ramblers were dominant in The Valley last year. They are also missing Donte Ingram, Ben Richardson and Aundre Jackson, three stellar senior guards on last year's squad. I think that Loyola has a great path to the title game. But once they are there, they will be facing a team that navigated the tougher half of the bracket and is playing well. I'm not sure if it will be Drake, Southern Illinois or Illinois State, but I do think that there will be an upset in the championship game and I think the Ramblers will come up short.
Robert Ferringo is a member of the Basketball Writer's Association of America and a professional sports handicapper for Doc's Sports. He is considered one of the best college basketball handicappers in the country and has posted 10 of 12 winning seasons. He is looking for a monster March run and will have an 8-Unit Conference Tournament Game of the Year next week. You can sign up for his college basketball picks and get more information here .
Read more articles by Robert Ferringo
Get all of this Weeks College Basketball Picks
Get all of this Weeks guaranteed Expert College Basketball Picks