2014 Colorado Avalanche Predictions and NHL Futures Odds
by Trevor Whenham - 9/29/2014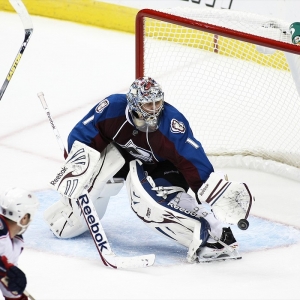 The Colorado Avalanche were unquestionably the biggest positive surprise of the NHL season last year. The year before they had finished second to last, and then had earned the first overall selection in the draft - taking Nathan McKinnon. They also overhauled their leadership, bringing back legendary goalie Patrick Roy to act as coach after he had gained experience owning and coaching a junior team.
Roy always had a short fuse, and the team had been lousy the year before, so it was tough to be too optimistic about this season. But then the team started out by winning 12 of their first 13 games. They cooled off at times - December was rough, for example - but they closed strong enough to finish ahead of both St. Louis and Chicago to win the very tough Central Division. It was a turnaround for the ages. Inexperience and injuries caught up to them in the playoffs, though, and they fell in overtime of Game 7 of their first-round series against the Minnesota Wild.
It was a year in which all the key players played to their full potential. Matt Duchene led the team with 70 points even though he missed 11 games with injuries. Gabriel Landeskog had 65 points, Ryan O'Reilly had 64 and McKinnon had 63. That's a whole lot of offensive production.
This wasn't just a team that outscored opponents to win, though. Goalie Semyon Varlamov had a career year, finishing second in Vezina voting and in the top five for the Hart Trophy for league MVP. Whenever so many players put together career years at the same time, you have to wonder if there will be a regression the next year. The biggest thing this group has going for them, though, is their youth. McKinnon is 19. Landeskog is 21. Duchene and O'Reilly are 23. Varlamov is the old man of the core at 26. None of these guys have even entered their prime yet, so there is plenty of room for them to grow and mature. In other words, they may not be the same team this year that they were last year, but we certainly have not seen the last of this squad yet. This is a team built to be dangerous for a long time to come.
Colorado Avalanche Offseason Moves
Two things were clear by what the Avalanche did this offseason - they weren't willing to stand pat, and they wanted to balance their youth with some more experience. There have only two regular players who are gone. Paul Stastny signed with the Blues as a free agent. Winger P.A. Parenteau was traded to the Canadiens for Daniel Briere, who is hoping that he can regain his past offensive glory at age 36. To replace Stastny's offensive output, the team signed Jarome Iginla. He struggled two years ago after being traded to Pittsburgh from Calgary, but he had a brilliant year last year for Boston with 30 goals. Here he will likely spend time on the top line along with Landeskog and McKinnon - a lineup that could produce a ton of points if they can find chemistry. The final addition of note was defenseman Brad Stuart, who will likely be a top four performer.
The first-round pick in this year's draft was Conner Bleackley, but the forward did not leave a strong first impression. He was not in great shape when he showed up for training camp, and he made it easy for the team to send him back to junior - though they likely would have regardless of what shape he was in. After several years of having their top pick on the team right away, this will be a change, though they clearly don't need the youth element right now.
Colorado Avalanche NHL Outlook
The team could be hard-pressed to win their division again, but that's as much because of how tough it is as anything. The Blackhawks could be the best team in the league, St. Louis is very strong, Dallas is more dangerous than last year, and Minnesota continues to improve. It is an absolute dogfight - the toughest in the league. This team is totally built to be in the mix, though, and will be a strong factor in the playoff race.
Colorado Avalanche Schedule
The Avs lost each of their first five preseason games, so they are not gathering a lot of momentum at this point. That doesn't mean anything until the games count, of course, but things will be challenging for the team right out of the gate - they open with a home-and-home against Minnesota and then play four straight in the east. If they don't look sharper in early October than they have in September then they could find themselves in an early hole.
Colorado Avalanche NHL Futures Odds (from Bovada)
At 18/1 to win the Stanley Cup, the team sits behind nine teams in the bookmaker's pecking order. They are the seventh choice to win the Western Conference at 10/1 and are tied with Minnesota as the third choice to win the Central Division at 11/2.
2014-15 Colorado Avalanche Predictions
This is a playoff team - or at least a team certainly in that mix. That's because as things set up there are going to be a very good team or two left out of the postseason. The young core of this team is exceptional, and we should see them continue to progress. If Iginla can find linemates - something he struggled with often in Calgary - then he could be a big factor here. I expect the Avs to ultimately be one of five playoff teams from this division.
Doc's Sports has a great offer for new clients. You can get $60 worth of picks from any Advisory Board handicapper for any sport he handicaps. All with no obligation and no credit card needed. Claim your free picks today .
Read more articles by Trevor Whenham
Get all of Tonight's Free NHL Picks.
Get all of Tonight's Expert Expert NHL Picks.