This Week in Betting, A-Z
by Trevor Whenham - 9/21/2009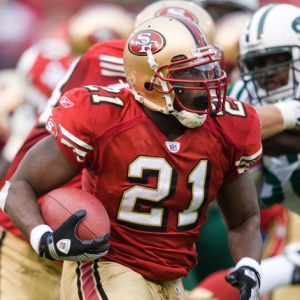 A - Arizona. Apparently it isn't quite yet time to give up on last season's Super Bowl losers. The Cardinals had a rough start to he season in Week 1, but they bounced back with a nice road win in the second week thanks to a near flawless performance by Kurt Warner. Warner completed 24 of 26 passes for two TDs and a gaudy 131.2 QB rating as his team won in Jacksonville, 31-17. Jacksonville scored the last 14 points of the game, and they did it after the Cardinals had put it into cruise control, so the win was even more impressive than it seems.

B - Boise State. The march to the BCS continues for the Broncos after they came out on top of a serious shootout at Fresno State. Boise State won, 51-34, in arguably the most challenging game they had left on their schedule. Kellen Moore and the Boise State offense were solid, but as it did against Oregon the defense really stepped up in a big way - they scored two touchdowns and made Fresno State very uncomfortable on passing plays and when trying to covert third downs.

C - Cincinnati. The Bengals lived up to the expectations that they faced coming into the season as they got their first ever win in Green Bay on Sunday. The winning TD was scored by Chad Ochocinco, and he lived up to his promise to do a "Lambeau Leap". It was another white knuckle affair for the Bengals, as the Packers were at the 10 yard line as time expired, and perhaps would have been able to tie it up if not for a false start penalty. The Packers showed again that they do not thrive in close games - they are just 2-8 in their last 10 games decided by less than a touchdown.

D - Dallas. I am certain of two things - this is not how Jerry Jones dreamed of opening his incredibly expensive new stadium, and Tony Romo is not his favorite guy right now. The Cowboys lost to the Giants on Sunday night thanks to a field goal in the dying seconds. Romo did nothing to help his team's cause - he was just 13 of 29, and his one touchdown was more than offset by three brutal interceptions. Romo was almost saved by his running game which amassed an impressive 251 yards and scored three times.

E - Eighty. We already knew that Frank Gore was good, but he decided to prove it to us again on Sunday against Seattle. The San Francisco running back scored on a 79-yard touchdown in the first quarter, and then eclipsed that with an 80-yard score to open the third quarter. In the end he finished with 207 yards as the decidedly reborn Niners moved to 2-0 in coach Mike Singletary's first full season at the helm. Matt Hasselbeck left the game in the second half with a rib injury that could have him on the Seattle sideline for a while. The injury came when Hasselbeck dove head first for the endzone - something a guy as banged up as hm probably shouldn't be doing.

F - Floyd Mayweather. "Money" proved that there was no rust on him despite a 21-month retirement. In fact, it was like he had never left. Mayweather thoroughly dominated Juan Manuel Marquez on Saturday, knocking him down in the second round before winning an overwhelming decision. Marquez is an incredibly tough fighter, and you have to believe that almost any other fighter would have been stopped in the face of the assault that Mayweather unleashed. The win hopefully sets up an instant classic for pound-for-pound domination - Mayweather versus Manny Pacquiao.

G - Gators. Florida remained undefeated when they faced their first significant opponent, and they got the win they craved against the outspoken Lane Kiffin, but it wasn't the dominating result that they were probably hoping for to really humiliate Kiffin. Florida only beat Tennessee 23-13, and the Gators were able to disrupt Tim Tebow and the offense far more than they were expected to. Tebow threw an interception and no touchdowns, and he averaged just 6.1 yards per attempt despite completing 14 of 19 passes.

H - Hurricanes. Miami is establishing themselves as one of the early Cinderella stories of this college football season. The Hurricanes emphatically beat their second straight ranked team, trouncing Georgia Tech, 33-17. Jacory Harris has made the QB concerns for the team go away with another very strong outing - 20 of 25 for 270 yards and three touchdowns. Unfortunately, things don't get any easier for the team - their next two opponents are Virginia Tech and Oklahoma.

I - Ivo Karlovic. The record for aces in a top-level men's tennis match was 55. Karlovic shattered that mark when he had 78 in a five setter while playing for Croatia in the Davis Cup. Despite the serving dominance, Karlovic actually lost the match, a six-hour marathon, to Czech Radek Stepanek. The game featured remarkable consistency from both players - they both broke the other's serve early in the first set but then held serve for an incredible 78 straight games. Stepanek finally won the fifth set, 16-14.

J - J-E-T-S. Is it that Rex Ryan is this good, or that Eric Mangini was that bad? The Jets have an entirely new attitude and approach this year, and it's clearly playing dividends already. New QB Mark Sanchez was effective in his home debut as his team stunned the New England Patriots. More impressive than the offensive showing, though, was the defense. The unit was unfocused and un-intimidating last year, but they thoroughly shut down Tom Brady and the Pats in this game. Brady completed less than half of his passes, and had an interception and no touchdowns.

K - Kessel, Phil. The Toronto Maple Leafs have started a total makeover under the direction of new GM Brian Burke. He made what is likely to be his last big move of this season this week when he acquired Kessel from Boston and then signed him to a new five-year deal. Kessel is just 22, and he scored 36 goals last year, so he has unlimited upside. He has absolutely no defensive presence, though, and that combined with the contract demands convinced Boston to part with him. The price was high - two first round picks and a second rounder - but it's a gamble that sets a clear tone for the Leafs, and after years of mediocrity that's just what is needed.

L - Lawn. Leodis McKelvin learned the hard way that not everyone in Buffalo is classy. The Bills' corner and kick returner was the goat of Buffalo's opening loss to the Patriots when he fumbled the kick return that allowed the Pats to cap an unlikely comeback. As if he wasn't already feeling bad enough on his own, McKelvin woke the next morning to find that obscenities had been spray painted on his lawn in large letters.

M - Midshipman. It took a long time for the two year old champion male to make his three year old debut, but it was worth the wait. Midshipman made his first start since last fall's Breeders' Cup in an allowance race at Belmont on Friday, and he cruised to an incredibly easy 3 ½-length win. After pressing the pace he made a move for the lead and pulled away without even the slightest urging from jockey Richard Migliore. There's no word on where he will turn up next, but it seems highly unlikely that he will have time to be ready to seek a second Breeders' Cup win next month.

N - New Orleans. The Saints want to leave no doubts - they are for real this year, and they aren't afraid of any defense. New Orleans needed to take advantage of visiting an Eagles team in quarterback chaos, and they certainly did in a 48-22 win. Drew Brees was impressive again, adding three more touchdowns. The only real concerning coming out of the game for the Saints was their pass defense - Kevin Kolb threw for 391 yards and two TDs in his first NFL start, and might have made the game more interesting if he could have limited his three interceptions.

O - Oregon. The Ducks will never be able to make people entirely forget about their season-opening debacle at Boise State, but they eased the pain a little bit with a solid win over another non-BCS upstart, Utah. The Utes saw their 16-game winning streak, the longest in the country, snapped thanks in large part to the emergence of Oregon running back LaMichael James. The news wasn't all good for Oregon, though - QB Jeremiah Masoli was absolutely brutal again, and it's hard to believe that at this point he is a long-term answer.

P - Peavy. It took a long, long time, but Jake Peavy finally made his debut with the Chicago White Sox. He wasn't particularly sharp - three earned runs in five innings of work. It was far better than he needed to be, though, as the White Sox picked on the Royals and scored 13 runs to support their new ace. Peavy didn't look comfortable at the start, but he settled down nicely, and only needed 20 pitches total in his last two innings of work.

Q - Quite improved. Jay Cutler might not yet look like he was worth all the attention and the high price paid for him, but at least his second game was a significant improvement over the absolute mess that was his first. Cutler threw for 236 yards and two TDs to lead the Bears past the tough Steelers in his home debut. There is still lots of room for improvement, though - he averaged only 6.2 yards per attempt. In his defense, he didn't get a lot of support from his running game - they only managed 45 yards on the ground in 16 carries.

R - Ravens. Baltimore established themselves as a legitimate contender as they moved themselves to the top of the tough AFC North with a win over the Chargers in San Diego. Willis McGahee scored twice and Joe Flacco was solid to key the win. I'm thankfully not a San Diego fan, but if I was I am quite certain that I would have lost every ounce of patience I ever had for the incompetent Norv Turner and his total inability to coach in September, and I would be calling for his head.

S - Seminoles. Florida State further muddied the college football picture with a surprisingly dominating win on Saturday. They crushed BYU in Provo, 54-28. QB Christian Ponder finally proved that he can be a legitimate NCAA starter, and BYU's Max Hall struggled with three interceptions. Now we can't know what to think about Oklahoma, Florida State, or Miami because of this result - Did BYU just have a bad day, or Florida State really good, or Oklahoma really troubled?

T - Texans. Houston took a mulligan on their first game and played in their second like we expected them to out of the gate. They were very strong offensively, and that was enough to earn them a big road win against the tough Titans. Matt Schaub was brilliant, passing for 357 yards and four TDs. They had a dismal running game - 59 yards on 25 carries - but that's all you need when your QB is in that kind of a zone. The Titans are a hard luck case this year - they have played too well to be in the cellar.

U - UFC 103. The UFC had one of their least interesting cards ever on Saturday. The main event saw Vitor Belfort, a former phenom who has gone through tough times, return to glory with a first-round knockout of Rich Franklin. He earned Knockout of the Night honors for the win. Brazilian Junior dos Santos continued his climb to the elite levels of the heavyweight division with a third round submission of Cro Cop.

V - Vikings. To be good, teams need to take advantage of weak spots in their schedule, and that's just what Minnesota is doing. They traveled to Detroit and continued the Lions' pain in a 27-13 win. Brett Favre continued his notably safe play, completing 23 of 27 passes for two TDs. His yards-per-completion were a little concerning at 5.7, but it was positive to see Bernard Berrian as his top receiver - Favre needs to develop chemistry with him before the games get tougher.

W - Washington. We knew that Steve Sarkisian would probably turn things around in Washington if only because he was, in a twist for the Huskies, competent. Who knew it would happen so soon, though? UW shocked the world with a stunning win over USC on Saturday. The Trojans managed just 110 yards passing - the fewest in the entire Pete Carroll era. The best part of the whole game was watching Carroll pretend to be happy for Sarkisian, a member of his staff until this year.

X - teXas. The Longhorns opened their Big 12 season with a win over Texas Tech, but they didn't ease the concerns of those of us who haven't yet seem them play like a No. 2 team should be playing. Colt McCoy won't finally earn his Heisman if he keeps playing like this. He got off to a slow start for his third straight game, and wound up with just 205 yards and two interceptions. Texas Tech lacks the talent they had last year, but their system is still the same as we have grown used to - Taylor Potts completed 46 passes for 420 yards and three TDs in the loss.

Y - Yikes. The Oakland Raiders got their first win of the season at Kansas City thanks to a late Darren McFadden touchdown run and some spotty Kansas City offensive play, but there is still one glaring and unavoidable problem with this team - JaMarcus Russell is truly terrible. Though the Chiefs are far from the best defensive team in the league, Russell could only manage to complete seven of 24 passes. That shouldn't be possible for an NFL QB, never mind one who went first overall. The worst part is that I have no confidence that it will get any better.

Z - Zzzzz. Washington beat St. Louis, 9-7, in what should instantly join the list as one of the 10 least interesting NFL games in history. Kicker Shaun Suisham scored all of Washington's points, and the home field fans were so frustrated despite the win that their boos came in a steady stream. The Rams have now lost 12 in a row, but they almost won this one in the end - a clear sign that the Redskins are not a legitimate contender in their tough division.