This Week in Betting, A-Z
by Trevor Whenham - 9/28/2009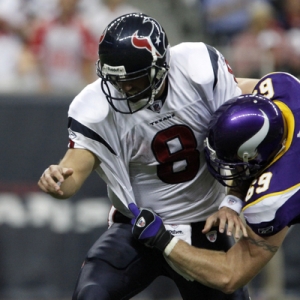 A - Alabama. In a week where a shocking number of highly regarded college football teams had problems, Alabama did exactly what they were supposed to do. QB Greg McElroy was impressively dominant and the defense was ruthless as the Tide manhandled Arkansas. Bobby Petrino's squad has all sorts of problems right now, but with their explosive offense they could have been a problem if Alabama wasn't focused. Instead, Alabama totally neutralized them, and made Ryan Mallett, previously the top ranked passer in the country, look nothing like a good quarterback.

B - Bulls. South Florida had every possible excuse going for them this weekend. Their star QB Matt Grothe, easily their best player, was lost for the season. They had to travel to the intimidating confines of Doak Campbell Stadium. The Bulls didn't let any of it bother them as they won 17-7. Their QB, freshman B.J. Daniels, completed just 8 of 21 passes, but he had two TD passes and the defense helped him out immensely. It's hard to imagine that South Florida can remain undefeated for long given their problems, but for now they are on top of the world.

C - Cal. I don't think I am even exaggerating when I say that a top six team has never had reason to be more embarrassed by a performance than Cal this week. Oregon had struggled and QB Jermiah Masoli was one more mistake away from the bench, but the Ducks were thoroughly dominant and Masoli was almost flawless on the way to a 42-3 victory that wasn't as close as the score would indicate. Heisman hopeful Jahvid Best was terrible, Cal QB Kevin Riley was worse, and suddenly the Pac-10 front-runners have a world full of issues.

D - Detroit. Hallelujah. It finally happened. After 19 games and 21 months the Lions have finally won a game. Sadly, few of their fans got to see it - the crowd was the smallest in 20 years, and that meant that the game was blacked out in Detroit. The victims were the pathetic Redskins - a truly lost franchise that could easily become the first to lose a head coach unless they get their act together quickly. That won't be made any easier by the fact that $100 million man Albert Haynesworth had to be carried off the field with an injury.

E - Eric Mangini. I have long held the opinion that Marvin Lewis is the worst coach in football. That feeling hasn't changed, but Mangini is rapidly staking his claim for a share of that title. He's only just taken over the rebuilding of the Browns, but he is already in serious danger of losing the team. As many as five players have either filed grievances with the league or are about to as a result of Mangini's incredibly stupid system of fines - such as $1,701 for a player who failed to pay for a bottle of water taken from a hotel mini-bar during training camp. The team looked like a lost squad on Sunday at Baltimore. Both QBs played - badly - as the team was crushed by the Ravens. What's the record for the fewest games coached with a team before being fired? This would be sad if it weren't so predictable.

F - Fed Ex Cup. The PGA implemented the Fed Ex Cup, their flawed and uninspiring playoff system, in an attempt to capture some attention away from football and extend their grasp of public attention beyond the majors and the Ryder Cup. I'm not at all convinced it has worked. Among the many issues is the most obvious - it doesn't help to create much drama when the gigantic $10 million payoff goes to exactly who everyone expected it to go to all along - Tiger Woods. Yawn.

G - Gamecocks. I found it particularly hard to believe that Ole Miss deserved their lofty ranking - they had all sorts of potential, but had yet to prove that they could live up to any of it. Steve Spurrier and his South Carolina team likely shared my doubts, and they did a great job of proving them correct. The Gamecocks defense totally shut down Ole Miss QB Jevan Snead, and may have harmed his rapidly rising NFL prospects at the same time. It was nice to see Spurrier get a big win against a top team by outcoaching them - the guy has been mailing it in as a coach pretty much since he left Florida.

H - Houston. Two weeks ago against Oklahoma State, Houston managed one of the biggest upsets off the college football season. This week, thanks to a last minute rally against Texas Tech, the Cougars proved that they are for real. It wasn't a pretty win, but it still came over a tough BCS conference opponent, and it has to lead us to believe that Houston could do some real damage in the C-USA. If they keep winning they could be interesting in the polls as well - their strong non-conference schedule also includes Mississippi State coming up.

I - Ichiro. Someone probably had to explain what to do to Ichiro on Saturday night. He was ejected from Saturday night's game against the Blue Jays after arguing a called third strike. It was the first time that Suzuki had ever been kicked out of a game. That's not just in the majors, either - the streak extends all the way through his time as a pro in Japan as well. The sad part of it was that it was a borderline ejection. It would have seemed more fitting for a milestone ejection like this one to have been accompanied by a historic meltdown.

J - Jacksonville. The Jaguars got themselves their first win of the season, and it came against the most schizophrenic team in the league. The Texans can look brilliant - as they did in Week 2. They can look terrible - like they did in week one. Or they can look like a perfectly bland, underwhelming team like they did in this loss. Matt Schaub was solid, but he floundered down the stretch when it mattered most. The biggest concern for Houston, though, has to be the run defense - it is the wost in the league, and it was torched for the third straight week.

K - Kevin Kolb. The Eagles went crazy signing quarterbacks since the start of the preseason - first Michael Vick and then Jeff Garcia. Given that, it seems fitting that the guy who is emerging with the starter out is none other than the guy they had all along. In his second game as the starter, Kolb was brilliant - he completed 70 percent of his passes for 327 yards and two touchdowns as the Eagles rolled past the Chiefs at home. The weak K.C. gets some of the credit for Kolb's big day, but it was an impressive step forward nonetheless.

L - Letdown. Washington was coming off a major high with their upset of USC, but they came crashing back to earth when they visited the Cardinal. Stanford dominated both sides of the ball en route to an easy 20 point win. Like the Big Ten, the Pac-10 is total chaos right now, and you could make a case for several teams to emerge from the mess with the title - including upstart Stanford. As for Washington, we have to remember that improvement can't be instant coming off an 0-12 season.

M - Michigan. As a Michigan fan I am breathing a massive sigh of relief, but I don't feel nearly as smug as I did last week. Michigan remained undefeated by beating Indiana, but it needed some late heroics by true freshman QB Tate Forcier to get it in a game that they should have won easily. The offense struggled for much of the day despite scoring 36 points, the defense was really scary - especially in the secondary, and there were a lot of reasons to believe that there are still going to be some rough days ahead this season.

N - Niners. The good news is that Vernon Davis had his best game in a long while with two TDs and seemed like he could emerge as a real passing threat. The bad news is that San Francisco got their hearts ripped out by the Vikings. It looked like the Niners had a key road win at Minnesota to remain undefeated, but a 32 yard TD pass from Brett Favre with two seconds on the clock gave Minnesota the win. Though Favre had had an inconsistent game, the heroics, the 40th game winning drive of his career, will only add to his legend. Hopefully it doesn't give him more fuel to decide to make another comeback next year.

O - Ouch. It was not a good week for former Heisman winner Tim Tebow. From a team perspective it was fine - Florida won easily to maintain their perch atop the polls. Personally, though, the story was different. First, Tebow was struck by flu-like symptoms all week, and they were so bad that he had to fly on a separate plane from his teammates to avoid infecting them. Then, in the third quarter, a hard hit netted him a concussion and a night in the hospital. Urban Meyer has certainly done enough to not get second guessed, but you really have to wonder why a player as valuable as Tebow was still in the game when the team was up 31-7 and he was less than 100 percent.

P - Penn State. As scary as it was to be a Michigan fan at times, at least I don't cheer for the Nittany Lions. They were supposed to be the class of the Big Ten, and they had a game at home against Iowa that they should have won reasonably easily. Not so much. The Hawkeyes showed that their defense is for real, and they had as much offense as they needed en route to a solid 21-10 road upset win. This result makes the Big Ten thoroughly confusing - every contender has shown vulnerabilities and have clear issues, so it's impossible now to know who will emerge.

Q - Quit. JaMarcus Russell should just quit football. That's the only way he is going to avoid the embarrassment of being top pick who winds up washing out of the league. Yet again he was totally incompetent on Sunday as his Raiders were crushed by the surprisingly undefeated Broncos. Russell managed to complete 12 of 21 passes - a solid 57 percent - but he amassed just 61 passing yards. That's less that three yards per attempt. Awful. To top it all off, he was picked off twice.

R - Returns. On paper there was absolutely no reason to care about Kansas State's game against Tennessee Tech, but Brandon Banks found a way to make it interesting. The senior wide receiver tied an NCAA record by returning two kickoffs for touchdowns - one of 93 yards and another of 92. He also added 29 yards on punt returns and 90 yards of receiving for an impressive 303 all-purpose yards. Banks had to feel relieved to have something positive happen this year - he has seen his numbers shrink significantly with the departure of QB Josh Freeman.

S - Settling in. Jay Cutler got off to a horrific start in Chicago, but the more he plays the more he seems to be settling in. He completed 78 percent of his passes against Seattle for 247 yards and three touchdowns. More significantly, he had his first comeback win for the Bears. He covered 71 yards in six plays to score the winning touchdown with less than two minutes remaining to take the lead for good. The TD was scored on a 36 yard pass to Devin Hester - the second score by the speedster in three games.

T - Taylor, Fred. New England still didn't look like we expected them to before the season began, but they finally got a decisive win, and they did it thanks to a big game on the ground from Taylor. The former Jacksonville star ran for 105 yards and a TD, and took some pressure off Tom Brady - something the Patriots haven't enjoyed up to now. The offense still has room to improve, but the Pats have to feel good about their defensive showing - they were able to largely contain both Michael Turner and Tony Gonzalez.

U - Ugly. Few stories over the last few months have been as bizarre as what happened at Kansas this week. Their basketball team is among the truly elite in the country, and the football team is in a resurgence, so you would expect both to act like classy groups. Instead, they brawled with each other this week. Twice. It's unclear exactly what happened, but the problems seem centered around sophomore guard Tyshawn Taylor and some social media posting he did. What an impossibly strange story.

V - Virginia Tech. The Miami Hurricanes were one of the feel good stories of the young season. The Hokies clearly aren't sentimental, though. They clobbered the Hurricanes on Saturday, shattering the dream season and bringing Miami QB Jacory Harris crashing back to earth. It wasn't the result that Randy Shannon and the Hurricanes were looking for by any means, but they need to remember that they had easily the toughest opening four game stretch of any team in the country, and even if they lose to Oklahoma next week they will still have managed to go 2-2 over the stretch - an incredibly impressive record given the challenge.

W - Wayne Gretzky. The NHL's debacle in Phoenix has claimed a high profile victim - none other than the best player ever to wear skates. Gretzky has coached the Coyotes for four years, but he stepped down this week because of the uncertainty of the financial and ownership situation with the team. It was likely inevitable that he would have been forced out when the team was sold given his massive $8.5 million per year contract and his dismal results, but it's still hard to respect Gretzky given how he handled it - he just didn't show up for training camp, never told his players what he planned to do, and then stepped down just a week before the regular season starts.

X - eXposed. The more we see of Terrell Owens this year, the easier it is to believe that his best years are in the rearview mirror. Owens hasn't been effective in his first two games for Buffalo, but he reached a new low in game three against the Saints - for the first time in 185 games he failed to catch a pass. He had no excuses, either - he was targeted five times. New Orleans won despite a sub-standard passing game from Drew Brees. He didn't throw a TD, but the running game picked up the slack by scoring three times.

Y - Yikes. Last year, Binghamton made an impressive run through the America East and into the NCAA tournament. With the college basketball season upcoming, it might have been tempting to tag the Bearcats as a potential upstart this year given an established record of success and a load of talent. That ended with a thud this week. First, star player Tiki Mayben was kicked off the team after being arraigned for distributing cocaine. The five players, including more than one starter, were kicked off the team because of their attitude after the Mayben decision. A promising team was totally gutted.

Z - Zero. The Dolphins are not a lousy team, but it may be a while before they win a game. They had the toughest schedule in the league coming into the season, and they just haven't quite been good enough against that schedule so far. Not only did they lose to the Chargers by 10 on Sunday, but they may have lost their QB for a while as well. Chad Pennington came out of the game after a hard hit, and was clearly favoring the shoulder that has already been subjected to multiple surgeries.