My Journey with Doc's Sports: from Fan to Fact-Finder to Family
by Jeremy Martin - 9/1/2016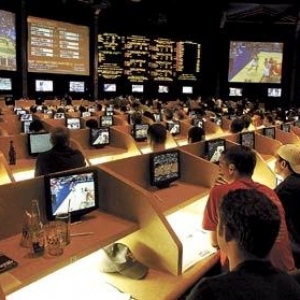 Growing up in San Antonio, I surrounded myself with friends that were into sports and betting. It was only natural. My father was a sports bettor, and this endeavor piqued my interest at an early age. His coworkers really got a kick out of the answer from my dad of the question "Who is this Jeremy that finished third in the office NFL against the spread contest?" "That's my 10-year old son!" my dad proudly answered.
My interest grew from there. I was a huge NFL fan by the time I was in my early teens. And as soon as I could work and earn my own money I was eager to start betting on games with friends and play in early incarnations of fantasy football. During my freshman year of college I did my final project in Speech 101 on the NFL point spread, complete with a chart and the odds for that week's games. Sports betting was not that popular in the early 1990s in San Antonio. You should have seen the look on some of my classmates' faces as I explained the lines. Even though I did a great job on the speech, I don't think the concept really sank in.
In 1994 I moved to Las Vegas to attend UNLV. It was there that I was exposed to sports betting in its purest fashion. It was great heading to The Strip every weekend to make my bets, not to mention seeing the array of sports and special prop betting options many of the sportsbooks offered. It was heaven to a sports bettor. It was around this time that I became familiar with the name of Doc Moseman and his handicapping service, Doc's Sports.
Became a Fan
Around 1994 was when Moseman was at the height of his popularity in the Las Vegas sports betting scene. The handicapping legend, a native Wisconsinite, had just completed a streak of 19 consecutive years of winning his Big Ten Game of the Year, which to this day is one of the most sought-after releases in the entire handicapping industry each college football season. I didn't know buying expert handicapping picks was even a "thing" before I moved to Las Vegas. But when I heard about Doc's nearly 20-year streak of success with his big pick and the fact that he had moved the line more than seven points on a matchup due to his selection, I just had to try it out for myself. The pick I bought that year was not a winner. Doc actually went on a three-year losing streak (with that pick only) after that long winning streak. However, even though I lost the pick, I was definitely impressed with the professional manner in all dealings with the company. I never bought another pick because I liked to do my own handicapping, but I was instantly a fan. It was obvious Doc's was a major force in the sports betting industry.
Picking up a copy of Doc's Sports Journal in one of The Strip casinos at the start of every football season was like Christmas in August. This book was pocket-sized and had the full-season schedule for every major college and NFL team. It also had a lot of handicapping info and interesting articles designed to help bettors. This book was like The Bible to sports bettors. Pretty much anyone who likes sports betting and has been to a Las Vegas sportsbook even once knows about the "little red football schedule." Little did I know that I would one day write the lead article in this very publication each football season.
Became a Fact-Finder
As a graduate of the UNLV communications program, I always knew I wanted to write about sports. As an intern at CityLife, an alternative Las Vegas weekly news publication, I graciously accepted the sports beat. Some of my first assignments involved covering the sports betting industry and included interviews with local oddsmakers, bookies and professional bettors. My big break came a couple months into my internship when my editor assigned a cover story investigating the sports handicapping industry. This was an opportunity I didn't want to screw up, so I knew I had to talk to Doc, who in my opinion was the biggest name in the business.
During the interview I found out Doc had started his business in 1971 and that his was one of the first professional handicapping services in the world. He started off with a couple phone lines and some dry eraser boards, and through hard work and dedication his company grew to be one of the biggest names, if not the biggest, in the industry. Moseman was refreshingly honest and admitted to a couple losing seasons over the years. He said that no matter how strong the handicapping was that even the strongest play could lose in almost unimaginable ways. He told me "there is no such thing as a lock" or sure winner. But he also explained that a strong handicapper with discipline and solid money management will win over time and that providing the best customer service in the industry was his No. 1 priority.
As an unbiased journalist I had to, of course, get some other opinions for my article. I interviewed a lot of the heavy hitters in the Las Vegas sports betting industry, and everyone had very positive things to say about Doc and his sports selection services. Even though the article in general was a bit negative on the industry as a whole because of the influx of telemarketing scammers and fly-by-night operations, Doc and his service came out looking very good in my piece. The cover story got a great reception from both my editors and the reading public, and that helped launch my writing career.
Became Family
In the early 2000s I heard about a job opportunity from connections from UNLV. Doc's son, also a UNLV graduate, was looking for a writer for the fledgling Doc's Sports Web site. The elder Moseman was a lot of things from amazing businessman to one of the most noteworthy sports bettors in Las Vegas history. But Internet savvy he was not. He just came from a different generation. That's why he was tasking his son to build up the Web site. They knew me from the CityLife article I had done a few years back, and I was able to get a phone interview with Doc. After showing him some of my recent news clips and saying all the right things in the interview, I was hired on the spot. I was the first writer for the Doc's Sports Web site, a position I could never have imagined when I had first heard of the legend of Doc almost 10 years earlier.
Back then it was a pretty simple Web site. I wrote articles with sports betting tips for newbies and also covered the industry in Las Vegas with oddsmaker interviews and features on sportsbook directors. Doc was the lone handicapper selling his picks on the site.
Oh my, how things have changed.
Doc's Sports is now the No. 1 sports handicapping site online. I am proud to say I have helped build the site to where it is today. We now have 10 of the best handicappers in the nation that sell their picks here, not to mention some of the best long-term winning sports systems online. I rarely write anymore since I am running a team of some of the top writers in the industry. Back when I started, the entire site might have had 1,000 visitors on a busy day. We now produce articles that receive 20,000+ unique page views apiece during football season.
And the beauty of it all is that even though the company has grown tremendously in the 20+ years since the days when I first heard of Doc and Doc's Sports Service, the core values that it was founded on are still the same. We still have the best winning picks in the business. And we still offer the top customer service to our potential and current clients. Just like when I made that first call to Doc's hotline more than 20 years ago to buy his Big Ten Game of the Year, clients are still getting that same high-level customer service to this day. We have a small staff and operate like a mom-and-pop shop as opposed to some of the boiler room handicapping services in this industry - the same ones I reported about in my CityLife article. We will never call anyone unless they ask us to, and we are always available to answer any questions no matter how novice of a sports bettor may be sending the e-mail or making the phone call.
And on a personal level, working for Doc's is like being a member of a large family. We all enjoy hanging out together and make it a point to see each other often even though most of us live in different cities. Even though all of our handicappers are independent contractors, it's a team effort all around, and there is nothing but healthy competition amongst the guys and working as a team. Everyone knows that making the client happy is the No. 1 goal. And with a team of such talented individuals dedicated to make that happen, Doc's will continue to be the No. 1 handicapping service in America. And that will probably be the case for another 40+ years!