This Week in Betting, A-Z
by Trevor Whenham - 10/13/2009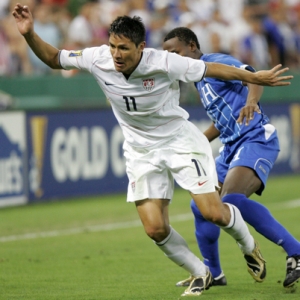 A - Alabama. The Crimson Tide continue to look like the best team in the country in my eyes. They confirmed it this week as they thoroughly dismantled Ole Miss on Saturday. Rebels' QB Jevan Snead came into the season as a potential No. 1 pick, but he was left looking ridiculous by the crushing Tide defense. Coach Nick Saban might be a little concerned that he isn't getting great QB play, but that's not important with this defense. The poll voters are taking note of Alabama's dominance - they earned the rare distinction of jumping past a still undefeated Texas team to take the No. 2 spot in the polls.

B - Broncos. Is it possible that Denver is for real, that Josh McDaniels isn't an idiot, and that Kyle Orton is a legitimate NFL QB? None of those seemed possible before the season started, but the Broncos moved to 5-0 with an impressive come-from-behind win over the Patriots. I think it's important not to get overly excited here - McDaniels knows the Patriots better than anyone outside of Boston, so he had an advantage over the Pats that he wouldn't have over other elite teams. Still, there are a whole lot of teams that are a whole lot worse than the Broncos are.

C - Crabtree, Michael. That holdout sure was worthwhile. Crabtree went back to the Niners with his tail between his legs this week, and he agreed to a contract just slightly bigger than he was offered before the season started. Even worse, he had to give the Niners an extra year in order to get the money. It was a truly terrible negotiating ploy. Now we'll have to see if Crabtree is ready to work hard and make it easy to forget this mess. The team could use his help after a stunningly bad performance in a blowout home loss to the Falcons on Sunday.

D - Dany Heatley. The San Jose Sharks gambled when they acquired Heatley - a very talented forward who isn't always a good teammate. So far the gamble has paid off nicely. Heatley made his home debut this week, and introduced himself by scoring a hat trick. Heatley is second in the league in both goals and points, and has quickly developed scary good chemistry with Joe Thornton, the league leader in assists. As long as those guys keep it up this team will be tough to beat.

E - Edwards, Braylon. Edwards must be the happiest guy on the planet. He managed to escape the black hole of misery and hopelessness that is the Cleveland Browns for much greener pastures in New York. The Jets needed a dangerous receiving threat to add depth to the offense, and Edwards certainly can be that. The price was right to get him, too, and they aren't locked into him for a long time if it doesn't work out. A great deal. Edwards showed his potential immediately, catching five balls for 65 yards and a touchdown in his first game before he even knew the playbook.

F - Fred Taylor. Here is an incredibly shocking development - Fred Taylor is injured. Taylor is a very talented runner, but he's made of glass. Now in his 12th NFL season, Taylor has made it through 16 games unscathed just twice. He has had ankle surgery and will miss several weeks. This is a significant problem for the Pats - they don't have a No. 1 running back without Taylor, and it showed on Sunday when they couldn't manage to gain 100 yards in their loss to Denver.

G - Goal line stand. The Cardinals beat the Texans on Sunday to keep their season moving in the right direction, but they didn't make it easy for themselves. Arizona opened up a 21-0 lead at the half, took the first 25 minutes of the second half off to get back to a tie game, took the lead with a late interception return for a TD, and then held on with an impressive goal line stand as time expired. As has been the recent and slightly disturbing trend, the Cards were fantastic at defending the run, and mostly hopeless at stopping the pass.

H - Henne, Chad. If Monday night's performance was an indicator of his real potential (and I really think it is) then the Dolphins have their QB situation figured out for the next several years. Making just his second career start, Henne was brilliant on Monday in a huge divisional win over the Jets. Three separate times in the third quarter he led scoring charges to regain the lead after the Jets had surged ahead in the see-saw battle. Henne completed 20 of 26 passes on the night with an impressive 9.3 yards per attempt average. Good QB play - that's what you get when you draft a Michigan man.

I - Ineligible. The Oklahoma State Cowboys had to play without their best offensive player on Saturday after wide receiver Dez Bryant was ruled ineligible for the game by the school. The problem was some offseason contact Bryant had with Deion Sanders. The contact wasn't illegal, but when Bryant was asked about it by NCAA officials he lied despite having done nothing wrong. Missing both Bryant and last year's leading rusher Kendall Robinson the Cowboys were lucky to escape with a 36-31 win at Texas A&M.

J - Joke. The Raiders are consistently good at one thing - delivering punchlines. Yet again, the team delivered a lousy performance anchored by pitiful QB play. JaMarcus Russell didn't throw any interceptions. That's the good news. The bad news is that he only passed for 100 yards, and he fumbled three times and lost them all. Eli Manning was able to lead the Giants to an incredibly easy win despite dealing with a foot injury. The foot could have been chopped off and he still could have won that game.

K - Kansas City. For the most part the Chiefs played reasonably well on Sunday - well enough that they deserved to beat the Cowboys. There was just one little flaw in their otherwise solid game plan - they forgot to cover receiver Miles Austin. Austin was making his first career start because of an injury to Roy Williams. Guys making their first starts should generally not be allowed to erupt for 10 catches, 250 yards, and two touchdowns.

L - Lions. The recent trend in Detroit continues - the Lions played pretty well against a solid team on Sunday, but not good enough to win. This time it was the Steelers. The Lions outrushed the Steelers, and Daunte Culpepper, subbing for the injured Matthew Stafford, outpassed Ben Roethllisberger. The main problem here was the same one that they have seen before - stamina. The Lions played the Steelers tight well into the second quarter, but just couldn't keep up all game.

M - Michigan. I'm hoping that talking about my Wolverines here will be cathartic because I have some frustration that needs to be eased. Michigan came within two points of winning at Iowa - the 12th ranked team in the country. That's the good news. The bad news is that they lost despite dominating on both lines, and that they lost because they turned the ball over five times. The turnovers ranged from an ugly interception as the game wound down to a comically mishandled kick. It's incredibly frustrating to see a decent team waste opportunities through sloppiness.

N - Nebraska. It's getting easier and easier to believe that Bo Pelini is going to get the Huskers turned around and back into the ranks of the elite teams in the country. Nebraska won their first game against a ranked team since 2006 when they beat Missouri on Thursday. Nebraska started out slow, but built some impressive momentum in the second half to make the win an impressive one. The more they win the easier recruiting will get, and the better this team will be.

O - Oklahoma. Sam Bradford finally returned to action this week, and he got a very simple game in which to get comfortable and work out the kinks. Bradford passed for 389 yards and a touchdown as the Sooners rolled past a Baylor team that seems to have given up after losing QB Robert Griffin. Things get significantly tougher for Bradford next week when he has to face Texas in Dallas. Kansas is up after that, so the Sooners had better hope that Bradford is healthy.

P - President's Cup. This event should be just as interesting the Ryder Cup, but it really isn't. The Americans earned an easy win on the back of a huge weekend from Tiger Woods. The World team has about as much star appeal as the British Ryder Cup team does, but the event gets a small fraction of the coverage, and provided only a portion of the drama that the Ryder does. It's a sad statement when the part of the week that got the most coverage was Greg Norman's marital status.

Q - Quick start. Donovan McNabb returned from injury after Kevin Kolb had been reasonably impressive in two relief performances, and he wasted no time re-asserting himself as the top dog on the Eagles. He connected with Jeremy Maclin with a 51-yard TD pass on just the second play from scrimmage in the game against the Bucs. The game never really got interesting after that as the Eagles cruised to an easy win against a struggling team. One of the few bright notes for the Bucs was that Kellen Winslow decided to show up for the game - he had two TD catches.

R - Razorbacks. How often have we heard this story before - an unbeaten college team finally makes the polls after being championed by the media and the public, and promptly goes out and loses in embarrassing fashion. This time it is Auburn that faltered. Their previous explosive offense was a dim shadow of itself, and the defense was terrible as the Tigers lost to Arkansas by three touchdowns. The 44-23 score is flattering to Auburn - it was 27-3 at the half.

S - Swept. The regular season in baseball ended with a boring whimper, and so far the playoffs have continued on the same dull trend. Three of the four LDS series ended in a sweep, and the other one wasn't exactly balanced - Philadelphia beat the Rockies in four games. In all four series it seemed like one team was more ready, more talented, and more focused than the other by a wide margin. That really shouldn't be the case after a team has done all it takes to make the playoffs. Hopefully the LCS round provides some much needed drama.

T - Tim Tebow. The good news for the Gators is their their star QB was cleared to play despite his concussion, and that he led the team past No. 4 LSU. The bad news is that he didn't play particularly well while doing it. He had a TD pass, but he also threw an ugly interception, and he really only managed the game instead of setting the tone like he can. Up until now Tebow was leading a dismal Heisman race almost by default, but this performance has to put his second win in serious jeopardy.

U - UFL. The newest professional football league started up this week and, as far as I can tell, no one cared. The crowds in Las Vegas and Florida were much smaller than officially reported, and even those reports weren't massive. The football isn't bad, but it's also not as good as the NFL or the top-tier of college football. I can't for the life of me figure out why people would think we need another fall league when their is an incredible volume of football to watch as there is. If the UFL was publicly traded I certainly wouldn't buy shares.

V - Vikings. It took until he was 40 for Brett Favre to make it to 5-0 for the first time. It was virtually a lock this time around as his Vikings played the incredibly underwhelming Rams on Sunday. St. Louis did a decent job of containing Adrian Peterson all day, but the effort that required left Favre wide open to do whatever he wanted. The old guy completed 75 percent of his passes as the team rolled to a four TD win. I'm not taking anything away from what Minnesota has done, but the toughest parts of their schedule are certainly ahead of them.

W - World Cup. For the sixth straight time the U.S. will be represented at the World Cup. They clinched their spot with a win in a crazy game in civil war-torn Honduras on the weekend. The game was, incredibly, not available on TV in the U.S., but all reports were that it was a thrilling, crazy affair in which both teams played with desperation and creativity. Now that they have made the field the next trick is not to be ridiculously disappointing once they get there.

X - eXplosion. Where in the world did that come from? The Seahawks hadn't exactly looked good this season, yet on Sunday they humiliated the Jaguars, 41-0. The game marked the return from injury of Matt Hasselbeck, and showed just how much this team relies upon their QB - they have won the two games he has started and finished by a combined 69-0, and have allowed 82 points in the three games he hasn't finished - all losses.

Y - Yawn. It is quite possible that Cleveland's win over Buffalo on Sunday by a 6-3 score was the most boring football game in the history of the planet. It's certainly in the top five. The Browns won the debacle despite seeing QB Derek Anderson complete just two of 17 passes. That shouldn't be possible, and it certainly shouldn't be enough to win, but it was. These two teams are in a horse race with Oakland for the title of worst run team in the league, so this pathetic mess of a game seems fitting.

Z - Zenyatta. The top filly in the world not named Rachel Alexandra kept up her winning ways when she won her 13th consecutive race on Saturday. As we have gotten used to, the four year old Zenyatta won with incredible power, exploding down the stretch to take the lead while looking like she had much, much more held in reserve. Now comes a tough decision for her connections about what will almost certainly be her last race. She could enter the Breeders' Cup Ladies Classic, almost certainly win it, and retire as a distaff legend, or she could take on the boys in the Classic and, if she won, have a legitimate shot at beating out Rachel Alexandra for Horse of the Year. I certainly hope for the latter.