NBA Betting: Hawks Could Surprise in the East
by Nolan Sinclair and Robert Ferringo - 04/22/2009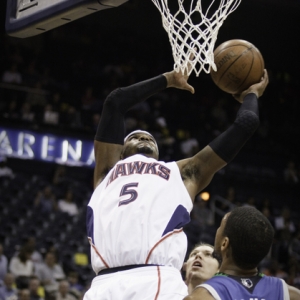 The Atlanta Hawks are a very interesting team in this postseason. They seem to fit the mold of many teams that have made the final 16 this year: they are practically unstoppable at home and somewhat of an enigma on the road. They look to have the upper hand in their first round series with Miami, but then comes a date with LeBron James and the top-seeded Cavaliers. So I pose the question: could the Atlanta hawks surprise everyone and come out of the East?
They looked like an NBA champion in Game 1 of their first-round series by holding the Heat to under 70 points and only allowing Dwyane Wade to score 17. They easily covered the five-point spread in that game and are instilled as five-point favorites again tonight. They host the Heat at 7 p.m. tonight in Philips Arena.
This Hawks team features certain players that are difficult matchups for many other teams in Joe Johnson and Josh Smith. Johnson is one of the NBA's best scorers. When he gets hot he can hit from anywhere on the floor. Smith is a FREAK athlete. He can jump over tall buildings with a single bound and he can dunk a basketball from the opposite free-throw line. Well maybe not, but he is still a do-it-all kind of player. Atlanta has six players that average more than 11.4 points a game lead by Johnson's 21.5 and Smith's 15.6.
Late last season the Hawks made a trade for Mike Bibby that some people loved and some didn't understand. Actually, what made some folks the angriest is the fact that they could have had Chris Paul two drafts ago and instead they went with Marvin Williams, but now they were trading for Bibby. But hold on one second, Bibby is a solid NBA point guard and Williams is having a solid season (although he has be hampered by nagging back injuries, but should be fine for the playoffs). Mike and Marvin have combined to average 29 points, six assists, 10 rebounds, and two steals a game.
The intangibles are what make the Hawks even more dangerous. Al Horford provides Atlanta with a big presence as he has averaged more than 11 points and nine rebounds on the season and he also blocks one and a half shots per game. Off the bench the Hawks bring Ronald "Flip" Murray, Zaza Pachulia, and Maurice Evans, all whom are averaging 20 minutes per game. Murray leads the reserves with 11.9 points per game in just an average of 24 minutes per game. Atlanta averages just 12 turnovers a game and when you compare that to the 20+ assists you have a team that takes care of the basketball all while sharing it and getting scoring from all over the floor.
The Hawks are 47-35-1 ATS on the year, including Game 1 of the playoffs, and over .500 ATS both at home and on the road. However when it comes to the playoffs you have to be able to outrebound your opponent, play solid defense, and shoot the ball well from the free throw line. Atlanta is 10th in the NBA in total defense as they give up just 96.5 points per game, which is impressive, but the rebounding deficiencies and poor free throw percentages are what worry me. Atlanta has a -1.78 rebounding margin, which means they get out-rebounded by almost two boards a game, and they shoot just 73.8 percent from the line which is good for 29th out of 30 NBA teams (interestingly enough, Orlando is in last).
They should be able to get by the Heat without a problem, but Round 2 could be a completely different story. However, this is the same core of Atlanta players that took the World Champion Boston Celtics to seven games last year. If the Hawks can lock down on Wade - and they have owned him over the past few seasons - then they should be able to at least hold their own against King James. If the Hawks could hold serve at home, like they did against the Cs last year, and then steal a game on the road in Cleveland it is not beyond the realm of possibility to suggest that they could knock of the Eastern Conference favorites.
If the Hawks were to pull a stunner in Round 2 I don't think that there is any doubt that they would handle whichever team was left in the East. So, while it might be a longshot, those of you that like plays on "out of nowhere" teams might want to consider getting some coin down on the Atlanta Hawks to come out of the East.