Football Betting: Early Week Line Movements
by Robert Ferringo - 10/13/2009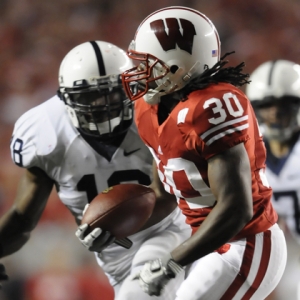 According to legend, early in the week is the time when professional bettors make some of their moves - the other most important time is just prior to kickoff - and they tear apart the ripe lines from the Las Vegas Sports Consultants. For the last two years I have tracked the opening steam movements of lines in both college football and the NFL. The idea was to see if the "sharp" money was really that, or if the idea of trailing these severe early line movements was merely a myth. Well, I'm glad to say that we are back at it this season and ready to build on last year's research.
Here is the basic methodology. If a line starts as Penn State (-1) and moves to Penn State (-4.5) then we're going to track Penn State as our side, because the Lions are getting all of the money and driving the spread up. If the line starts as Penn State (-4) and then moves to Penn State (-1) we're going to track the opponent because they are taking the heavy action and it's moving the line lower.
I have not nailed down a specific movement - either passed on percentage of the spread changed or overall points changed - so I have to admit that my research is a little unscientific and based a bit on "feel". However, having done this as much as I have I would have to say that I have an eye for the odd movements.
That said, two years ago the "sharp" money went just 20-30 for the season and we had a solid fade system. But last year I think I opened the parameters up way too much and our tracked teams went 76-69, which was not statistically significant. This year I want to try to tighten it up and keep the total tracked plays somewhere in the range of 70-90 for the season.
The sharp early college action had a successful week, with our tracked teams going 4-2 ATS. This season the college early line movements are just 14-23 ATS while the NFL moves (2-1-1 this week) are a decent 10-6-1 ATS. Overall, the early big movers are just 24-29-1 ATS.
Here is this week's action:
Cincinnati at South Florida (7:45 p.m., Thursday, Oct. 15)
Open: South Florida -1.5
Current: Cincinnati -3.0
Tracking: Cincinnati
Big game in the Big East. The Bearcats have won three straight in this series by an average of 12 points per game and have covered the spread in five straight against the Bulls. That said, the home team is 5-1 straight up when these clubs meet. Interesting subplot: USF defensive coordinator Joe Tresey was fired by Cincinnati after last season.
Iowa at Wisconsin (Noon, Saturday, Oct. 17)
Open: Iowa -2.0
Current: Wisconsin -3.0
Tracking: Wisconsin
It's homecoming in Madison and we'll see which side that the Ferringo Karma will support. That's right: I'll be in attendance here this week to break down these clubs with my own, rum-hazed eyes. This is an interesting spot in that the Badgers are the lower ranked team but are now favored due to the action. That said - 60 percent of the wagers on this game have come in on Iowa yet the line is moving away from them. Iowa is 5-1 ATS in the last six meetings.
Florida Atlantic at North Texas (8 p.m., Saturday, Oct. 17)
Open: Florida Atlantic -3.0
Current: North Texas -1.0
Tracking: North Texas
These have been a pair of hard-luck teams so far this season and I have to say that I'm a bit surprised to see such a shift toward the Mean Green. North Texas did get freshman quarterback Riley Dodge last week. But FAU is coming off a bye week and is 4-1 ATS in the last five meetings. They are just 5-16 ATS as a road dog but they are still considered the stronger team despite this number.
Washington at Arizona State (10 p.m., Saturday, Oct. 17)
Open: Arizona State -3.0
Current: Arizona State -6.5
Tracking: Arizona State
A majority (63 percent) of the action has come in on Washington but the line has nearly doubled going the other way. Curious. The road team in this series is a solid 8-4 ATS in the lasts 12 meetings. But Arizona State has simply rocked the Huskies lately, winning (and covering) five straight by an average of 16.4 points per game. We all know that this is a better Huskies squad. But good enough to make all of that up?
Akron at Buffalo (3:30 p.m., Saturday, Oct. 17)
Open: Buffalo -6.0
Current: Buffalo -10.5
Tracking: Buffalo
The Zips head to face the defending MAC champions with their third quarterback of the season. Starter Chris Jacquemain was suspended and I don't see him coming back. Then backup Matt Rodgers was lost with a knee injury last week. Freshman who planned on redshirting is up this week, hence the line movement.
St. Louis at Jacksonville (1 p.m., Sunday, Oct. 18)
Open: Jacksonville -13.0
Current: Jacksonville -10.0
Tracking: St. Louis
Gotta say, I don't see how a team that just lost 41-0 could be laying double-digits to anyone. Even if it is a Rams team that is a dreadful 2-23 straight-up and 8-17 ATS over its last 25 games. It looks like Marc Bulger is going to start this week for the Rams, but I'm not sure if that's a good thing or not. Apparently the oddsmakers say 'yea'.
Detroit at Green Bay (1 p.m., Sunday, Oct. 18)
Open: Green Bay -10.5
Current: Green Bay -14.0
Tracking: Green Bay
I actually attribute most of this line movement to Green Bay coming off a bye week and "sharp bettors" not convinced that Detroit's late rally against Pittsburgh was the sign of any real fight. The Lions never play well in Lambeau and are just 3-8-1 ATS in their last 12 trips there. But Detroit is a spry 6-2 ATS on the road and 16-5 ATS as a double-digit dog.
Chicago at Atlanta (8 p.m., Sunday, Oct. 18)
Open: Atlanta -4.5
Current: Atlanta -3.0
Tracking: Chicago
This is another reverse line movement. Around 75 percent of the action is on Atlanta but the line has dipped through some key numbers to settle at a field goal. This is a revenge game for Chicago - which is off a bye week. Last year this was the game that they lost despite scoring the go-ahead touchdown with 17 seconds to play.
Denver at San Diego (8:30 p.m., Sunday, Oct. 19)
Open: San Diego -6.0
Current: San Diego -4.0
Tracking: Denver
Winning four games to open the season wasn't enough to get Denver any respect. But a victory over Brady, Belichick and the almighty Patriots will get the job done. San Diego has been the big brother in this rivalry, going 5-0-1 ATS in the last six meetings, and they are coming off a bye week. But it's pretty clear now that the better team is getting the points in this one.
Robert Ferringo is a professional handicapper and you can purchase a full season's package of his football selections for just $25 per week! Click here for details.