Free NFL Props Predictions - Week 2
by Jay Horne - 9/17/2009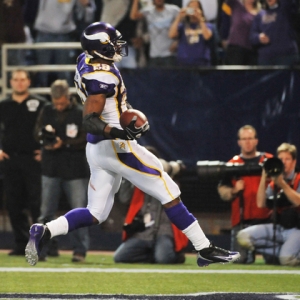 The opening week of the new NFL season is in the books. After exciting finishes and surprising outcomes may have dampened some of your first week football picks, we turn focus to some of the side action to considering heading into Week 2. While many of the teams may be upside down from last year, many of the same players are continuing old habits. Jake Delhomme continues to throw interceptions, Adrian Peterson dominates on the ground, and the Patriots find a way to win despite being outplayed. If opening week has you gun shy from laying some money on teams against the spread, we have some interesting betting lines begging for attention. Odds are from Bodog.

Get $60 in FREE Member Picks
No Obligation
Click Here

Prop Bet No. 1 Adrian Peterson total rushing yards in Week 2 vs. the Detroit Lions

Over 120.5
Under 120.5

Adrian Peterson busted open a 64-yard touchdown run last week against Cleveland to put the game out of reach late in the fourth quarter. The NFL's best running back ended the day with 180 yards in an impressive performance to lead the Vikings to convincing 34-20 victory. Minnesota now travels to Detroit to take on the still-winless Lions.

Public bettors would probably jump on the over here and expect Peterson to rack up more than 200 yards against the weak Detroit defense. However, you can expect the exact opposite. The Lions will be extra motivated to end their winless skid when they host their first game of the season this weekend.

The Lions defense may actually play better than they are to help try and get the over the hump. Even more important is the fact that Peterson failed to rush for more than 110 yards in each meeting last season against Detroit.

Despite the Lions 0-16 record, they played the Vikings as well as any other team, losing by a combined six points in both contests. The Lions defense held the Vikings to just 16 points. on average. in those two meetings while keeping Peterson under control. Also, Peterson historically has a letdown performance after posting big numbers. The last five games Peterson has rushed for more than 150 yards he has failed to reach the century mark in the games following.

Do not get wrapped into this one based on Peterson's dynamic perception and go with the smart play.

Pick - Under 120.5

Prop Bet No. 2 Who will throw the most interceptions in Week 2?

Jake Delhomme +160
Jay Cutler -200

Jake Delhomme collapsed last year in the playoffs, throwing five interceptions and ending the Panthers season after they tied the Giants for the best record in the NFC during the regular season at 12-4. The Panthers early exit was to be soon forgotten until Delhomme suffered another eerily similar performance in last week's opener against the Eagles.

The Panthers quarterback threw four picks and also lost a fumble in the 38-10 loss. The Panthers picked up A.J Feeley over the week to put a more solid talent in the backup spot and to add more pressure on the shoulders of Delhomme to perform.

Chicago Bears fans also faced a similar horror this past weekend, watching their quarterback throw four picks. Jay Cutler made his much-anticipated debut, but it was an all-too-familiar scene for the Bears, who have been plagued by quarterback troubles over the years. Of course, Cutler is the better quarterback, but will be going up against the best defense in the NFL this week in the Pittsburgh Steelers.

The Steelers forced 20 picks last season and that is why Cutler is projected to throw more picks in this game. Despite Cutler's success, he has been prone to throw interceptions. The trend will likely continue if he continues to look uncomfortable behind center.

On the other hand, the pressure on Delhomme should force him to play a solid game. Actually, he must perform or the threat of losing his job will become a reality. Also, Delhomme has thrown just one interception in the last four games following performances where the Panthers quarterback threw multiple picks. Delhomme will bounce back and give the Panthers hope for at least one more week. Cutler will need more time to adapt to not only the offense, but to the receivers who contributed to some of those picks last weekend.

Pick - Cutler -200

Prop Bet No. 3 New York Giants vs. Dallas Cowboys

Will either team score 3 straight times without the other team scoring?

Yes -175
No +145

The New York Giants and Dallas Cowboys NFC East rivalry has historically been a back-and-forth affair. The last eight meetings have been split right down the middle at 4-4. Normally the first meeting of the year has been a higher-scoring offensive game while the latter game in the season has historically been controlled by the defenses. However, both teams are missing some of their biggest playmakers on offense heading into this season.

The loss of Plaxico Burress hurts the Giants big-play threat through the air while the same can be said for the Cowboys losing Terrell Owens. Eli Manning and Tony Romo are both solid quarterbacks and will make the best out of their talent at the wide out positions. However, this will not be the high-scoring affair that these early games have been in the past.

The Giants also lost running back Derrick Ward to Tampa Bay. With both teams losing so many explosive threats, points may be harder to come by. The Giants defense is among the best in the NFC and the Cowboys defense has played well since the second half of 2008.

If the defenses are to take more control like expected, then the chances for three straight scoring occurrences by one team is very unlikely. Also in the last eight games between the two teams, just one game has featured a team scoring three straight times and that was in October of 2006 when the Giants jumped out to a 12-0 lead.

Pick - No +145