MLB Handicapping: Rotation Gaps
by Trevor Whenham - 07/10/2009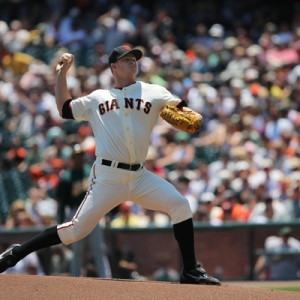 It goes without saying that good pitchers are useful for baseball bettors. They can be the reliable bread and butter that allows a long-term profit to be made. There is another way to find potential profit when a team has stud starters, though. When a team has a top starter or two the public will tend to assume that those starters are indicative of the general quality of the teams pitching - the starter is very good so the pitching must generally be pretty good. That general assumption can create opportunities when it doesn't reflect reality - when a team has a big quality gap between the top of the rotation and the bottom. In those situations the public tends to overvalue the rotation in general, forcing prices to be worse than they should be and potentially creating value on the other side. Here's a look at four teams that have such a gap that can potentially be exploited:
San Francisco Giants - We knew that Tim Lincecum was good, and he has managed to handle his increased workload without any problems at all. In fact, if he keeps up his current pace he could very easily have two Cy Young awards in his trophy case before the end of the year. What we couldn't know about the Giants, though, was that Matt Cain was going to be so good as well. He was a question mark in the rotation coming into the season, but he has matched Lincecum stride for stride, and is having a very good year. That one-two punch is getting lots of attention from the media, and San Francisco's success is rightly credited largely to the rotation.
What gets talked about less, though, is that the rest of the rotation isn't much. Randy Johnson is serviceable but still just a shadow of his former self, and he seems to be having troubles staying healthy. Barry Zito is still wasting a huge amount of salary money at a record clip. Jonathan Sanchez has been a liability and seems unprepared to be part of a major league rotation. The gap between the top two starters and the rest on this team is massive.
Seattle Mariners - Further up the West Coast Seattle also has a potent one-two punch at the top of the rotation in Felix Hernandez and Erik Bedard. Hernandez has been fantastic all year, and Bedard has been more than solid as well. Behind them, though, lies a disaster. Seven other guys on the active roster have started at least a game, and none are anything close to dominant. Jarrod Washburn has decent stats but a losing record. Jason Vargas is wildly inconsistent. Garrett Olson and Chris Jakubauskas are not solid rotation members at this point. Carlos Silva hasn't distanced himself enough from his ugly 4-15 season last year. Bedard and Hernandez have to particularly good if this team is going to do anything because no one else can be relied upon.
Kansas City Royals - This is a slightly different case - one pitcher is really good, another is not nearly as good as he is perceived to be, and the rest are troublesome. Zach Greinke has cooled down a bit from his blistering start, but he's still the clear face of this team in the public's mind. Right behind him in public perception in terms of pitchers is Gil Meche. Meche faces high expectations, and he shows enough promise at times to make us believe he might live up to them, but his numbers are not nearly as good as most people would likely guess they are. Behind that things fall apart pretty quickly.
Brian Bannister is so streaky it's ridiculous. Kyle Davies has not found his groove. Luke Hochevar hasn't been terrible, but he gives up far too many runs. Things were so bad that they even resorted to giving Sidney Ponson a shot. That's desperation. Greinke has led a bit of a renaissance of public recognition for this team, but the rest of the pitchers are not ready for prime time.
Arizona Diamondbacks - It seems hard to believe now when you look at the standings, but this was a team that was supposed to be competitive this year. The serious injury to Brandon Webb was understandably crippling, but the rotation would have had consistency issues even with him there. Webb and Dan Haren are seen as top-level pitchers. Haren is performing like one again this year - a wining record for a lousy team, a microscopic ERA, and almost one strikeout per inning. Beyond that, though, there isn't much to like. Doug Davis has been a big disappointment. Max Scherzer isn't progressing as quickly as hoped. Jon Garland is frustratingly bad. Three other guys have had a shot at holding down the last spot in the rotation, but none have shone. Haren's performance makes this team's pitching seem far better than it is.