MLB Betting: Early-Week Series Prices and Predictions
by Matt Severance - 06/01/2009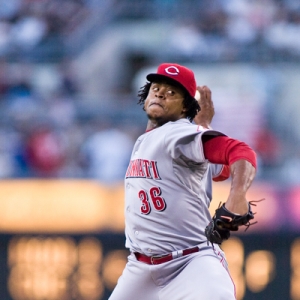 With the NBA and NHL down to their final series, it's really time to focus your betting on baseball for the next few months. With that said, I will try and provide you some insight on early week and weekend series prices and where the best values might be.
Here are two series beginning tonight that you might want to consider. All odds are from BetUS and all are just for a series' first three games if any of them are scheduled for four.
Cincinnati Reds (+125) at St. Louis Cardinals (-155): The Reds had one of the best road records in baseball before getting swept over the weekend in Milwaukee and have now dropped their past six on the road. In addition, they are just 3-13 in their past 16 trips to Busch Stadium. But there are reasons to go with the Reds in this one.
First off, the pitching matchups seem to favor them in a big way. Their three best pitchers are lined up against the back half of the Cardinals' rotation, with Cincy missing both Chris Carpenter and Adam Wainwright in the series' first three games (this one is a four-game series).
Edinson Volquez will be activated from the disabled list to start Monday for the Reds. While just 4-2 with a 4.25 ERA, he is holding hitters to a .185 batting average. That's really the key stat when it comes to evaluating pitchers. He did have his worst game of the season against the Cards, allowing seven runs on May 10 but got a no-decision. He's opposed by Todd Wellemeyer, who has had two good starts in a row but has yet to put together three straight quality starts this year.
On Tuesday the Reds have Bronson Arroyo, who is coming off a complete-game win over Houston and has allowed just two earned runs in the past 17 innings. He's opposed by Brad Thompson, who hasn't even pitched in a few weeks and is a fill-in for Kyle Lohse. The series finale pits Cincy's Johnny Cueto, who has pitched at least seven innings in his past eight starts and is one of the top young pitchers in the NL, against Joel Pineiro, who didn't get out of the fifth inning last time out.
Don't forget, too, that the Cards had to travel all the way back from the West Coast on Sunday, while the Reds didn't have to fly too far from Milwaukee.
Milwaukee Brewers (-110) at Florida Marlins (-120): The pitching matchups in the first three games of this series leave a lot to be desired on both sides.
Monday: Jeff Suppan vs. Andrew Miller.
Tuesday: Manny Parra vs. Burke Badenhop (probable)
Wednesday: Braden Looper vs. Sean West.
Be honest, have you heard of those final two Marlins starters? Those no-names are in the rotation because of injuries to Ricky Nolasco and Anibel Sanchez.
All the numbers would point to Milwaukee here. They come in off a sweep of Cincinnati and swept Florida earlier this year. The Marlins, meanwhile, went 11-20 in May and are hitting just 7-for-36 (.194) with runners in scoring position in the past four games.
That Florida offense has been struggling for a while, so former leadoff hitter Emilio Bonifacio has been dropped to No. 2 in the lineup. He had the third-lowest on-base percentage of any regular leadoff hitter in the majors. Outfielder Chris Coghlan led off in the past two games. Shortstop Hanley Ramirez returned this weekend but is still bothered by a groin injury.
Milwaukee has one of the best road records in the league at 14-11. The Brewers' bullpen has thrown 14 consecutive scoreless innings, while Florida's bullpen has an ERA above 6.00 at home.
Take the Brew Crew.