MLB Betting: Tuesday Series Prices and Predictions
by Matt Severance - 06/02/2009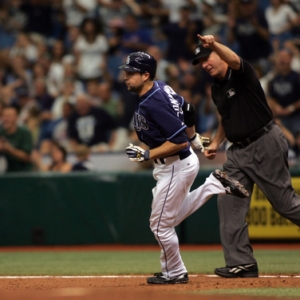 Well, things are looking good for those of you who listened to me and took the Reds in their series against the Cardinals that began on Monday. Cincy was getting +125 for the series and took Game 1, meaning they just need a win tonight from Bronson Arroyo or Wednesday from Johnny Cueto to earn some money.
I also recommended the Milwaukee Brewers against the Marlins, but Florida won Game 1 of that series. Don't panic, however, as Milwaukee should have the pitching edge the next two games.
But what both of those series show is how important it is to get that Game 1 win when betting on series prices. Thus, even if an underdog would seem to have little chance, if you get that first game you will be feeling a lot more comfortable.
With that said, here are my recommendations for a few series that start tonight. All odds are courtesy of BetUS:
Kansas City Royals (+155) at Tampa Bay Rays (-190): I love this one because of Game 1. While Kansas City starter Kyle Davies isn't too great, he does have a 2.16 road ERA and Rays starter Andy Sonnanstine has been one of the worst pitchers in baseball of late. Believe me, I live in Tampa and all the talk-radio shows are ripping Rays manager Joe Maddon for keeping Sonnanstine in the lineup.
Sonnanstine is 3-5 with a 7.66 ERA and in his most recent start last Wednesday at Cleveland he gave up a career-high eight runs in three innings. Batters are hitting a whopping .340 against him, with right-handers at an incredible .436 - and Sonnanstine is a righty!
The Rays have lost six of their past eight games, and their bullpen is a big-time mess, with former closer Troy Percival on the DL and pondering retirement.
The Royals come in having lost four in a row and five of six at home. Sometimes a road trip is just what a team needs. K.C. didn't have starting outfielder Coco Crisp in the past four games and may have him back tonight. In addition, closer Joakim Soria could be activated tonight or tomorrow, and he was one of the best in the AL before getting hurt.
The Royals don't yet know who will start Wednesday against inconsistent Jeff Niemann, while Gil Meche starts Thursday against James Shields.
At +155, take a shot on K.C. even though it is 3-12 in Tampa Bay since 2005.
Chicago Cubs (+125) at Atlanta Braves (-155): The Cubs went 6-0 against Atlanta last season, but that doesn't mean much. I still like the Cubs because their offense seems to be turning the corner, while the Braves' remains one of the worst in the NL.
Atlanta enters off a 2-5 road trip, and Chipper Jones isn't 100 percent because of a toe problem; don't be surprised if he sits out a game this series. In addition, starting first baseman Casey Kotchman is likely to miss this series because he was hit on the shin by a pitch Sunday. He had played in every game so far and is third in the NL in doubles, so that will be felt.
The Braves outfield of Garret Anderson, Jeff Francoeur and Jordan Shafer is a joke. Actually, Anderson is faring OK, and his homer on Sunday was the first by an Atlanta outfielder since May 1. Think about that for a minute! Francouer and Shafer clearly need some time back in the minors.
The Cubs have won four of six, which includes a four-game split with the team with the best record in baseball, the Dodgers. Milton Bradley and Ryan Theriot are hitting now, even though Alfonso Soriano and Geovany Soto and Derrek Lee are not.
But I like the Cubs winning the opener behind Randy Wells, who has struck out 23 in his four starts with a 1.80 ERA. He has yet to get his first big-league win, however. He is opposed by Kenshin Kawkami (3-6, 4.73), who has been very inconsistent.
Then Chicago trots out Ted Lilly, who leads the team in wins and quality starts, against Atlanta's Derek Lowe, who was just rocked by Arizona. Then you have Carlos Zambrano, who was supposed to pitch Tuesday but had that six-game suspension, against Jair Jurrjens, who also had a rough start in Arizona.
I believe a Cubs sweep is very possible, but for sure take the under in each game this series with two strong rotations and scuffling lineups.