NBA Betting: Monday Playoffs Preview
by Matt Severance - 04/27/2009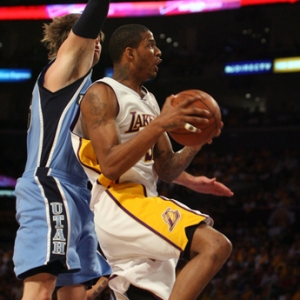 Atlanta Hawks at Miami Heat, Game 4 (TNT)
While the Hawks expected to have trouble with Dwyane Wade, it has actually been Jermaine O'Neal that has been the difference in Miami winning two straight in this series for a 2-1 lead.
O'Neal, who looked washed up late in the regular season and in Game 1, has totaled 41 points and 16 rebounds in the past two games, both easy Heat wins and covers.
"JO has kind of had his way," Hawks coach Mike Woodson said to reporters. "He's making shots now that have our bigs are somewhat frustrated."
Miami is a 4.5-point favorite to put the Hawks on the ropes in a big way tonight. And Atlanta could again be without starting forward Marvin Williams. The former Tar Heel missed Game 3 with a sprained right wrist and was wearing a soft cast at practice Friday.
Williams is averaging 10.5 points in the two games in which he has played this series, with Woodson saying that Williams' status for Game 4 would be decided after the team's shootaround early Monday. Mo Evans likely would start again if Williams can't go. For the Heat, forward Jamario Moon is likely out with a strained groin.
What Atlanta really needs is for guard Joe Johnson to return to form. The All-Star is averaging only 13.7 points on 37 percent shooting.
The Hawks are just 3-13 ATS in the past 16 visits to South Florida.
Denver Nuggets at New Orleans Hornets, Game 4 (NBA TV)
This series has been fairly easy to figure out: Whichever starting point guard has the better night, his team wins.
Denver's Chauncey Billups was that man in Games 1 and 2, totaling 67 points, hitting 12-of-15 from the three-point line, dishing out 12 assists and not committing a single turnover. Thus, the Nuggets rolled to easy covers in holding serve at home.
But Billups was held to 16 points in Game 3 and just 3-for-10 from the field, while Hornets star Chris Paul had 32 points and 12 assists in New Orleans' two-point home victory. Paul and the Hornets are 2.5-point Bodog favorites to even up the series tonight.
And it appears that New Orleans will have key swingman James Posey for Game 4. Posey had an MRI on Sunday on his sprained right knee but is expected to play. The team's top reserve sprained his knee during Saturday's 95-93 victory but still managed to play 22 minutes and score 13 points and grab nine rebounds.
Posey set the tone for New Orleans in Game 3 with his physical play, including committing a flagrant foul on Denver's Chris Andersen. New Orleans coach Byron Scott said the physicality was the difference for his team.
"It's playoff basketball, and each game is probably going to be more physical," Scott said. "I think our guys are starting to get used to it. I think the first game, we were a little surprised."
Scott also added that he would stick with just an eight-man rotation, making Posey's presence that much more vital to an already thin bench.
New Orleans is just 1-4 ATS in its past five as a favorite.
Utah Jazz at Los Angeles Lakers, Game 5 (TNT)
Many expect the Lakers and Cavs to meet in the NBA Finals, and Los Angeles can join Cleveland as the second team into the conference semifinals by beating Utah tonight.
The Lakers are 12.5-point favorites for Game 5 on Bodog.
The only reason the Jazz made it to a Game 5 was Kobe Bryant's ugly Game 3, when he shot just 5-for-24 from the field and finished with 18 points. Yet Utah still only managed a two-point home win that night. Kobe bounced back with 38 points in Game 4 as the Lakers won by double-digits for the third time in the series. Bryant doesn't want to see a Game 6 back in Salt Lake City.
"I love Utah," he said, "but I'd rather not see it again until next year."
Los Angeles has won 12 of its past 13 home playoff games, and Bryant promised to be as aggressive as he was in Game 4. Lamar Odom replaced a struggling Andrew Bynum in the starting lineup for Game 4 and likely will start again tonight. Bynum played a combined total of 14 minutes in Games 3 and 4, finishing with six points, three rebounds, seven fouls and two turnovers.
Meanwhile, the Lakers' Luke Walton sustained a sprained left ankle in Game 4 and Trevor Ariza sprained his right ankle during pregame warmups, then aggravated it in the first quarter. Ariza will be a game-time call tonight, while Walton might sit.
Utah's Mehmet Okur will play tonight but clearly is still bothered by the strained hamstring that kept him out of the first three games. In Game 4, Okur was scoreless in 13 minutes.
The Jazz are an ugly 2-14 ATS in the past 16 as a road dog.