NBA Draft Betting: Conference Props
by Matt Severance - 06/24/2009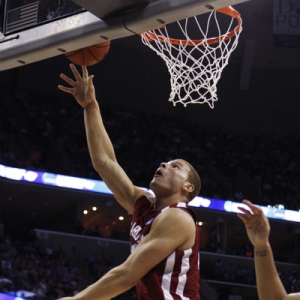 In a story yesterday, we already hit on betED's ACC props odds, with that conference's first-round over/under being at 5 ½ players chosen in Thursday night's draft. We recommended the over on that and stick with it.
Today, let's look at the remaining conference over/under props on the site and give our recommendations.
--How many players will be taken from the Big East in Round 1? betED lists this over/under at 6 ½ players. Let's first list the first-round locks from the nation's deepest basketball conference: UConn's Hasheem Thabeet, Syracuse's Jonny Flynn, Pittsburgh's DeJuan Blair and Sam Young, and Louisville's Earl Clark and Terrence Williams.
So basically the over/under on this comes down to whether Georgetown's DaJuan Summers is a first-round pick. I have looked at six major mock drafts, and Summers was a first-round projection on just two of them. Since the under 6 ½ is great value at +225, I think you have to roll the dice here. In fact, you could double up on Summers because betED offers +225 that he will be a second-round pick compared to -325 in the first round.
--Which conference will have the most players selected in the first round?
Pac-10 -150
ACC +110
As noted above, I said take the over on the 5 ½ of ACC players being chosen because it seems like it will be six at a minimum and possibly seven (that depends on FSU's Toney Douglas). So will the Pac-10 have at least six players chosen?
Well, here are the likely first-round locks from the Pac-10: Arizona State's James Harden, Arizona's Jordan Hill and Chase Budinger, UCLA's Jrue Holiday and USC's DeMar DeRozan. That's pretty much it, yet the Pac-10 is favored? Apparently oddsmakers at betED are thinking UCLA guard Darren Collison will be a first-rounder, but he is on virtually no first-round board of any mock draft. The next best-rated prospect after Collison is ASU's Jeff Pendergraph, and there's little chance he sniffs the first round.
I love the ACC on this bet.
--Which conference will have the most players selected in the first round?
Pac-10 (+1/2) -110
Big East (-1/2) -130
Again, this seems like a lock for the Big East, with six sure bets to go in Round 1 compared to five Pac-10 players. The Bruins' Collison is just too far down among the list of point guards even though he might have a late-first-round grade.
--Which conference will have the most players selected in the first round?
ACC (+1/2) +140
Big East (-1/2) -180
I love the ACC's value here too, and it's getting 1/2. Again, it probably comes down to six first-round locks for each conference. But I believe that Florida State's Douglas has a better chance of going in the first round than does Georgetown's Summers.
But if neither goes, you win the bet on the ACC with that +1/2.
By the way, have you noticed no Big Ten, Big 12 or SEC conference props? That's because all three conferences are pretty down this year in terms of NBA talent. Only Blake Griffin is likely to go in Round 1 from the Big 12, with just Ohio State's B.J. Mullens a likely Big Ten first-rounder. The SEC, which didn't have a ranked team for much of last season, might not have a single first-round pick.