2009 NBA Draft Grades
by Robert Ferringo - 06/26/2009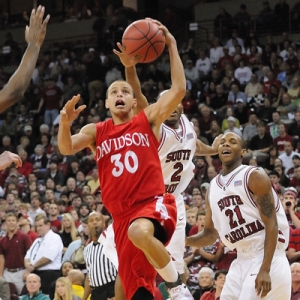 When everyone is clamoring for the 2010 NBA Draft class and talking about how "deep" and "exciting" it is remember that the only reason for their gushing is because the 2009 NBA Draft class sucked.
In what was the equivalent of a used car lot auction the NBA Draft came and went on Thursday with exactly two players that I am genuinely excited about watching at the Next Level being taken. (I'll get to the two players in a minute.) This year's draft class likely won't end up being the Worst Ever, as if this subjective award actually existed for any other reason than to keep bobbleheads on ESPN employed, because of the amount of point guards taken. There were 10 floor leaders taken in the first round and 16 taken on the night. At least half of them will develop into very good players and when that happens people might actually look back and forget about what a dud this evening really was.
But at least we got to enjoy about 20 hours of Stu Scott in the last two days. So that was nice.
Apparently the primary function of the NBA Draft week is to allow teams to make ridiculous and half-thought-out trades hoping that the news will be buried in the following day's sports section. It's kind of like how administrations release info that they don't want anyone to actually know about on Friday ("Take Out The Trash Day") because they know that nobody reads the Saturday paper and that when people aren't at work thoughts, ideas and discussions travel a lot slower. Same idea here.
Bottom line is that last night's draft gets a solid D-. Really can't say that any NBA team has overwhelmingly improved their team in the last 24 hours. Hey, some of the guys are going to pan out and everyone will look back and say what a savvy pick this guy or that guy was. But the bottom line is that this entire draft was a waste of time and a wash. A lot of questionable moves, weirdness, and outright insanity, and none of it was the least bit compelling compared to Michael Jackson's death.
So without further ado, here is my 2009 NBA Draft Grades:
Boston - C-
Only had one pick and used it on a gunner from the Ohio Valley. Um, OK.
New Jersey - C-
I'm including the absurd Vince Carter trade in this grade. They gave up their best player - he was a pariah, but still - for the kid that blew the series for the Magic. Good thinking. I do like the Terrence Williams pick, though, because he's a guy that's either going to be fantastic or he's going to be a mediocre 10-year player. Considering the crop that's a good haul.
New York - D-
They missed out on Steph Curry, took yet another raw frontcourt project, and ended up with Darko Milicic. Just when you thought that this once-great franchise couldn't get any worse.
Philadelphia - C
Jrue Holiday at No. 17? I don't think I would have ever wanted this kid on my team and maybe he was a fringe second-round pick. But I guess he's worth the gamble.
Toronto - C+
DeMar DeRozan is just another one of those guys that is only moderately impressive. Yet, now he's a Top 10 pick. I will give them credit for his potential (hence the plus) but this was just an uninspired pick. Fits a need though, and when I think about it, whom should they have taken?
Chicago - B+
The Bulls were one of the lone bright spots and I thought they picked up two quality players. James Johnson needs to slow down and learn the game, but is one of the few prospects in this draft that has Top 20 NBA Player potential. Taj Gibson needs to pick up the intensity level but I always thought he had a world of untapped talent.
Cleveland - C
I'm including the Shaq trade in this deal. Hey, I mean, I guess it's worth a shot. But that trade was just a desperation move. I know that the Cavs think that they had to do it but there were simply dozens of other moves out there to be made. In fact, Vince Carter was traded for nothing and Hedo Turkoglu - the guy who ended your season - is on the market. Wouldn't those moves have made more sense?
Detroit - F
Pretty obvious now that Joe Dumars has absolutely no idea what he's doing. (Maybe he's got Isiah Thomas on his speed dial?) Austin Daye sucks and was one of the worst players in this draft. Now he's a Top 15 pick? DaJuan Summers has a terrible attitude and never lived up to the hype at G-Town before unceremoniously bailing. Oh, and they got some Swede. Good times in Detroit. Hear it's nice this time of year.
Indiana - D
I thought that Tyler Hansbrough was going to be a steal for someone late in the first round. He is much better than people were claiming through the pre-draft process. But no way should he have gone No. 13 to Indiana. I think his ceiling is that he can be a great second-teamer and bench guy on a winning team. But is that what you want out of the No. 13 pick?
Milwaukee - F
Is this team about to fold? They traded Richard Jefferson for absolutely nothing and then drafted a guy that was mediocre in an Italian pro league. Seriously, no idea what this team is doing and I don't think that they have a clue either.
Atlanta - B
Do they need Jamal Crawford's attitude? Absolutely not. Will he be the straw that broke the coach's back? Definitely. But Atlanta was able to bring in another talent for two guys that they never use, so why not? Also, I like the Jeff Teague pickup. They likely would have been better off with Eric Maynor but Teague has a nastiness that you can't overvalue.
Charlotte - B+
I like what the Bobcats did as well. They took two exceptional athletes and two guys with some significant upside and added it to their very veteran core. Henderson stays close to where he played college ball and Derrick Brown was a great value at No. 40. Solid, unassuming night for the Bobcats.
Miami - C
Robert Dozier is another unskilled scrub to join Dwayne Wade's band of merry men. The Heat didn't have a pick until the end of the second round so I guess you can't knock them for picking up the scraps from a rotten dinner.
Orlando - B-
I don't think that losing Hedo Turkoglu and replacing him with Vince Carter is an improvement. On that team, the way it is now, I just don't see it. Bottom line is that they just needed a healthy Jameer Nelson and they might be NBA champions right now. But I will say that if they knew that they were losing Hedo last week and then were proactive to get Vince this week that's a great move.
Washington - B+
The Wizards traded out of an awkward spot at No. 5 for two proven NBA commodities in Randy Foye and Mike Miller. Hell yeah that's a great move. This team is ready to compete this fall.
Dallas - D
They weren't active in the trade market, they took two players whose upside is mediocrity, and they didn't even give us a good/goofy Cuban segment. All in all a lose-lose night.
Houston - B-
Really good team that had trouble scoring in the postseason. So they picked up two guys - Jermaine Taylor and Chase Budinger - that are very athletic and exceptional scorers. If just one pans out they would have had a better draft than 80 percent of the other clubs.
Memphis - B+
Yeah, Thabeet has some significant bust potential and probably will never be an all-star. But I really like all three guys that they picked up and I loved the value they got with Sam Young. If you look at whom they came away with there weren't many teams that did better.
New Orleans - C-
Darren Collison was a reach at No. 21 and I think that the Hornets are already set at the point guard spot to begin with. I just don't get it.
San Antonio - A
The Richard Jefferson trade was a major coup for this team and really has vaulted them back into contention in the West. They also picked up two guys that are undersized at their position (DeJuan Blair, Jack McClinton) but two guys that were exceptional college performers with good attitudes and strong work ethic. The Spurs are the Patriots of the NBA.
Golden State - B-
Stephen Curry was one of the few players in the draft that I actually thought was worth taking and the Warriors were able to spit in New York's face by taking him right in front of the Knicks. I don't get the Jamal Crawford deal, and I would have liked to see them make that move for Amare, but you'll take what you can get.
L.A. Clippers - B-
They didn't screw up and not take Blake Griffin. You have to give them credit there. But I have to say that I'm not 100 percent sold on Griffin. He was clearly, by far, the best of the lot. But what exactly is standout about his game?
L.A. Lakers - C-
They really didn't do much and I guess I give them more credit for staying out of this draft than I do for anything they pulled off last night.
Phoenix - D-
I don't knock them for trading Shaq, since he was essentially worthless to the franchise. But their draft picks were pathetic. Danny Green and Taylor Griffin were mediocre role players in college and will be in the D-League by January. I do like Earl Clark. I will give them that. But why would anyone want four draft picks last night?
Sacramento - C-
Maybe Tyreke Evans will pan out. Maybe not. Who knows? Same goes with Mori Casspi. Who knows? I do know that they passed on some better players - they could have had Flynn and Ellington in those spots - and the only redeeming pick was getting Jon Brockman, whose ceiling is as a bench guy anyway.
Denver - C
Hey, why not? That's essentially what the Ty Lawson pick was. Lawson is as good as any of the point guards taken in front of him. And if he ends up being better than Rick Rubio and/or Jonny Flynn then he would have been a steal a dozen spots lower.
Minnesota - A
The Timberwolves had the best night of anyone. Which is ironic, since they had the most picks in a draft that was so underwhelming. But I don't knock them for taking two point guards in Round 1. I think that both have the potential to be top-tier floor leaders. They could stash Rubio overseas until he matures or they could have excellent trade bait if both start to cash in on their potential. Nick Calathes is headed for Greece, but I think if he had waited and come out next year he would have been a Top 15 guy. And Wayne Ellington was someone I thought was underrated. All told, I think the T-Wolves are the one team that actually significantly improved itself in the draft. Only thing holding back the A+ was that I think they gave up too much to Washington.
Portland - B+
I really thought about giving out the A-, but backed off because I'm not sure about Victor Claver. But the Blazers picked up two nice frontcourt pieces in Jeff Pendergraph and Dante Cunningham, who could be very good. I also thought that they absolutely stole Patty Mills at No. 55. That was a great pickup on a decent night.
Oklahoma City - B-
I thought they had two really solid picks - James Harden and Robert Vaden - sandwiching one absolutely awful pick (B.J. Mullens). But if either Harden or Vaden develops into the 20-point scorer that they have shown signs of being then this was a really good draft for OKC. I'm a big Vaden fan.
Utah - C+
I love the Maynor pick. But wouldn't you say they're already set at the point guard position? They also could have had something better at No. 50 than Goran Suton.