NFL Receiving Yards Leader Odds and Predictions
by Trevor Whenham - 8/20/2009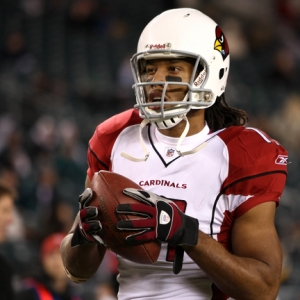 There are a whole lot of extremely good receivers in the league right now. Just think about it - there are more jaw-dropping talents now than there has been in a long time. All you have to do to confirm that is to look at the futures odds for receiving yards. Every time I thought I knew who was the clear choice I saw someone else who seems poised to have a big year. Here's a look at that futures pool, with odds from Bodog:

Andre Johnson (3/1) - It's not hard to see why Johnson is favored - he's freakishly good, he has a decent quarterback tossing to him, and he's really his team's only real deep option. I'm hesitant to back him at this price, though, and it's for just one reason - his yards per catch is significantly less than many of the other top receivers. He led the league in yards last year, but he needed 115 catches to do it - Larry Fitzgerald was second, though he had 19 fewer catches. It's not certain that Johnson can get that many passes again - 115 is a whole lot. Because of that, I don't see value here.

Larry Fitzgerald (7/2) - I've been thinking about Fitzgerald a lot this summer. I've read a few articles about how he has worked even harder this offseason than he normally does. He hasn't been doing it alone, either - he organized several sessions with other top receivers in the league and some receiving legends to sharpen his game. He's already as talented as any receiver in the league, and the combination of that, his work ethic, and his determination to make up for coming so close last year could be enough to put him over the top. It doesn't hurt that he has a true gunslinger passing to him as well. I'd take Fitzgerald over Johnson.

Randy Moss (5/1) - Moss was second in the league last time that Tom Brady was taking snaps, and he could be even more integral to the passing game this time around. This price is totally reasonable, and there's not much more to say than that. Except this - given how good Moss has been in New England, and how quiet and cooperative he has been, it's hard to believe the Pats were taking an impossible risk by signing him.

Reggie Wayne (7/1) - Wayne was fourth in 2006, 10th in 2008, and No. 1 in 2007, so the guy can obviously catch the ball. He's not going to see a shortage of passing action this year, either - Manning isn't exactly overloaded with receiving options now that Marvin Harrison has moved on. Wayne is the lone proven deep choice on the team, and Manning will have to rely on him heavily to get things done. I don't love the Colts this year, but I certainly think that Wayne is worth a look at this price.

Steve Smith (7/1) - Smith was third in the league last year, and he did that despite missing two games. That meant that he led the way in yards per game when he played. The Panthers didn't get Smith a ton of help in the offseason, so he is going to be the first choice again, and he'll be heavily relied upon again. I'm a little concerned that Smith is already struggling with injuries this early in the preseason, but nothing that happens in August matters. If he can get healthy in time for the season, and it's reasonable to think he could, then he's a legitimate challenger. I wouldn't want to see him at a lower price, but I wouldn't cringe at anyone who bet him at this price.

Terrell Owens (8/1) - I'm not surprised that Owens is at a price like this given his public appeal. I think he'll have a good year, and that he'll make an impact in Buffalo that will justify his signing. However, it's just not reasonable to assume that a guy of his age is going to lead the league - especially when he has struggled with injuries and he has another top receiver lined up across the field from him. He'd have to be at a higher price to justify action from me.

Bernard Berrian (30/1) - Berrian has never had 1,000 yards receiving, but then he's never really played for a competent passing team, either. But he's still come close a couple of times. He had to have been the happiest guy on the planet Tuesday with the arrival of Brett Favre. Favre will need to find a reciever to rely on and quickly build a relationship with. Berrian is the most likely candidate, and his stats should benefit significantly. He's not a favorite to win, but this price was set with a lesser quarterback anticipated to be taking snaps, so the change in pivots alone puts some real value in this price.



---
Most Recent Fall Football Preview