2009-10 Pittsburgh Panthers Football Predictions
by Nicholas Tolomeo - 8/31/2009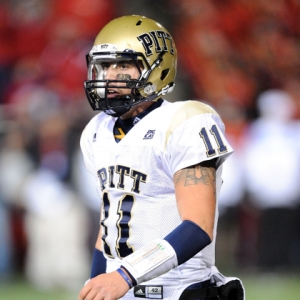 Pitt was named the Big East favorite in the preseason coaches' poll. Senior Bill Stull was recently named the Panthers starting quarterback.
Neither accolade came with a ringing endorsement.
In a watered down Big East Pitt was named the favorite with 161 points, just ahead of West Virginia's 151. It received eight first-place votes, the same amount as Cincinnati.
Coach Dave Wannstedt confirmed that Stull will be the starting quarterback against Youngstown State when Pitt opens its season, but he was anything but glowing in praise for his senior quarterback.
After rotating quarterbacks Tino Sunseri, Pat Bostick and Stull throughout training camp Wannstedt finally settled on Stull, kind of.
"Pat has gotten a lot better, Tino has shown us the type of player he will be," Wannstedt said after a recent practice.
"And has Billy made big strides? I would probably say no. But has Billy performed to the level where you can say he is the starter? I would say yes. He has 13 starts under his belt, so he's our starting quarterback. I feel good about the other guys and I feel good about Billy."
He went on to repeat "Billy Stull" and "starting quarterback" numerous times almost as if he was trying to convince himself that Stull was really the starting quarterback. Not exactly what you want to hear if you are a Pitt fan just a week away from the season opener.
And the quarterback issue is not even the biggest skill position question mark for Pitt. That is at running back where LeSean McCoy left Pitt after his sophomore year to enter the NFL Draft despite last second pleading from Wannstedt.
Pitt does return seven starters on offense and defense. What the Panthers will lack in flash this season they will make up with consistent offensive line play and a stingy defense. One playmaker that could develop into an offensive star is local product Jonathan Baldwin, a big target at 6-5. But not even Baldwin could score in El Paso, Texas as Pitt fell in its last game, 3-0, to Oregon State.
The last time Pitt scored a point in a bowl game it was 2004 during a 35-7 blowout at the hands of Utah. With a stat like that it is no wonder that Wannstedt, much like whoever the current Pittsburgh Pirates manager may be, is perpetually on the hot seat.
The Panthers share the Big East favorite tag according to Las Vegas with Cincinnati and West Virginia. All three are slated at +250 to win the Big East according to BetUS.
The Panthers cannot afford another slow start like they endured last season, dropping four consecutive games to open the year, including three games when they 14-point favorites, against Bowling Green, Buffalo and Syracuse.
This season Pitt will have its hands full early on after a home opener against Youngstown State. The Panthers will travel to Buffalo, NC State and Louisville in the first five weeks. Its toughest conference games, Rutgers and West Virginia, are on the road. With good reason the oddsmakers have set the Panthers win total at 7.5.
Fundamental play on defense and offense will not be enough to overcome a precarious quarterback position, question marks in the backfield and coaching decisions that have been questionable at the best.
2009-10 Pittsburgh Panthers Football Predictions: Even with a wide open and weakened Big East, eight wins seems like quite the stretch for a team that posted win totals of five, six and five in Wannstedt's first three seasons before last year's 9-4 campaign. Do not be surprised if Wannstedt starts to feel pressure early and a quarterback carousel begins before Big East play opens.
---
Most Recent Fall Football Preview