NFL Betting: Regular-Season Rushing Leader Predictions
by Matt Severance - 7/28/2009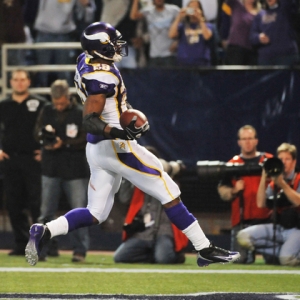 NFL training camps open this week - I don't know about you, but I can hear the angels signing to that news - so it's really time to start hitting the NFL futures odds hard here at Doc's.
Today we will take a look at whom the NFL rushing leader will be this season, with odds courtesy of BetUS and predictions by yours truly. Here are the site's top 12 favorites:
Adrian Peterson, Vikings +225
Michael Turner, Falcons +450
DeAngelo Williams, Panthers +800
Clinton Portis, Redskins +1200
Steve Slaton, Texans +1400
LaDainian Tomlinson, Chargers +1400
Steven Jackson, Rams +1600
Chris Johnson, Titans +1600
Ryan Grant, Packers +2000
Frank Gore, 49ers +2000
Brandon Jacobs, Giants +2000
Maurice Jones-Drew, Jaguars +2000
In a shock to no one, Peterson is the sizable favorite, and he should be. The Vikings star won the rushing title last year with 1,760 yards on a stellar 4.8-yards-per-carry average. Only the Giants' Jacobs had a better yards-per-carry among the top 30 backs in 2008.
If Peterson can repeat, he would become the second straight running back to do so, joining Tomlinson (2006-07). I would actually argue that Peterson has a better chance to repeat if Brett Favre does not join the Vikings. Favre's ego probably won't allow him to simply handoff all the time - he's going to want to throw it around, too. But Tarvaris Jackson or Sage Rosenfels would feed the ball over and over to Peterson.
Let's be honest, Peterson is going to be your No. 1 fantasy pick and should be the favorite to gain the most yards on the ground - if he stays healthy, as he managed to do in 2008, then he probably will win this.
But when looking at other candidates, I would say there are two criteria you need to consider: injury history and if the back will be sharing carries.
Turner, who was brilliant last year in Atlanta, reportedly will not carry such a big workload this year. He had a whopping 376 carries in 2008 but probably will average around 20 touches a game this year as opposed to around 25 (including catches) from last season. Atlanta wants Jerious Norwood more involved and doesn't want Turner to break down. So I would steer clear of Turner. History also has shown that guys with 370-plus carries tend to trend downward the next year.
The Panthers' Williams was arguably the best back in the league in the second half of 2008 with six 100-yard games and 15 touchdowns. Certainly the Panthers will be run-oriented again, but Williams always will lose carries to Jonathan Stewart.
Stay away from Portis, mainly because of his age and all that wear and tear on his body. He is a huge injury risk, and the Washington passing game doesn't open up enough space for Portis regardless.
I love Slaton and would argue he has the best value of anyone on the board. Houston has a very good offense, assuming Matt Schaub stays healthy, and Slaton rushed for more than 1,200 yards as a rookie. He also doesn't have a quality backup who will steal many carries. My only worry here is Slaton is rather small, so he might not be able to handle a massive workload, but I would take a shot with him.
The Rams are going to be horrible and will no doubt be passing a lot because they will be behind often, so don't touch Jackson.
The Titans' Johnson is a beast, but remember that LenDale White is still in Tennessee, and White reportedly is in the best shape of his career, down 30 pounds.
Grant was rather inconsistent for the Packers in 2008 after a breakout 2007; his yards-per-carry last year was down 1.2 yards from '07. And Grant has gotten a reputation as being injury-prone. The Pack also like his backup, Brandon Jackson.
If you don't take a long-shot chance on Slaton, do it with the 49ers' Gore. New offensive coordinator Jimmy Raye wants to focus on a power-running offense, and Gore fits in well with that. His main backup is rookie Glen Coffee, so it's hard to see the rook taking many carries. The main issue with Gore is health, but I look for him to have 2006-type numbers (1,695 yards rushing) on a surprise team.
The Giants' Jacobs simply has too physical of a rushing style to stay healthy for 16 games, and Ahmad Bradshaw will see plenty of time as a change-of-pace back.
Lastly, the Jags' Drew has the backfield all to himself now that Fred Taylor is in New England. But Drew has never had more than 197 carries in a season, and his body wouldn't seem to be the type to handle much more than that. Plus, that Jaguar passing game is a major question mark, so defenses will focus on Drew.
So, to summarize, I recommend taking a chance on Slaton and Gore. Happy betting.
---
Most Recent Fall Football Preview