NFL Handicapping: Steam Pick of the Week
by Josh Nagel - 9/17/2009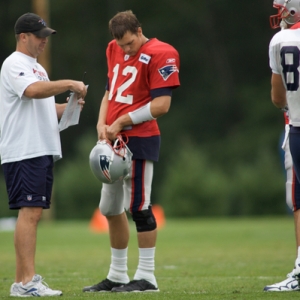 Steam moves in sports betting happen when large amounts of money come in on one side of a game, moving the line for that game collectively at sports books around the world. With this new weekly feature we will examine a game where a steam move took place and then give reasons to fade, or go against, the steam move.
Game: New England Patriots (1-0, 0-1 ATS) at New York Jets (1-0, 1-0 ATS)
Line: Opened at Patriots -6.5; current is Patriots -3.5.
Where the steam is coming from and why: Jets bettors. New York backers, square and sharp alike, have hammered the underdog in this one after each team's Week 1 performance suggested the gap between these two clubs might not be as big as it appeared on paper.
Rookie quarterback Mark Sanchez played well in leading the Jets to a 24-7 rout of the Houston Texans, while Tom Brady needed a two-touchdown burst in the last two minutes, along with some good fortune from a late turnover, to lead the sluggish New England Patriots past the Buffalo Bills, 25-24.
The opening line of Patriots -6.5 already was an adjustment from the oddsmakers based on the Week 1 performances, as many linemakers said they had envisioned a number of around -9 or -9.5 before the first-week games.
However, bettors evidently still saw value on the Jets and pounded the number down to its current figure at -3.5.
Reactions and overreactions to Week 1 performances play a big role in the setting of lines for Week 2 and the rest of the season. If you are a Jets backer this week, beware: Many oddsmakers have publicly said they believe the steam on the Jets is an inflated response to their performance against Houston.
In other words, New York might not be as good, nor New England as mediocre, as both appeared in their season debuts.
Pick to fade the steam: Patriots -3.5.