NFL Sunday Predictions - Week 10
by Josh Nagel - 11/12/2009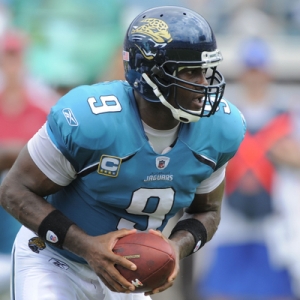 Game: Jacksonville Jaguars (4-4, 3-5 ATS) at New York Jets (4-4, 4-4 ATS)
Spread: Jets -7.
Overview: There probably aren't too many NFL observers who expected this game to feature two 4-4 teams, although for vastly different reasons.
The Jaguars appeared headed toward some success, as the Jack Del Rio-coached club always is a trendy pick heading into each season. It seemed to make sense, as the Jaguars have a talented nucleus and one of the league's top young running backs in Maurice Jones-Drew. Del Rio's preferred physical style of play tends to bode well for success in the NFL, as well. However, Jacksonville always seems to be just one player or one year away, and this season is no different. Quarterback David Garrard has been erratic, and the defense has been leaky. Results such as a 41-0 road loss to banged-up and mediocre Seattle Seahawks team leave Jags backers scratching their heads and the insides of their wallets.
However, the Jaguars have rebounded to win two of their past three, and are still clinging to hope of turning their season around. To do so, they must win games such as this Sunday's against the New York Jets.
With a rookie head coach and quarterback, not much was expected out of the Jets. But behind the league's top-ranked rushing attack and Rex Ryan's stiff defense, they bolted out to a surprising 3-0 start. However, rookie quarterback Mark Sanchez's inexperience cost New York in losses to the Buffalo Bills and New Orleans Saints, and the Jets' special teams allowed two return touchdowns in their Week 8 loss, 30-25, to the Miami Dolphins.
New York's promising season appears to be fading fast, and the Jets need a win to prevent dropping under .500 for the first time this season and facing an uphill battle to contend for a playoff spot.
The Jets have the league's second-ranked run defense (108 yards per game), and the Jaguars have the league's sixth-best rushing attack (140 ypg).
In what is likely to be a tight, physical game, you have to like getting a touchdown with what is likely the slightly better team.
Trends: The Jaguars are 9-4 ATS in their last 13 games as a road underdog of 3.5-10 points, and are 6-1 ATS in their last seven Week 10 games.
Jags 6-1 Week 10 games 9-4 road dog 3.5-10
Jets 7-0 after bye 2-5 ATS last 7 home
Pick: Jaguars +7.
Game: Atlanta Falcons (5-3, 6-2 ATS) at Carolina Panthers (3-5, 3-5 ATS)
Spread: Falcons -2.
Overview: It seemed to take a handful of four-interception games from Jake Delhomme amid a miserable 0-3 start for Carolina coach John Fox to realize a couple of realities. Those being, Delhomme is not the elite quarterback that the Panthers wish he were, and that running backs DeAngelo Williams and Jonathan Stewart would be better off filling a role other than high-profile decoys.
Finally, the Panthers are starting to look like their old selves, a team that went 12-4 in the regular season last year. Williams and Stewart make up one of the league's best one-two backfields, and Carolina has started winning games by using their previously reliable formula of a strong running game mixed with a solid defense. The Panthers had a chance in last week's 30-20 loss to the New Orleans Saints as the game was tied late before the high-scoring Saints pulled away.
Atlanta's hot start behind second-year quarterback Matt Ryan has been somewhat nullified because its defense has been exposed as vulnerable, particularly against the running game. The Falcons are 24th in total defense and against the run, allowing 124 yards per game. This doesn't bode well against Carolina's ground attack, which nets 153 yards per game (third in the NFL) behind Williams and Stewart.
Although it's probably too late to save their season, the Panthers have finally hit their stride, and that's bad news for a struggling Atlanta team.

Trends: The Panthers are 5-1 ATS in their past six games in Week 10 and are 5-1 ATS against the NFC South. The Falcons are 4-0 in their past four games as a favorite and in their past four November games.
Pick: Panthers +2.