NFL Sunday Predictions - Week 7
by Josh Nagel - 10/21/2009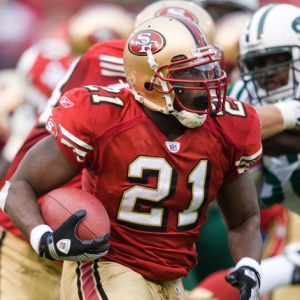 Game: San Francisco 49ers (3-2, 4-1 ATS) at Houston Texans (3-3, 3-3 ATS)
Spread: Texans -3.
Overview: Although the 49ers are a much-improved team with what often looks like a playoff-caliber defense, their lack of consistent offense was bound to catch up with them. Opportunistic turnovers and just enough plays from quarterback Shaun Hill enabled the 49ers to get by thus far, but their weaknesses are going to be exposed as the season wears on. They are No. 29 in the league in total offense and No. 28 in the passing game with just 160 yards per contest.
A banged up Frank Gore is expected to play, and rookie wide receiver Michael Crabtree also reportedly will be in the starting lineup. Although these weapons should help their cause, the 49ers face a Texans team that is gaining momentum and with whom they might have a hard time keeping pace.
The Texans rank third in the league with 292 passing yards per game, while pass defense is a weakness for San Francisco (234 yards per game, 20th). Matt Schaub threw for 392 yards and four touchdowns in a 28-17 win over the Cincinnati Bengals last week. Even better news for Texans fans was that their defense pitched a second-half shutout and held the Bengals to just 46 yards rushing.
This is a pivotal game for both teams, as the 49ers risk watching their promising start turn into another season of mediocrity, while the Texans are on the brink of turning around a season in which they were expected to contend for a playoff berth but stumbled out of the gates with a 1-2 start. This included a season-opening home loss to the New York Jets, and the Texans must start winning home games against respectable teams if they plan to turn the corner.
Although the 49ers are tough enough to keep this one close, the prediction here says Houston has too many weapons for them to handle, and they also will understand the urgency of winning at home against a beatable opponent.
Trends: The Texans are 4-0 ATS in their last four against teams with winning records, and 9-4 ATS overall in their last 13 games. The 49ers are 5-0 ATS as a road underdog, and 5-1 ATS in their last six following a straight-up loss.
Pick: Texans -3.
Game: Minnesota Vikings (6-0, 4-2 ATS) at Pittsburgh Steelers (4-2, 1-5 ATS)
Spread: Steelers -4.5.
Overview: This game will be a pivotal one for sportsbooks everywhere, as it involves two teams the public loves to back. The bad news for the books is that one of them has to win. So far, the action suggests that they will be rooting for the Vikings, as the cash on the Super Bowl champion Steelers already has forced some line movements that provide value on the Vikings.
Brett Favre and the Vikings have been winning games with flashy big plays and thrilling finishes, while the Steelers continue to win with their grind-it-out mentality that lacks style points. The Vikings have escaped a couple of close calls against the 49ers and the Baltimore Ravens, with Favre leading late drives to salvage the victories.
However, the Steelers also have shown some weaknesses and started 1-2, with losses to the Chicago Bears and Cincinnati Bengals. They have grinded out wins the past two weeks against the Detroit Lions and Cleveland Browns.
The Steelers tend to elevate their level of play against top-flight opponents, though, and you can expect the same in this one. Favre is likely to face relentless pressure from the league's third-ranked defense, and Adrian Peterson might find tough footing against Pittsburgh's second-ranked run defense.
Pittsburgh has relied on Ben Roethlisberger to continually nickel-and-dime defenses to death, and he is second in the league with 297 passing yards per game. The Vikings are No. 24 in pass defense, allowing 248 yards per game.
This one is bound to be a tight, physical game, and there's a good chance the Vikings will be dealt their first loss of the season. However, the Steelers have shown a penchant for grinding out close games, and you have to like the points here with a quality opponent.
Trends: The Vikings are 4-0 ATS in their past four road games, but are 1-5 ATS in their last six against teams with winning records. The Steelers are 4-1 ATS in their last five home games against teams with winning records, but are 1-5 ATS in their last six as a favorite.
Pick: Vikings +4.5.