NFL Sunday Predictions - Week 8
by Josh Nagel - 10/29/2009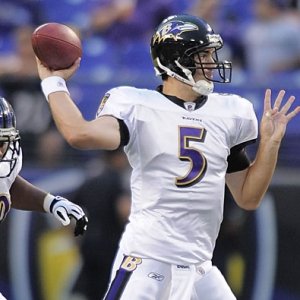 Game: Minnesota Vikings (6-1, 4-3 ATS) at Green Bay Packers (4-2, 4-2 ATS)
Spread: Packers -3.
Overview: Although Brett Favre's return to Green Bay undoubtedly will dominate the headlines this week, the key to the game might rest with his counterpart, Green Bay's Aaron Rodgers.
Before the first "Brett Favre Bowl" this season in Minnesota, former All-Pro turned NFL broadcaster Steve Young commented that Rodgers fails to be counted among the league's elite quarterbacks because he lacks a signature win on his resume. Young was right and, the problem is, Rodgers still lacks such a victory. In his short tenure as the signal-caller for Green Bay, he has failed to deliver in big games and has made some critical mistakes.
He has thrown for more than 600 yards and five touchdowns the past two weeks against the Cleveland Browns and Detroit Lions. History suggests that when the competition gets tough, Rodgers gets worse.
Although he did throw for 384 yards against Minnesota in Week 3, most of those came in the second half when Green Bay was two scores behind. He also had a critical interception and a lost fumble in the first half while the game was still close.
The revenge factor for Favre will be overplayed, but there's no doubt it's an element in handicapping this game. When you factor in how the Vikings will be looking for redemption after last week's self-destruction against Pittsburgh, it's hard to not take a look at the points here.
Trends: The Vikings are 5-1 ATS after a straight-up loss, and 4-1 ATS in their last five as a road underdog. The Packers are 4-1 ATS as a favorite, and 8-2 ATS in their last 10 against the NFC North.
Pick: Vikings +3.
Game: Denver Broncos (6-0, 6-0 ATS) at Baltimore Ravens (3-3, 4-2 ATS)
Spread: Ravens -3.5.
Overview: For the past several years, the Ravens won games with an elite defense and a mistake-free offense that lacked flare but often got the job done. The Broncos of recent years could score with anyone in the league; the problem was, they had a habit of giving up even more to the opponent.
Funny how quickly things change in the NFL. This year, the remarkable Broncos have traded roles with the Ravens, riding the league's top-ranked defense (11 points per game) and an opportunistic offense to become perhaps the league's unlikeliest 6-0 team of all time. New coach Josh McDaniels inherited a defense-thin roster from the fired Mike Shanahan, and famously traded malcontent Jay Cutler for Kyle Orton. Now, it looks like he is having the last laugh.
In the meantime, the Ravens have shown a new, offense-friendly identity under second-year coach John Harbaugh. Quarterback Joe Flacco looks as though he could be a potential All-Pro, leading Baltimore to the league's fifth-ranked offense.
However, the Ravens have lost three straight primarily because of their struggles on defense. They rank No. 19 in points allowed (22 per game) and are No. 23 against the pass (242 yards per game allowed).
If you thought fading the Broncos after their 3-0 start with wins over the Cincinnati Bengals, Cleveland Browns and Oakland Raiders seemed a little fluky, you are now 0-3 with this strategy. We don't recommend playing with fire now, either.
Trends: The Broncos are 4-0 ATS in their last four as an underdog and are 6-0 ATS on the season. They also are 6-0 ATS in their last six games on grass. The Ravens are 5-0 ATS in their past five Week 8 games, and are 9-2 ATS in their past 11 as a favorite.
Pick: Broncos +3.5.