MLB's Totally Best And Worst Arms
by Trevor Whenham - 6/15/09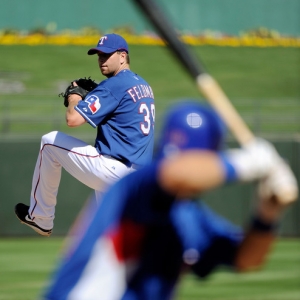 The pitcher can have more impact on the number of runs scored in a game than anyone else in baseball, so it only makes sense that you would consider the pitcher at least as much as anything else when you are handicapping totals. And the kinds of pitchers that make bettors happiest aren't necessarily good or bad - they are just consistent.
After just over two months of the season, here's a look at five pitchers who are the top totals performers:
Scott Kazmir, Tampa Bay Rays
Kazmir has gone 'over' nine times this year, and he has yet to go 'under'. Unfortunately for bettors he's on the disabled list for now, but before he went on the shelf he was pretty much the perfect storm for totals bettors. Kazmir has the reputation of being an ace, and he was on a team that people had fallen in love with, so public expectations were very high. He clearly wasn't physically sound, though, and it was seriously impacting his performance. More significantly, both he and his team were stubborn about his problems; he tried to play through them instead of resolving them. With an ERA of 7.69 - more than double what he posted last year - it's not a wonder that he has gone 'over' so much.
Scott Feldman, Texas Rangers
Feldman is one of the most amazing unknown stories of the season so far. He started 25 games for the Rangers last year, yet despite the team's lack of pitching depth he was unable to crack the rotation out of spring training this year. He earned a shot after a month, and he's been a bettors best friend since. Not only has he been one of the most profitable pitchers in the league against the spread, but he's also perfect against the total: nine 'under's in nine tries. His ERA is 4.01. That is good, but not nearly as good as you would expect for a guy who goes 'under' so consistently. Feldman has a big advantage, though - he plays for a team that can score runs almost at will. That means that the totals he faces are generally high, making it easier for him to stay 'under'. Given the surprise that he has been so far it is hard to know if he can keep it up, but he's been great to ride so far.
Daniel Cabrera, Washington Nationals
See, if you look hard enough you can find something positive about the Nationals. There is good news and bad news with Cabrera. The good news is that Cabrera has been pleasantly consistent for bettors - seven 'over's and a push in eight starts. The bad news, though, is that Cabrera was so bad - 0-5 with a 5.85 ERA - that he first got moved to the bullpen and then released entirely. Because he doesn't currently have a team he doesn't necessarily belong on this list, but I included him to illustrate a point - you need to jump on struggling pitchers on the totals while you can, because the good times don't always last.
Brandon McCarthy, Texas Rangers
McCarthy's success has been the opposite of teammate Feldman's. He allows almost a run more per game than Feldman and that is at least part of the reason why he has gone 'over' in nine of his eleven games. There is also a fair bit of luck that has gone into McCarthy's total record, too - he has allowed three or fewer runs in seven games this year, and yet he has gone 'over' in five of those seven games. McCarthy wound up on the 15 day DL after his last start with shoulder soreness, but we can hope that he comes back with the same combination of luck and stats that helped grow bankrolls so far.
Jason Vargas, Seattle Mariners
Erik Bedard and Felix Hernandez are the workhorses of the Seattle rotation, but it's Vargas who has got the job done for bettors on the totals. Vargas has had just six starts this year, but he has managed to stay 'under' in all of them. The equation isn't too tough to figure out here; Seattle is a below average offense and Vargas has been an above average pitcher this year. That's a recipe for success going 'under' the total. Vargas has allowed more than two earned runs just once this year, and he tends to minimize his pitch counts and his mistakes. It remains to be seen if Vargas can keep up his strong pace - he's on his third team in four years and doesn't have a lot of starting history. What we can be more comfortable about, though, is that the Mariners are unlikely to explode offensively with any regularity with the current lineup.