Worst NBA Free Agents
by Robert Ferringo - 06/30/2009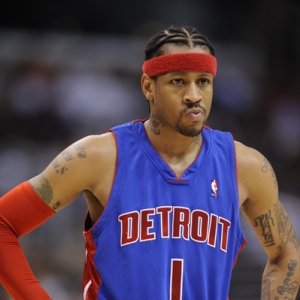 If you are an NBA fan you should have nothing but respect for Allen Iverson. But you also should not want him anywhere near your team.
Allen Iverson is likely going to be a basketball hall of famer. But at this stage of the game the prideful point guard is absolutely acidic in a locker room and within a franchise. Yet Iverson's name has to be No. 1 when talking about the best players available in this summer's free agent market. (Of course, that discounts Kobe Bryant, who is a free agent but isn't going anywhere.) And when it comes to Iverson I just know this: I don't want him.
Iverson is really a perfect microcosm for a lot about what is great and what is gut wrenching about free agency. On the one hand, his name is likely to energize and excite a fan base, regardless of logistics like money or the length of his deal. Iverson will sell some tickets and whip up a firestorm on the local talk radio in whichever city he lands in. However, the skills don't match the hype. He is more of a name than he is a player. And while a city might not react the same way to a Mehmet Okur, Ben Gordon or Hedo Turkoglu the fact is that any of those three agents would be a better addition at this point than the fading Answer.
So caveat emptor. And be careful of overvaluing some "big name" moves that are likely to backfire for the general managers and organizations involved. The NBA futures odds should run like the Tokyo Stock Exchange over the next month as the betting public reacts (and mostly overreacts) to new faces in new places. But here is my breakdown of the five most overvalued free agents this summer:
5. Ron Artest
Hey, Artest has managed to turn down The Crazy a little bit and get back to being one of the most disruptive and game-changing forces in the NBA. But the bottom line is that after reclaiming his career in Houston it might be tough for him to start fresh in another city and another organization. If he gets himself involved with a team that is rebuilding, a team with a shaky power structure (captain, coach, front office, fan base) then could you really be stunned to see him regress, emotionally? And for the amount of money he's going to be making that's an awful big risk.
4. Lamar Odom
Much like Gordon, Odom is a guy who thrived in his role coming off the bench for the NBA champion Lakers. But at 29 he's still pretty young and his value is through the roof. The Lakers have to decide between paying to keep Trevor Ariza or Odom, and if they let Odom go or if his asking price is too high then I can see someone grossly overpaying for him to be the No. 2 option on their team.
3. Ben Gordon
Gordon's role late in the season with Chicago was perfect: instant offense off the bench. But it took the Bulls several years, a lot of frustrating stretches, and a lot of trial and error to realize that it was the best way to utilize his skill set. But some team is going to throw a ton of money at him hoping that they landed a starting No. 2 guard and the guy who was unstoppable at times against the Celtics this postseason. It isn't going to happen. He's going to be a bust for someone. And an expensive one at that because of the lack of depth at the shooting guard class in this FA crop.
2. Jason Kidd
Kidd is 36 years old and a guy who averaged 9.0 points, 6.2 rebounds and 8.7 assists last year. Those are decent numbers, but nothing worth the hype that's going to surround his signing. Kidd can't shoot, can't defend, and is only effective in the open court - but too old to get up-and-down for 35-40 minutes per game any more. He has some value, but it's not going to be anywhere near the hype that will surround his signing.
1. Allen Iverson
Detroit was an absolute disaster for Iverson and I have to say that I have absolutely no idea where a good fit for him would be. Iverson can still score. But the team that picks him up needs to be willing to build around that and not try to make him fit into the role of "point guard". At 34, Iverson's best years are behind him. And his best move would be to go to an established team - Orlando, San Antonio, Cleveland, Boston - and come off the bench for the next three years. But I think he has too much pride for that. As a result, someone is going to sign Iverson thinking that he's going to make them a contender. But as we saw in Detroit he just isn't that guy any more.