Fourth Down and Inches Football Predictions Report - Big Ten Game of the Year Edition
by Doc - 11/9/2010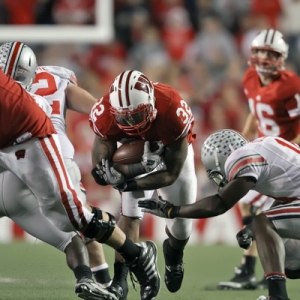 It was not a monster week, but once again we turned in a profit for the weekend for our football picks, gaining +10 units ($100 bettors made $840). I thought the college football schedule lacked quality plays, especially in the Big Ten, as three games had a team favored by 20 or more points. This week the Big Ten looks real attractive, and especially so for one encounter. This game will be selected as our, "Big Ten Game of the Year."
It's obviously no secret that this game does not have the same prestige that it did back in the 1970s, 1980s, and 1990s. We had a 19-game winning streak during those decades and that is a feat that will probably not be matched by anyone again. It was absolutely crazy back in those years during this week and I am thankful I had to the opportunity to be a part off.
During those years, once the game was released, the line on the game would move by seven or more points. Working at our main office in Wisconsin, I never had a chance to be in Las Vegas during this time. However, I was told people were running to the ticket windows with a handful of cash. One must remember that is was before cell phones were the norm and offshores were not even in existence. Many people would be at the pay phone and once they found out the game, the shouting would begin and the betting lines would become very deep.
Since demand for this game was incredible, we were always fair to our customers and would not release the game until 10 am on Saturday. Sure, customers would try and call a couple of minutes early. However, I would not give out the pick early. I would even get a few customers that were willing to pay $10,000 if they could get the game an hour early. Like the TV show, "no deal!" There are so many stories about this game and I could probably fill up a book with the details.
In closing about the Big Ten Game of the Year, I can say that this year's game is as strong as any of those in the past. But like I have said for 39 years, any game can win or lose. We do hope you join us for the game in 2010 and we have many packages available that include this game.
If you are not from the Big Ten area, I am sure the media will push the issue that Wisconsin RB John Clay may be sidelined for the upcoming game this Saturday against Indiana. This is probably true, as John Clay is a punishing running back that has had problems all season with leg injuries. It always hurts to lose someone of this caliber. However, RB Monte Ball and true freshman James White are more than adequate replacements. Both are smaller and more explosive than Clay.
The Badgers should roll again this week, as Coach Bret Bielema got their attention at halftime last week at Purdue. They were dominating in the second half of that game and I expect that to carryover on Saturday.
November is the time of the year that one looks for teams that have simply just packed it in in 2010. When that is the case, oddsmakers cannot make the number high enough. It seems to me that a team that fits this mold in Vanderbilt. The Commodores lost their head coach, Bobby Johnson, just before the season started along with a bunch of key personnel from 2011. Vanderbilt played well at the start of the season, but has fallen apart in the past four games. Now they are hit hard by injuries on offense and will face a rested Kentucky team that has a bye on deck. The Wildcats record is not that impressive. However, they have played well in the SEC. I look for a long Saturday for the visitor.
Moving onto the play-for-pay league, it was another successful run for Doc's Sports, as we went 3-1, +8 units against the NFL odds. For the second straight week, we used the Detroit Lions are our top play and they once again grabbed the money, losing to the Jets by just three points in overtime. I feel that our run with Detroit has come to an end, as we will not be using them this week in their game against the Buffalo Bills. Buffalo is the only winless team in the league, yet is a field goal favorite over Detroit. How can that be? For starters, QB Matthew Stafford is out with a shoulder injury. Stafford was the No. 1 overall pick last year and has proven to be very fragile in his two seasons with the team. In order of the Lions to take the next step and get back to respectability, he must be able to stay on the football field.
Two coaches were squarely on the hot seat last week and now only one of them still has a job. The Cowboys have dismissed Wade Phillips and given the job to Jason Garrett. I still believe that the main problem is Jerry Jones and his reluctance to hand over control of the team to a general manager. Jones likes to make all of the decisions for the Dallas Cowboys, and lately his decision-making skills have not been paying off. The Cowboys travel to East Rutherford this Sunday to take on the best team in the NFC this season, the New York Giants. The Giants have come in as a two-touchdown favorite and I will likely be passing in this game as well.
Doc's Sports has produced a profit in football five of the last six weeks and now is the time to jump on board with our selection service. This is the week we will release our Big Ten Game of the Year. This is the only 8-unit selection that we will release this 2010 football season and it is a must have for any big-game hunter. For complete details about this game, please call our sports office direct at (800) 356-9182 or call our Las Vegas office at (866) 238-6696. I am confident that it will find the winner's circle and I would love to have you along for the ride.
That is it for this week