NBA Free Picks: Thursday Doubleheader On TNT
by Matt Severance - 2/4/2010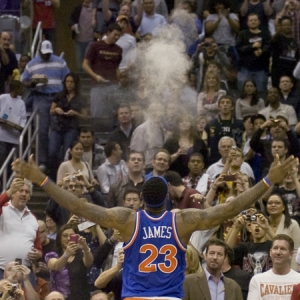 Should be big advantages tonight for Cleveland and Portland as both of their opponents play the second night of a back-to-back. Of course so do the Blazers, but at least they are home tonight.
Miami Heat at Cleveland Cavaliers, 8 p.m.
The line: Cavaliers -10 (188.5)
How they enter: The sinking Heat lost in Boston last night, 107-102, to fall under .500 for the first time since late November 2008. They have dropped four of five (1-4 ATS). The Cavs thumped Memphis on Tuesday for their ninth straight win, which is currently tops in the NBA. Cleveland hasn't won by less than 14 points (4-0 ATS) since beating the Heat by one in Miami last Monday.
Scouting report: Miami's Dwyane Wade, Jermaine O'Neal and Udonis Haslem are all dealing with back issues. All three played last night and should tonight, but O'Neal had missed the previous game. Needless to say, traveling and a quick turnaround aren't great for backs. Also, starting point guard Mario Chalmers remains out with a torn thumb ligament. Cleveland is 2-0 against the Heat this season (both wins in Miami where the Heat led in the fourth quarter) and has won eight of the past nine in the series – this will be the final matchup of the regular season. The Cavs haven't lost at home to Miami since late in the 2007 season. The Cavs remain without guards Mo Williams and Delonte West due to injury, so Daniel Gibson continues to start at the point. He's averaging more than 13 points and shooting better than 44 percent from behind the three-point line (16 of 36) as a starter. LeBron James – well, he's good. He hit the winning free throws against Miami last week and then defended Wade into a miss on Miami's final possession. LeBron also has double-figure assist totals in the past four games.
Key trends: The Cavaliers are 28-1 this season when scoring 100-plus points. They are 18-1 in their past 19 at home.
The Heat are just 2-7 in the second of back-to-backs this season and 0-5 ATS in the past five.
The under is 4-0 in the past four meetings in Cleveland.
The pick: I think 10 points is just too many even though I have no doubt the Cavs win here. But Miami has played them tough this season. Take the Heat and the 'under'.
San Antonio Spurs at Portland Trail Blazers, 10:30 p.m.
The line: Blazers +2.5 (192.5)
How they enter: Portland lost, 118-105, in Utah on Wednesday night. The Blazers were outscored a whopping 62-38 in the paint – and the Jazz didn't even have Carlos Boozer. All those frontcourt injuries are starting to catch up to Portland, which has lost four of six. The Spurs won in Sacramento, 115-113, on Wednesday to begin an eight-game, 19-day road trip (All-Star break included).
Scouting report: Both teams have been without their best guard for a while. Portland's Brandon Roy has missed eight games in a row with a hamstring injury, with the Blazers going 3-5 (but 5-3 ATS) in his absence. There is an outside chance he returns tonight. Both Nicolas Batum and Jerryd Bayless (Roy's replacement in the lineup) suffered injuries last night against the Jazz, but both expect to start tonight. San Antonio's Tony Parker has missed three games with a sprained ankle but nearly played last night. Parker, who had scored at least 20 points in five straight games before going down, is probable to be back tonight. Portland has won both meetings with San Antonio (2-0 ATS) this season and five of the past six – San Antonio had won the previous 12 before this stretch. Roy sat out Portland's 98-94 win in San Antonio, and Bayless picked up the slack with a career-high 31 points.
Key trends: The Spurs are 3-5 this season on second night of back-to-backs, while Portland is an impressive are 8-3 and actually has covered 12 of its past 15 in the second of a back-to-back (that's almost incredible).
The 'over' is 11-1 in the Blazers' last 12 vs. the Western Conference.
The pick: San Antonio hasn't won back-to-back road games since late December, although Parker's return could certainly help. But the Spurs are 0-5 ATS in their past five trips to the Rose Garden, and I don't see that changing. Take that and the 'under'.