NBA Power Rankings
by Nicholas Tolomeo - 2/5/2010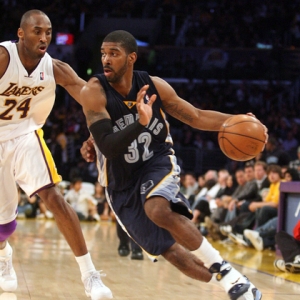 There is plenty of rising and falling going on in this week's NBA Power Rankings and the movement starts at the top where the Lakers no longer look like the best team in basketball as we quickly approach All-Star weekend. Last week's rankings are in parentheses.
1. Cleveland Cavaliers (2)
It was a combination of their recent 10-game winning streak that including a thorough thumping of the Heat on Thursday night and their 2-0 record against the Lakers that have finally given the Cavs the top peg in our NBA Power Rankings. With a steady diet of cupcakes coming up, mostly at home, do not be surprised to see this winning streak reach 15.
2. Los Angeles Lakers (1)
Repeated road lapses are a thing to worry about for the Lakers even though they came away from nine-game road trip with a 6-3 record. Losses at Memphis and Toronto in that stretch were inexcusable and when they returned home they had to slip past the Bobcats 99-97.
3. Orlando Magic (9)
Just when Orlando looks to be falling out of the mix of the big three in the East, they string back-to-back wins together against Boston and Atlanta. The Magic have won more games against Eastern Conference opponents than anyone else in the league.
4. Denver Nuggets (4)
The cardiac kids of late, the Nuggets have played in three overtime games in two weeks and they came away from those games 3-0. Denver is slowly distancing itself away from the rest of the pack in the Western Conference to secure the No. 2 seed.
5. Utah Jazz (14)
The drop off from No. 4 to No. 5 in the Power Rankings is a considerable one, but the Utah Jazz have earned this jump from all the way down at No. 14 two weeks ago. The recent seven-game winning streak is part of a bigger stretch where Utah has been 11-1 since Jan. 9. Recent double-digit wins over Portland (twice), Dallas and Phoenix should give notice to everyone else in the Western Conference.
6. Dallas Mavericks (3)
One aspect of the Mavericks game that often gets overlooked, they are the best free-throw shooting team in the NBA at 81-percent. Considering the close games they have been in down the stretch, that stat means even more.
7. Atlanta Hawks (6)
Their shortcomings on the road are what is keeping Atlanta from truly contending come playoff time. Despite a 31-17 overall record they are still under .500 on the road (11-12).
8. Boston Celtics (5)
These are what they call warning signs. Three three-game losing streaks in one month, the Celtics are reeling, the Raptors behind them in the Atlantic are improving and trade rumors are starting to surround the aging Celtics.
9. Portland Trail Blazers (8)
Just like that the Trail Blazers were passed by Utah in the Northwest standings for second place. Don't look now but Portland but Oklahoma City is not far behind. Portland is at its best when it plays good defense (fourth scoring defense in the league) but they have allowed 100 points in four of their last six games.
10. San Antonio Spurs (7)
This is where the Spurs season can go any number of ways. A six-game road swing starts Saturday and when it is over we will find out if the Spurs are playing for home-court advantage in the first round or just trying to make the playoffs.
11. Toronto Raptors (16)
The Raptors ascension continues and they have to smell blood in the Atlantic Division as Boston is showing some cracks. Chris Bosh is playing out of his mind lately and Andrea Bargnani is fresh off a 34-point career-high performance.
12. Phoenix Suns (11)
This is a stretch that can make your season, win at home over Dallas and then pick up road wins at Houston, New Orleans and Denver. There may be no stretch in the league as impressive as that considering how tough it is to win at New Orleans and Denver.
13. Oklahoma City Thunder (17)
The Kevin Durant MVP buzz has started, it may be a year too early but it is well deserved.

14. Houston Rockets (12)
In the last Power Rankings I raved how Houston has been able to win the close games. Since then it is 1-4 in games decided by less than 10 points. Well, so much for that.
15. Memphis Grizzlies (13)
No team in the NBA has scoring this spread out. Between Zach Randolph (20.8), Rudy Gay (19.9), O.J. Mayo (17.9), Marc Gasol (15.0) and Mike Conley (10.3), Memphis has an arsenal of players it can turn to boost the offense which is ranked sixth in the NBA.
16. Charlotte Bobcats (10)
The Bobcats fell a few rungs after cracking the Top 10 but that could be expected considering the brutal road trip. It did manage to string together a three-game win streak during the trip, including a huge overtime win at Phoenix. Its most impressive game may have come Wednesday when it stayed within two points of the Lakers in a loss.
17. New Orleans Hornets (18)
The buzz around the city is obviously all centered on the Saints but the Hornets have their head above .500 now and in shooting distance of a playoff spot.
18. Chicago Bulls (19)
The Bulls are an entirely different team than we saw two months ago. This transformation was extremely unexpected but they still have a lot of work to do. They won five-straight road games during a recent Southwest trip, and that will be the difference come playoff time when they are fighting for a seven or eight seed.
19. Miami Heat (19)
The last minute meltdown loss to Cleveland a few weeks back has sent the Heat season into a downward spiral. Losing six of seven in a recent stretch, especially at this point in the season, is inexcusable.
20. Milwaukee Bucks (22)
Home and homes are a big part of an NBA season and the Bucks are finally starting to win some of them. They picked up two huge wins over Miami to close out January and split with the surging Raptors.
21. Los Angeles Clippers (20)
With a chance to keep their season relevant the Clippers stunk it up on a long road trip.
22. New York Knicks (21)
The countdown to the Big East Tournament continues when we will finally see meaningful basketball played in the Garden.
23. Indiana Pacers (24)
The results have not been there but Indiana remains a tough out any night of the week. They managed splits in recent home-and-home series with Philadelphia and Toronto. Lucky for the Pacers a Colts win on Sunday and nobody will be worried about the basketball team sitting 15 games under .500.
24. Sacramento Kings (26)
This team has won two games this decade, not sure what else needs to be said.
25. Washington Wizards (23)
This team had to be rebuild anyway, the Gilbert Arenas debacle will just speed up the process.
26. Golden State Warriors (27)
For as bad as the Warriors have been, their backers sure have to be happy, they were 27-20-1 ATS heading into the weekend.
27. Philadelphia 76ers (28)
I'm not sure exactly how this is possible but the 17-31 76ers have a winning record within their own division (5-4). Now if they can just figure out the other five divisions.
28. Detroit Pistons (25)
How ironic is it that the team accounted for the NBA's 10 millionth point, ranks second to last in offense during the season they did it?
29. Minnesota Timberwolves (29)
Minnesota won back-to-back games this season. Nevermind that it was home and against the Clippers and Knicks, but they won back-to-back games. You have to give them that. What that means is the next spot will be cemented for the remainder of the season.
30. New Jersey Nets (30)
That honor goes to the Nets who recently chalked up the Clippers as its latest victim. That is four overall this season and one win this decade.