NBA Power Rankings
by Nicholas Tolomeo - 3/4/2010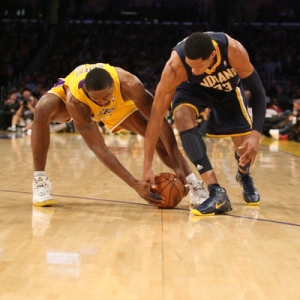 The playoffs are finally in sight and this is the time of the year when teams are reaping the benefits of their trade deadline deals while other teams are questioning if they had done enough. The top of the NBA Power Rankings remain steady but there is plenty of fluctuating after that.
Cleveland Cavaliers (1)
The Cavaliers remain the top seed in the Power Rankings despite losing Shaq for what could be the rest of the regular season. This could end up helping Cleveland as the big man should be healthy as ever and well rested in time for a playoff push.
2. Los Angeles Lakers (2)
Just what the Western Conference race needed, a juicy rivalry between the Lakers and the Nuggets. Los Angeles is finally taking Denver seriously, as you can tell by Pau Gasol's ranting and Ron Artest's defense.
Dallas Mavericks (8)
Jason Kidd running into Atlanta Hawks' coach Mike Woodson was vintage Kidd, as was his triple-double in that game. The resurgence of Kidd has been the unwritten story in this NBA season and it is the biggest reason why Dallas has won nine straight.
Orlando Magic (4)
A lot of questions will be answered on Sunday when the Lakers come to town.
5. Atlanta Hawks (7)
The Hawks were the victim of Jason Kidd's legendary triple-double the other night but they kept things together and avoided a near colossal letdown in an overtime win over Milwaukee.
6. Denver Nuggets (4)
Sign of a lack of being here before, the Nuggets let a tough loss at the Lakers cost them another game the next night in Phoenix where they lost by 16.
7. Utah Jazz (5)
Very inconsistent as of late, losing at home to Atlanta, on the road to Sacramento then at the Clippers, all sandwiched around three wins including a 133-point outburst against Houston.
8. Oklahoma City (9)
If Oklahoma City can keep this group of 23-and-unders together, seeing the Thunder ranked this high will start to become normal. Kevin Durant and Russell Westbrook are just the beginning of what could become a real special group in the very near future.
9. Boston Celtics (6)
There are no words to describe exactly what happened at the Garden when the 5-52 Nets came into town and left with a win.
10. Phoenix Suns (11)
The trade deadline coming and going ensured that Amare Stoudemire was staying a Sun, now he is playing like he wants to be a Sun and that will make a major difference down the stretch run.
11. San Antonio Spurs (10)
If we could just figure out exactly the kind of player Richard Jefferson is going to be then we can find out exactly what kind of team San Antonio will become around postseason time.
12. Portland Trail Blazers (12)
This season will come down to inches for Portland. They have been in numerous overtime games and nail biters and anytime you are sitting in the eighth spot in the West, you are living dangerously.
13. Toronto Raptors (13)
The Raptors have been horrendous without Chris Bosh, yet they remain the No. 5 seed in the East. Luckily for Toronto this is not the West. Bosh should be back soon and with the Bulls losing Joakim Noah for three weeks, they should be able to solidify the fifth spot at worst. Hopefully these five awful games without Bosh were not a preview of what fans can expect next season.
14. Milwaukee Bucks (20)
Since their deadline deal with the Bulls, the Bucks are 7-1. Yes, those Bucks. At the very least that deal ensured the Bucks of a few home playoff games.
15. Houston Rockets (16)
The what-if game is fun to play with a number of teams but especially the Rockets. What if Yao Ming played this entire season? The entire makeup of the Western Conference would be different right now.
16. Chicago Bulls (14)
How this is possible? I do not know, but the Bulls are a much better team after their deadline deal with the Bucks but the Bucks are even better at 7-1 since then. The loss of Noah hurts Chicago, but they have enough firepower to keep the heat on Toronto for the five spot.
17. Miami Heat (15)
Remember Michael Beasley? There was a time when people debated him or Derrick Rose and even compared him to at their early stages with Kevin Durant. Ah those were the days.
18. New Orleans Hornets (17)
In Chris Paul's absence, all of a sudden Darren Collison is making this Rookie of the Year race interesting.
19. Memphis Grizzlies (19)
This is right about the time when the Grizzlies start petitioning the NBA to move them where they belong, in the Eastern Conference. A .500 record gets you into the playoffs in the East, in the West, well the Grizzlies are 4.5 games back and in 10th place.
20. Charlotte Bobcats (18)
This ranking would undoubtedly be a lot higher if Michael Jordan was coming to the team in a capacity that had him wearing shorts and sneakers instead of a suit.
21. Los Angeles Clippers (25)
A respectable record for the Clippers, getting to within 10 games of .500, but that is about to change as their schedule is about to get downright brutal.
22. Washington Wizards (26)
This was the type of player everyone expected Andray Blatche to be someday when he was a highly-touted high school recruit. His play as of lately has nearly made Wizards fans forget about Gilbert and Antawn.
23. Philadelphia 76ers (23)
What was a worse idea letting Allen Iverson go or bringing him back?
24. Sacramento Kings (25)
The Kings got it all wrong. You are supposed to start the season awful when everyone has low expectations and then make a second-half surge. Instead the Kings got off to a decent start, raised peoples hopes, then completely went in the tank.
25. Detroit Pistons (21)
Everyone knew the wins were going to be few and far between for Detroit but now the points are too as the Detroit train wreck motors on towards the offseason.
26. Indiana Pacers (27)
Losing Tyler Hansbrough and Jeff Foster were major losses but Indiana has stayed respectable, going 16-20 SU without them in the lineup.
27. New York Knicks (22)
The forgettable season trudges on for the Knicks. The Knicks can only hope their offseason splash will let their fans forget this season, make that seasons, too.
28. Golden State Warriors (28)
Somewhere Lenny Wilkens loves what he sees. The former coach retired with 1,332 career wins, most ever by an NBA coach), but Don Nelson stood at 1,309 coming into this season. He was sweating then but he has to be relieved now. Looks like it will take Nelson one more year somewhere to eclipse the record.
29. Minnesota Timberwolves (29)
The Timberwolves are now in the midst of their seventh losing streak of at least four games. They have covered four of six lately, so there is one positive you can take out of this.
30. New Jersey Nets (30)
The Nets have 22 games to get four wins and not tie or break the 9-73 record of the 76ers of the early seventies. The win heard round the association at Boston should give Nets' fans some hope. But then again, probably not.