Potential NFL Draft Busts
by Trevor Whenham - 4/14/2010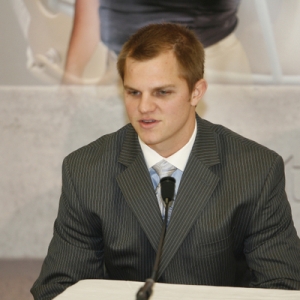 People are fascinated by NFL Draft busts just like they are fascinated by car wrecks - you just can't look away from the carnage. All you have to do is mention names like Ryan Leaf, Tony Mandarich or Charles Rogers to a football fan and you're sure to get a chuckle - or a tear if their team drafted one of the duds. The fact is, though, that the first round of each draft is filled with many busts - guys who don't perform nearly up to the level that they are being paid.
Despite the Combine, the all-star games, pro days and team visits, and more tape than an army could ever watch drafting is a very inexact science, and picks that look good at the time (or those that don't) can turn into those that make the fans scream. Here's a look at six guys who could be first round busts this year. I'm sure that all of them won't be, but you can be sure that at least one will:

Jimmy Clausen, QB, Notre Dame - Clausen is a dangerous kind of player - the second best QB prospect in a class that only has one clear QB star. There is nothing about Clausen that specifically sounds the alarms, but there's nothing that really makes him stand out, either. His college production was pretty good. His arm is decent, though he doesn't have overwhelming arm strength, and he's not the most accurate guy you have ever seen. His release point seems to change with every play. He's cocky to the point of ridiculousness, but doesn't strike you as a brilliant leader. Clausen could develop into a star, but guys with a whole lot more going for them than him - including the guy he replaced at Notre Dame - have disappointed in the big time.

Jason Pierre-Paul, DE, South Florida - I am terrified any time I see a guy who is a strong physical specimen, but who is described as raw. Pierre-Paul is a pass rushing beast, but he only played one year at South Florida, with his two seasons before that coming at two different junior colleges. Pierre-Paul has all sorts of potential, but his run stopping skills are questionable, and he hasn't shown that he can maintain his production once teams have seen him once. Drafting pass rushers at the best of time is a risky venture with a lot of players who don't pan out, so I would always feel better if the guy has established skills that we have seen grow and improve in front of us.

Terrence Cody, DT, Alabama - He's an enormously obese one-dimensional player - what could possibly go wrong? Cody is extremely good at what he does, but there are all sorts of alarms here. For starters, he has serious weight control issues. That will be even more of a problem for him as he gets older, and it's going to put even more wear on his body than the position normally would. That raises durability issues. Next, though he is as good as it gets at the bull-rush he's not nearly fast enough to chase down a quarterback, and he's not nearly as good against the run as a guy his size should be. DTs are in the spotlight this year in the draft, and Cody is the one who stands the best chance of driving his fans insane.

Anthony Davis, OT, Rutgers - Teams love drafting left tackles in the first round, and it's an investment that often pays off. Of the first round left tackles this year, though, it's Davis that concerns me. He's an extremely good run defender, but not nearly as dominant run blocking so there are some systems that he won't be particularly useful in. He's also not as aggressive as he should be in the position - guys of his stature and skill level should finish their plays more often and more aggressively than he does. Finally, his attitude is a concern. Knowing that he was going into what could be his draft year, Davis showed up at training camp last year overweight. Later in the season he missed the first quarter of a game because he was late for a team lunch. If that's how he faces his college responsibility then how will he fare facing the much more intense responsibilities of the NFL.

Jermaine Gresham, TE, Oklahoma - I'm concerned about the highest-ranked tight end in the draft for a few reasons. First, a guy who tore an ACL in high school and then missed all his senior season in college with cartilage issues has to sound a few alarms. Next, while Gresham is very good with the ball as a receiver, he's far from fantastic as a blocker, and we've seen several top college guys struggle in the pros because of that deficiency. Most significantly, though, I just get nervous about drafting first round tight ends. It often doesn't work out very well. That's not to say that the guys that get picked are often total busts - they aren't. It's just that a tight end often doesn't offer the value that a player in another position could have offered at the same draft position, and similar value could have been had much further down the draft. Tight ends are too seductive for what they produce - even when they are totally healthy.