2012 NFL Draft Predictions: Players Who Will Surprise
by Trevor Whenham - 3/7/2012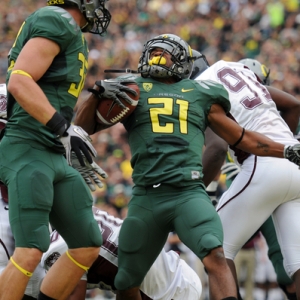 The first-round guys in the NFL Draft are the ones that get the bulk of the attention. They were the stars in college, they are freakish physical specimens, and their talent and big contracts mean that they will get every chance to contribute right away. Often times, though, there are guys who go off the board on the second or third day of the draft that end up being every bit as valuable and impressive as the best of the first-rounders.
It's time to make some 2012 NFL Draft predictions as I look at five second-day guys who will surprise and become big-time pros:
Mike Martin, DT, Michigan
I'm a little biased here because as a diehard Michigan fan I have seen every snap Martin played in his college career. After all that, though, I am completely convinced that Martin is going to evolve into a very strong pro.
The guy is just one of those guys who does what it takes. He's not the biggest or most physically-imposing guy — though he has added a lot of muscle in the last year and was very impressive at the Combine and the Senior Bowl. He's just relentless and slippery, though, and he has very strong instincts. He's also a born leader who commands the respect of those around him.
It's a solid year for defensive tackles, and Martin is not seen among the elite guys right now. I am very confident he'll outplay several guys who will go before him, though. For example, I'd take Martin over Jerel Worthy every day, and not just because Worthy is a Spartan.
Kirk Cousins, QB, Michigan State
To prove that I don't hate all Spartans I'll put Cousins next on this list. Cousins isn't the kind of guy that will blow you away when you watch him for a few minutes. There are better, flashier athletes in big supply. The more you watch him, though, the more you come to appreciate him.
He minimizes mistakes, he gets better as teams go along, and he has the capacity to make the plays that need to be made. He's obviously not going to be a starter right away, and I don't think he should be. If he lands on the right team that will allow him to patiently develop, though, I think that there is a good chance that Cousins could emerge as the third best quarterback in this top-heavy class.
Tommy Streeter, WR, Miami
Streeter's numbers don't explode off the page. When you think about it, though, there's really no reason that they would — he has been stuck in a mess of a system at Miami. What he has going for him, though, is a very nice combination of size, athleticism, and skill. He's big — 6-foot-5 and about 220. He's also fast — he ran a 4.40 at the Combine.
He's not getting as much hype as a guy like Stephen Hill of Georgia Tech, but Streeter seems like a much more sound pick than Hill would be.
Lavonte David, LB, Nebraska
Some guys just seem to know how to tackle. David is certainly one of those guys. He's an absolute beast on the field, and he can cover a lot of ground. A lot of guys with the range that he has can be caught out of position if they over-commit to the wrong signal, but David doesn't seem to have that issue.
The biggest knock against him has been his lack of prototypical size for a linebacker. That's not a concern at this point, though — or at least it shouldn't be — after he packed on some serious muscle weight heading into the Combine but still ran very fast.
David is just one of those guys that looks like a linebacker, and the team that picks him up — likely in the second round — is going to get some excellent value.
LaMichael James, RB, Oregon
James just doesn't make any sense — or at least the way he is being viewed in this draft doesn't make any sense, that is. If you've watched Oregon play the last couple of years — and you really couldn't have missed them — then you know how good and how dangerous James is.
The knock against him, though, is that he's too small. At just 5-foot-8 and about 195 pounds he's too short to match the NFL prototype. That means that he's likely to come off the board no higher than fourth behind Trent Richardson, Lamar Miller, and David Wilson.
There is no reason to think that he can't be as good as any of those guys. In the right situation he could be the best of the whole group. James is going to be a huge value for the team that takes him.