NFL Draft Predictions: Late-Round Sleeper Projections
by Trevor Whenham - 3/21/2012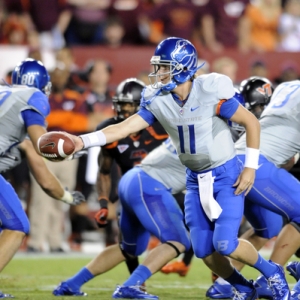 This week we have seen Matt Flynn become a reasonably rich man after signing with the Seahawks. He was only a seventh-round draft pick, and is the latest to prove that good things can come from the later rounds of the draft.
Every time the Patriots are on TV we are reminded a dozen times by the commentators that the best quarterback in football was a sixth-round pick. Brady is a unique case, but every year there are several guys drafted well after the spotlights have been turned off that go on to be very valuable members of their teams.
Here are my NFL Draft predictions for seven guys that are likely go in the bottom half of the draft barring a late surge that could make their new general managers look like geniuses in a couple of years:
Justin Bethel, DB, Presbyterian
Bethel is one of those guys who doesn't have credibility based on where he played, but his athleticism certainly makes him worth a risk.
Of all the defensive backs who worked out at this year's Combine Bethel posted the highest vertical jump, and the second-highest broad jump. He's only 5-foot-11, too, so it's not like he had a big advantage over the rest of the field.
The step up in competition he faces is massive, so he's going to be a project. Safety is a place where guys with good athleticism, good size, and good instincts can really make a name for themselves, though, and Bethel has no shortage of all three things.
He has a future on Sundays.
Akiem Hicks, DT, Regina
As a fellow Canadian Hicks makes me proud. He played his college ball here in Western Canada — hardly a hotbed for the sport. Every so often, though, a Canadian prospect will outshine his competition and show that he has what it takes for the highest level. Hicks could be the next in that category.
What stands out most is his size — he's 6-foot-6 and 320, with a good combination of strength and agility. That's prototypical DT size, and he showed well at the Combine and the Shrine Game.
A guy his size with his tools that had played at a BCS conference school would be off the board in the first couple of rounds, so a team that gambles on Hicks is going to get a massive upside at a reasonably low price.
Ryan Lindley, QB, San Diego State
Lindley struggled with his accuracy in his senior season, but a shoulder injury that plagued him should no longer be an issue.
He has prototypical NFL size, decent speed and agility, and a good arm. He has tons of starting experience and good composure in the pocket.
He's not a sure-fire starter or star in the NFL, but he has serious potential. If teams thought that picking Blaine Gabbert in the first half of the first round was a good idea then they should really think taking Lindley on the third day makes sense.
Kellen Moore, QB, Boise State
Moore is a perfect example of how teams can be blinded by expectations. Sure, Moore is shorter than a typical NFL quarterback, and his frame is slight. For a lot of guys that could be an issue. All he has done, though, is win.
He won 50 college games in just 53 starts. Some of those games were easy thanks to his conference, but he won a Fiesta Bowl and two other bowls, and he beat Virginia Tech and Georgia in consecutive season openers.
He's very accurate, his arm is good, and he limits his mistakes. He doesn't look to run, so his lack of size isn't going to get him hurt. A guy who knows how to win like him should be valuable no matter how tall he is.
Case Keenum, QB, Houston
You can call Keenum a system QB if you want, but if you have watched him play you realize that there is more to him than that. The guy has a real gift for finding receivers.
In his last three years as a starter he has averaged more than 5,400 yards and 45 touchdowns per year. This past year he threw 48 touchdowns and just five interceptions. Sure, the system he played in was very pass-heavy, but the NFL gets more pass-heavy every year.
If a team can't find a way to make a guy like Keenum useful then they have a problem.
Junior Hemingway, WR, Michigan
I've watched Hemingway a whole lot in his career, and I couldn't be more optimistic about his chances as a pro.
Michigan has traditionally produced excellent receivers, and Hemingway has the chance to be the next one. He doesn't get nearly as much chance to shine with Denard Robinson under center than he would with a traditional offense. When the ball is thrown his way, though, he just plain catches it — often in spectacular fashion.
He has been impressive both at the Combine and at his Pro Day, and he has a chance to be a real contributor for a team.
Ronnie Hillman, RB, San Diego State
In a year that doesn't have much high-end RB talent, Hillman is going to be a bargain when he comes off the board. He'll quite probably be the first player drafted from this list, but still well after he should be.
In just two years he rushed for more than 3,000 yards and 32 touchdowns. Last year he went over 100 in eight of 12 games. He's only 5-foot-9, but at 200 pounds he's a bowling ball, and he's hard to stop.
He doesn't have much mileage on his legs, either — he only played two years of college ball, and administrative issues forced him to take a greyshirt year after high school. That means that he has a lot of running left to do, and the skills to be productive right away for a team that needs help.