NFL Draft: Potential Second-Day Steals
by Trevor Whenham - 4/21/2010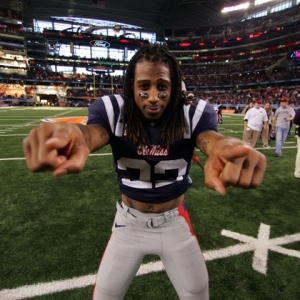 Thanks to the new, overly long three-day format of the NFL Draft, the second day is made up of just the second and third round. We've heard all sorts of talk about how this is one of the deepest drafts we have seen in years, so it only makes sense that there is going to be exceptional players available on the new second day of the draft. Even in average years there are always several long-time starters that are picked in the second or third round of the draft, so it just makes sense that there are going to be some stars from the second day this year. Here's a look at five players who are likely to go off the board in the second day and who could be stars:

Colt McCoy, QB, Texas - Sam Bradford and Jimmy Clausen are the only two quarterbacks likely to go in the first round, but I'd take McCoy over Clausen any day. The reasoning for this preference is simple - McCoy is just a better player. He's had far more experience with winning than Clausen, his delivery and arm strength are better than Clausen's, he's a much better leader, and he's not nearly as cocky. He was injured in his last game in college, but that should prove to be irrelevant, and the bigger point is that he led his team to the National Championship Game. All Clausen did is get his coach fired. McCoy had four years to show us that he's ready to be a pro, and I for one am convinced that he did so. If I was a team looking for a QB of the future and I couldn't get Bradford then I'd happily fill a need in the first round and take McCoy on day two.

Brandon Spikes, LB, Florida - There is nothing that can revitalize a defense faster than a linebacker who is a defensive quarterback. That's what you get with Spikes. He has been the leader of an outstanding defense at Florida, and he has the kind of presence that make his teammates respect him and listen to him. What really stands out, though, is his instincts. It's like he's seeing the plays happen a couple of seconds before the rest of us because he has a scary ability to anticipate a play and be in the right position when he needs to be. His measurables and skills aren't off the charts, but there have been a lot of linebackers who have been great without being freakish athletes as well. Spikes could be a keystone in a defense for years. It doesn't hurt that he comes from linebacking bloodlines, either - his cousin is Takeo Spikes.

Navorro Bowman, LB, Penn State - The second and third round is a great place to find linebackers, so it makes sense that we look at two in a row here. Bowman comes from a linebacker factory, and Penn State guys have a history of doing pretty well in their transition to the pros. For the most part Bowman's skills are only somewhat better than average. They really stand out in one particular area, though - the guy is absolutely freakish against the run. He knows where the running back is going to go before the back does, and and it's very rare to see a guy turn the corner or get past him. Bowman's a solid leader as well, so he'd be very welcomed inside any linebacker corps. He'll drop further than he otherwise might because of some concerns over trouble he got into in the past. Most of those problems were in 2007 when he was going through some serious problems, though, so I think he's definitely worth the risk.

Dexter McCluster, RB, Mississippi - The one area where this draft isn't great is at running back. In my eyes McCluster would be a steal on the second day. The guy amassed some very impressive numbers at Ole Miss. He's one of those guys that is more impressive to watch than even his impressive numbers would indicate, though. He has absolutely amazing vision in the backfield. That means that he can read the play as it is developing and anticipate and avoid trouble that less aware backs might get into. He's also extremely athletic, and that allows him to adjust instantly, or to throw in a stutter step to let a hole open up for him. This is a 1,000-yard back behind a good offensive line.

Eric Decker, WR, Minnesota - Decker's last season was limited because of injuries, so it's possible that he won't even come off the board until early on the third day. He'll be a bargain anywhere beyond round two. Decker is one of those guys who is a ball vacuum - he finds a way to suck in any ball thrown anywhere near him. He's a very tough, physical player that can take a hit, won't shy away from contact, and doesn't lose the ball under pressure. He's also fearless about going to where the ball will be regardless of what awaits him there. He's a conscientious blocker, too. He doesn't have the breakaway speed that impresses people at the Combine and makes young receivers rich, but a lot of possession receivers like him have been extremely good without having that speed, either. Ed McCaffery is a comparison I have heard more than once, and I like. I'm sure no team would refuse having McCaffery on their team.