This Week in Sports Betting, A-Z
by Nicholas Tolomeo - 12/8/2010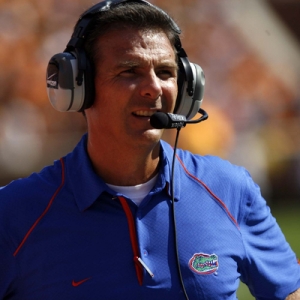 A - Arianny Celeste. The UFC Ring Girl and Maxim and Playboy Centerfield, Celeste was named the Ring Card Girl of the Year this week at the first annual Fighters Only MMA Awards in Las Vegas. Many awards were given out at the ceremony including Best Fight, Best Knockout and best knockers, which obviously went to Celeste.
B – Barry, Erin. The wife of former San Antonio Spur Brent Barry wants to make it clear that she was not the one on the receiving end of sext messages from Tony Parker who divorced his former wife Eva Longoria right around the same time Erin and Brent were getting a separation. Erin Barry was the center of rumors of who the other woman in Parker's life was after Longoria accused Parker of infidelities in divorce filings. If Erin Barry is to be believed, then let the speculation begin on who the other woman may have been.
C – Cecil Newton. Inviting Auburn quarterback Cam Newton to the Heisman Trophy presentation was a no-brainer. He is the clear favorite to win the award. Inviting his father Cecil Newton, well that was a brain-dead move. Just this week the NCAA released a statement following an investigation that determined that Cecil Newton worked to actively market his son as a part of a pay-for-play scenario. This obviously puts Cecil Newton in direct violation of about 73 NCAA bylaws. But when Auburn submitted its list of guests to the Heisman ceremony, Cecil made the cut. This should certainly make for some awkward made-for-TV moments on Saturday.
D – Donald Trump. Viewers were momentarily distracted from the Patriots 45-3 blowout win against the New York Jets on Monday Night Football by the bizarre movement of Donald Trump's "hair." Caught in the owner's box just over the shoulder of Patriots owner Robert Kraft, Trump's hair or hair piece could be seen almost entirely leaving his head as the wind did a number on it. It was almost mesmerizing and was the subject of much debate on Tuesday on sports talk shows.
E – Eli Young Band. There are a number of ways to butcher the "Star Spangled Banner". You can lose your voice like Carl Lewis or lip-sync like Britney Spears or grab your crotch like Roseanne Barr. The Eli Young Band chose a different way Sunday at Arrowhead Stadium before a Kansas City Chiefs game. Lead singer Mark Eli forgot the lyrics to the "National Anthem". It was a late-arriving crowd at Arrowhead Stadium, but unfortunately for the band one fan that was in his seat on time decided to record the anthem and when the band began to repeat lyrics and skip entire graphs, the amateur videographer knew he captured gold on his camera.
F – Florida Football. For the second consecutive December, Florida football Coach Urban Meyer has announced his retirement. Last December he changed his mind after 24 hours. He may still do so this time, but it looks like Meyer is serious. He says he will stay on to coach Florida through the Outback Bowl in Tampa, Florida on New Year's Day. The Gators are seven-point favorites against Penn State, according to college football odds.
G – Grammy Awards. Odds are out for the Grammy Awards. Set to be given out on Feb. 13, 2011, Sportsbook.com has posted odds on Record of the Year and Album of the Year. The early favorite for Record of the Year is Jay Z and Alicia Keys "Empire State of Mind" (-200). Other contenders include Eminem and Rhianna's "Love the Way You Lie" (+150) and "Nothin' on You" (+300) by B.o.B and Bruno Mars. Eminem's "Recover" is the favorite for Album of the Year at -150.
H – Harrison, James. The most feared and fined defender in the NFL is now the center of wagering props on online sportsbooks. After Harrison's fourth fine of the season raised the total fines on Harrison to $125,000, Bodog came out with a prop asking if Harrison will be fined by the NFL again this season. The 'Yes' was a surprisingly +150 while 'No' was -200. Another online sportsbook disagrees. They have individual odds for the amount of fines Harrison will incur this season and $125,000 total fines (meaning none the rest of the season) is the biggest underdog at +400. The favorite is $170,001-$185,000 which is -200.
I – IMG. In a list of worst places to work, IMG has to rank near the top after this latest memo that was sent around company offices. The sports management giant has decided to create specific anti-gambling policies in regards to collegiate sporting events and, yes, that includes March Madness brackets. The decision comes after CEO Ted Fortsmann had to go out and ruin it for everyone. Fortsmann was accused two months ago of getting inside info from two clients, Roger Federer and Tiger Woods, and using that info to place wagers.
J – Josh McDaniels. You did not need a spy camera to see this one coming. Denver Broncos Coach Josh McDaniels became the latest NFL coach to get the ax this season. It is hard to tell what was the straw that broke the Broncos back here, it could have been either the 3-9 season this year, the 2-8 meltdown last season after a 6-0 start or Spy Gate II. Either way McDaniels becomes the latest former Bill Belichick assistant to fall on his face (Charlies Weis, Romeo Crennel, and Eric Mangini) and now Denver owner Pat Boulan is paying three coaches, Mike Shanahan, McDaniels and interim head coach Eric Studesville.
K – Kim Kardashian. Serial professional athlete dater Kim K. is at it again. She recently dumped model Gabriel Aubry, presumably because he did not play for a professional sports team. Kardashian has apparently moved on to 25-year old NBA player Kris Humphries. But since Humphries suits up for the New Jersey Nets, you could make a case that he does not play for a professional sports team, either.
L – LaMichael and Luck. Aside from the awkwardness of Cecil Newton attending the Heisman ceremony, there will be no drama at the award presentation. Cecil's son Cam will win the Heisman. But we still need something to bet on, so you can bet on who will come in second place. Andrew Luck's odds of finishing in second are -300 while James' odds are +220 to finish second.
M – Matt and Marshall. Atlanta Falcons quarterback Matt Ryan does not have to worry about forgetting Sarah Marshall. This week Ryan proposed to Marshall, his longtime girlfriend. The two former Boston College jocks -- Ryan was a quarterback and Marshall played basketball -- plan to get married in the offseason after dating for seven years.
N – Nikki Boon. The only thing worse than losing out on a chance of $123,000 is losing out on that chance to a girl in a football-throwing contest, especially when that girl is throwing the ball two-handed. Matt Fairfield qualified for a chance at the grand prize in the SEC title game, but he lost out to Nikki Boon, a student at North Central University. Boon shocked everyone by throwing seven footballs into an oversized Dr. Pepper can with an unusual throwing technique. Fairfield made only five. Some subsequent creeping on Boon's Facebook page revealed that her previous employers include Ruth's Chris Steak House, Victoria Secret and American Eagle Outfitters and her interests include Coldplay, John Mayer, The Godfather Part II and ESPN.
O – Osi Umenyiora. In a recent Sunday Night Football game during player introductions, New York Giants defensive end Osi Umenyiora said he went o the "University of Troy." He did attend college at Troy. The only problem, the school is actually called 'Troy University'.
P – Player Introductions. Speaking of player introductions. The most humorous part of the NFL week, besides trying to watch the Carolina Panthers execute an offensive play, is the Sunday Night Football player introductions. Announcing your real school is no longer the way to go. Instead we get players like Ike Taylor saying he went to Swaggin' University and Jared Allen saying he went to Culinary Academy.
Q – Quarterback hard count. It's the oldest trick in the book: act like you are going for it on fourth down and try and draw the defense offside. It hardly ever works, especially in critical situations and especially in the NFL. On Sunday it happened twice. Aaron Rodgers drew San Francisco offside and the play resulted in a 50-yard touchdown. Late in the fourth quarter, with his team down three and with the ball on the opponent's six-yard line, Sean Payton sent Drew Brees and the offense out to go for it on fourth-and-two. No way on earth would the Saints possibly forgo tying the game and going to overtime. But nobody told that to Bengals defensive lineman Pat Sims, who jumped offside and allowed the Saints to escape Cincinnati with a win when they scored on the next play.
R – Rose Bowl Tickets. Wisconsin students gobbled up 5,800 Rose Bowl tickets in 20 minutes Sunday night. Some had less than honorable intentions. A number of students took to Facebook Marketplace to sell their $150 tickets upwards of $400. This was met with consequences as the student newspaper in Madison, Wisconsin, The Herald, decided to publish a list of the students and declare them "the worst people on campus," and declare that, "there is a special place in Hell for people who buy Rose Bowl tickets with the sole intention of profiting from them." Of course, this led to a number of threats being levied against the money-hungry students and comments had to be suspended on the newspaper's Web site.
S – Sterger, Jenn. We have another twist in the Brett Favre sexting Jenn Sterger saga. Sterger's manager recently went public with demands for the NFL to reprimand Favre and clear his client's name. If that does not happen, Sterger has threatened to "provide extensive evidence…and go public with it." For the sake of everyone involved let's hope the rest of those Favre pictures never see the light of day.
T – Trains. At least for one person, working on trains is more important than working in the NFL. In an almost too-unbelievable-to-be-true story, free-agent safety Keith Fitzhugh recently turned down an offer to join the New York Jets so he could remain a conductor with Norfolk Southern Railroad. Fitzhugh, 24-years old, has been cut from the NFL three times and with the burden of taking care of his father, Fitzhugh chose stability instead of a chance at millions of dollars and a Super Bowl ring.
U – UFC 124. The publicity machine has been running at full tilt for this pay-per-view with UFC putting all its weight behind this card at the Bell Centre in Montreal. The main event features UFC Welterweight champion Georges St-Pierre (-500) facing underdog Josh Koscheck (+300), in a rematch of a 2007 bout won by St-Pierre. Both fighters appeared on Sportscenter to promote the fight, something rare for the sport. Koscheck, as he is famous for, decided to stir things up when being interviewed on Sportscenter, "I'm gonna knock Georges out in either the second or third round," Koscheck said.
V – Vick, Michael. Star quarterbacks in the NFL live lavish lifestyles. Philadelphia Eagles quarterback Vick is certainly an elite quarterback in the league, but his lifestyle is anything but lavish. Even with the $4.1 million Vick has earned in his nearly two seasons as an Eagle, he still lives on a barebones budget that has been set by the court. Most of his salary, two-thirds of every dollar, is gobbled up by creditors Vick has owed since before he entered federal prison for running an illegal dog fighting ring. Other restrictions on Vick's income include only being able to spend $472 per month on a car. His mother somehow receives $2,500 per month from Vick under this agreement. Other people who get a piece of the pie include his agent, his tax lawyers and other creditors.
W – Walker, Antoine. The former three-time NBA All Star is headed to Idaho to help clear a $1 million gambling debt he owes to three Las Vegas casinos. That may take awhile considering he is now joining the Idaho Stampede (0-4) of the NBA D-League, where the max contract is $25,000. It could turn into a circus in Idaho considering the 34-year old is badly out of shape and past his prime. And Walker certainly is not sticking this out for the love of the game, he needs money and he needs it now.

X – Xbox. Every player not on Oregon or Auburn's roster is looking forward to their bowl games for two reasons, warm weather and swag. Bowl sponsors are permitted to give out up to $500 in gifts to players on both participating teams, and this year the Microsoft Xbox with Kinect (think Nintendo Wii) seems to be the most popular gift being given out. Both the Beef 'O' Brady's Bowl and the Valero Alamo Bowl are among the bowls giving out the Xbox.
Y – Yankees Wedding. Yankee outfielder Nick Swisher and actress Joanna Garcia will be set to tie the knot on Saturday in Palm Beach. Garcia gained fame for her roles in "Not Another Teen Movie" and "Better With You." Reports indicate that newly signed Yankee Derek Jeter will not be in attendance, but invitees do include CC Sabathia, Meadow Soprano (aka Jamie-Lynn Sigler), former 'NSYNC member turned gay Lance Bass (a groomsmen) and Cameron Diaz, who is dating Alex Rodriguez even though ARod is not expected to be in attendance.
Z – Zags. Gonzaga basketball has fallen quite a bit from what college basketball fans have become accustomed to. Not only are the Zags no longer nationally ranked, but their four wins are only tied for fourth most in the West Coast Conference, a conference Gonzaga has thoroughly dominated over the past decade. Even though Gonzaga is 4-3, they are still an entertaining bunch to watch as they average 79-points per game and they have a defense ranked 196th in the nation.