2020 Heisman Trophy Predictions
by Alan Harris - 3/16/2020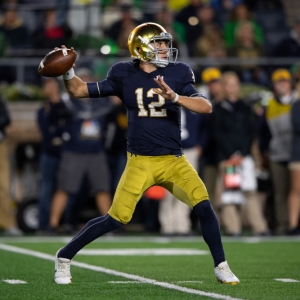 Even though it seems that the sports betting world has come to a screeching halt due to the Coronavirus, there are still a few betting opportunities out there that we can talk about. One of the things still on the betting board are the odds to win the 2020 Heisman Trophy. I'm going to take a look at the current odds of the Top 25 players, give you a couple quick bullet points on what I think about them and some 2020 Heisman Trophy Predictions at the end where I see value on one player's odds.
| | | |
| --- | --- | --- |
| Player | Position - School | Odds |
| Justin Fields | QB - Ohio St | +350 |
| Trevor Lawrence | QB - Clemson | 4/1 |
| Jamie Newman | QB - Georgia | 10/1 |
| Spencer Rattler | QB - Oklahoma | 12/1 |
| Sam Ehlinger | QB - Texas | 18/1 |
| D'Eriq King | QB - Miami (FL) | 20/1 |
| Mac Jones | QB - Alabama | 22/1 |
| Chuba Hubbard | RB - Oklahoma St | 22/1 |
| Travis Etienne | RB - Clemson | 22/1 |
| Ian Book | QB - Notre Dame | 28/1 |
| Myles Brennan | QB - LSU | 28/1 |
| Bo Nix | QB - Auburn | 30/1 |
| Sam Howell | QB - North Carolina | 30/1 |
| Kyle Trask | QB - Florida | 30/1 |
| Adrian Martinez | QB - Nebraska | 35/1 |
| Kellen Mond | QB - Texas A&M | 40/1 |
| Kedon Slovis | QB - USC | 40/1 |
| Sean Clifford | QB - Penn St | 50/1 |
| Charlie Brewer | QB - Baylor | 50/1 |
| Najee Harris | RB - Alabama | 50/1 |
| Spencer Sanders | QB - Oklahoma St | 50/1 |
| Tyler Shough | QB - Oregon | 60/1 |
| KJ Costello | QB - Mississippi St | 60/1 |
| Master Teague III | RB - Ohio St | 60/1 |
| Brock Purdy | QB - Iowa St | 60/1 |
Odds courtesy of William Hill and current as of 3/16/20
This is a QB award, so you can throw out the four RB's right away.
We've all seen the switch across college football to the spread offense with less of an emphasis on the running game, and this plays a huge part in the Heisman voting. Also, only three RB's have won the Heisman since the 2000 season, and there's a very good possibility that we won't even see one in New York when the finalists for the award.
The number on Oklahoma QB Spencer Rattler is much too high.
In fact, I'd wager that the majority of people out there have never even heard of him as he hasn't been a household name and has never started a game for the Sooners. Oklahoma has been going the transfer route of late with their QB's with great success (Baker Mayfield, Kyler Murray and Jalen Hurts), but it seems as if Lincoln Riley is going to finally mold a recruit into a starting QB. The offense is going to put up video game numbers as always. However, at this 12/1 number, there just isn't any value there.
If you're looking to bet on one of the top two guys, Trevor Lawrence is a better bet than Justin Fields.
Both guys enter the season in a prime spot to win the Heisman Trophy. They are starting QB's on two of the top teams in the nation, and both are going to be talked about all year long as being top picks in the 2021 NFL Draft. However, barring injury, Lawrence is going to be that guy as his overall hype has been through the roof since het set foot on the Clemson campus. While it's not much, it's also nice that you are getting a slightly bigger price on Lawrence at these current numbers.
Who exactly is Jamie Newman?
Jamie Newman is your new starting QB for the Georgia Bulldogs. He's an explosive player that put up very good numbers at Wake Forest and now gets a chance to start for a big-time program in the SEC after the departure of Jake Fromm. Like Spencer Rattler, he's a bit of an unknown. However, since he actually has some experience, I like him a bit more if we had to pick one of the two.
Lottery Tickets.
There are two guys on this list that are probably worth taking a flyer on at their current numbers. Kellen Mond (40/1) and the Texas A&M Aggies have the chance to take a big step forward in the SEC West. They have a tough schedule with road games at Mississippi St, Auburn and Alabama, but there's a decent chance they start 4-0 heading into their first road game in Starkville. And if that's the case, this 40/1 number will be off the board. In fact, he opened at most places at a number around 50/1, and he is already getting some play. The second guy is Brock Purdy (60/1) from Iowa St. He put up fantastic numbers last season (3,900 yards, a 27/9 TD to INT ratio and eight rushing TD's) and didn't sniff the award last season. That can change this year as I expect his numbers to be even better this season in a wide-open Big 12. If they get past Iowa as a dog in their second game of the season, Purdy and the Cyclones could be 5-0 heading into a road game at Oklahoma St on October 10.
Ian Book - QB Notre Dame (28/1)
This is the only bet I've made so far into the Heisman Trophy pool. Book had a bit of an under-the-radar monster season last year for the Fighting Irish. He led the team to an 11-2 record (losses to ranked Georgia and Michigan teams) and really turned it on towards the end of the season as the team went 6-0, including a blowout win over Iowa St in the Camping World Bowl. Book finished the season passing for just more than 3,000 yards with an insane 34/6 TD to INT ratio. He was also the team's second leading rusher with 546 yards and was second on the team with four rushing TD's. Notre Dame is projected to be a pre-season Top 10 team, and that goes a long way in generating some Heisman buzz, especially early in the season. The schedule also breaks in favor of Notre Dame this season as they have only three true road games along with two neutral-site games out of their first five (Navy in Dublin and Wisconsin at Lambeau Field) that will have eyes on the Irish early in the season. There's a very good chance that Book and the Irish could be 8-0 heading into their November 11 meeting with Clemson in South Bend. And if that's the case, we will see books odds steadily drop from this 28/1 number as the season progresses.
Check out Alan Harris' handicapper page here.