2018 Heisman Trophy Predictions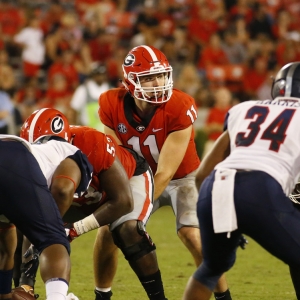 With National Signing Day out of the way it's a good time to look at Heisman futures for any value that can be had. It is very possible that the eventual winner just signed his papers on Wednesday, and it's even more likely that the eventual winner isn't on this list at all. But it is still very fun to look at what could happen and what the odds suggest is possible. Here are some of the more interesting prices offered by Bovada :
Instant $250 Free Bonus Bet from Bovada -
CLICK HERE
J.K. Dobbins, RB, Ohio State (+600): It's no surprise that Dobbins is favored here after the freshman season he had in 2017. He rushed for 1,403 yards, which eclipsed Maurice Clarett's team record. And he averaged a stellar 7.2 yards per carry. Ohio State is loaded with talent and added another strong freshman class this year, so he will have every chance to shine. The price is fair, though the biggest strike against him is his position - Derrick Henry in 2015 is the only non-quarterback to win in the last eight years.
Jonathan Taylor, RB, Wisconsin (+600): If Dobbins is a co-favorite, then obviously another Big Ten freshman back has to be as well. Taylor ran for a ridiculous 1,977 yards and scored 13 times. Through 12 games his 1,806 yards were the third best all time for a freshman - only Ron Dayne and Adrian Peterson have done better. Taylor will put up big numbers provided he is healthy, but Wisconsin is far from a sexy program, so he'll really have to shine to come out on top. I'd bet Dobbins between the two easily.
Tua Tagovailoa, QB, Alabama (+700): It's amazing the difference one partial game can have. Heading into the National Championship Game there is no way this guy would have been anywhere on this list. He was behind an established starter. But one stellar comeback manufactured by his arm changed all that. I'm not buying him as a contender here at this price, though - at least not until he is firmly installed as starter and proves that it wasn't al just a fluke.
Bryce Love, RB, Stanford (+700): Love has a lot going for him. He was the runner-up last year and ran for 2,118 yards and 19 touchdowns. He won the Doak Walker Award as the nation's best running back. And he came back for his senior season despite having a strong future in the NFL. The other thing working for him is that Stanford's running back excellence this decade hasn't been recognized yet. The Pac-12 is tough to overcome, though, and the running back issue is a problem, too. Despite his incredible success, there will be better value elsewhere.
Jake Fromm, QB, Georgia (+1200): The price is right here. He's a sophomore with starting experience that led his team all the way to the Championship Game, he's entrenched as the starter after Jacob Eason's transfer, and he is tremendously talented. Georgia should again be very good, too. He needs to be more of a driving force than a complementary piece this year, but the upside is high enough - and the position is right - so the value here is better than the guys above him.
Khalil Tate, QB, Arizona (+1400): If only he didn't play for a second tier Pac-12 team. Tate has been very successful so far in his career - after playing some as a freshman he rushed for an FBS-record 327 yards in his sophomore debut and was Pac-12 Offensive Player of the Week four weeks in a row - and now he gets to operate in a Kevin Sumlin offense. Sumlin led a freshman starter to a Heisman, so he can certainly do it with a junior. But even if Tate has a stellar year, Arizona isn't going to be good, and that makes it all but impossible for him to win unless he truly sets the world on fire. I'd love to bet on him but just can't.
Kelly Bryant, QB, Clemson (+1800): It's probably not fair to Bryant, but in my mind he is more of a game manager - a good one, mind you - than a true star. And Heismans don't go to guys like that. He has a chance to prove me wrong, but this price holds precisely zero interest for me.
Trace McSorley, QB, Penn State (+2000): This is a very interesting price. Penn State should be very good again, and McSorley doesn't have to share the spotlight with Saquon Barkley anymore. Of course, he also doesn't have Barkley to help him out. The price strikes me as fair - not hugely attractive, but fair.
Cam Akers, RB, Florida State (+2500): There is value here if you like the three backs we have already talked about. Akers is every bit as talented as them, and Florida State should be re-energized under new leadership this year after some struggles. In a comparative sense, then, the price is right.
Drew Lock, QB, Missouri (+2500): After wisely foregoing the draft this year, the massively-talented Lock is popping up in 2019 mock drafts as a prospective first overall pick. Not many people know about him yet - he plays at Missouri, after all - but with a strong start and a signature performance or two in high-profile conference games he could make things interesting.
Want free sports betting picks? Doc's Sports has you covered - get $60 worth of picks free from any of Doc's Sports expert handicappers. Get $60 worth of premium members' picks free .
Read more articles by Trevor Whenham