This Week in Sports Betting, A-Z
by Nicholas Tolomeo - 9/22/2010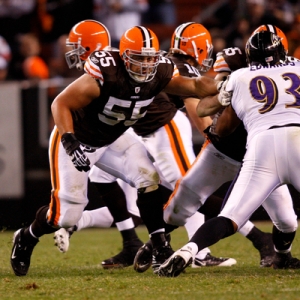 A- Alex Mack. In pileups in the NFL, players are going after the loose ball. On Sunday it appears as though Chiefs defensive lineman Shaun Smith went after another kind of ball. Browns center Alex Mack alleges that Smith grabbed his genitals during a pileup in the first half. "I don't think he should be able to do that," Mack was reported as saying. "I'm still fired up about it." Smith had a great rebuttal, "I don't have no comment." He may have not have no comment but Smith may have incidentally played a hand in his team's win over the Browns. Mack, still enraged about Smith's wandering hands, jumped into a pile and was flagged for unnecessary roughness. The penalty forced the Browns to take a longer field goal before the first half, a field goal that was missed and ultimately cost the Browns, who lost 16-14.
B – Backdoor Cover. The NFL is full of backdoor covers, but if you like betting 'unders' then the NFL primetime games this weekend were especially tough to watch. The Colts and Giants game was destined for the 'under,' the total was 47.5, and the Colts led 38-7 in the fourth quarter and they were salting away the clock getting ready to kneel on the ball. That's when RB Devin Moore put the ball on the ground with two minutes left in the game at the Colts 34-yard line. The VERY next play Eli Manning looked like a quarterback for the first time of the night and connected with Hakeem Nicks for a 31-yard touchdown pass to push the total score to 52 points and send the game 'over'. Twenty four hours later, on Monday night, the Saints and 49ers turned a 9-7 halftime score into a second-half shootout. With a total of 43.5 and the Saints leading 22-14, the 'under' was still looking good until all of a sudden Alex Smith decided to look the part of an NFL quarterback and lead his team on an eight-play 82-yard touchdown drive. The score was 22-20 and still 'under' somehow until, of course, a two-point conversion attempt was successful and 'under' bettors were backdoored once again.
C – Chael Sonnen. The UFC loudmouth nearly proved that Anderson Silva was human at UFC 117 when he came within minutes of beating the champion. But after failing a post-fight drug test we now know that not even performance enhancing drugs are enough to bridge the gap between the contenders and Silva. After the test leaked this week it looks as though one of the gutsiest performances in MMA history will be tarnished.
D – Dion Sims. Michigan State sophomore tight end Dion Sims apparently was trying to open his own branch of Best Buy after allegedly stealing more than 100 laptops with nine other Geek Squad accomplices. The laptops were worth more than $158,000 and sold on various Web sites. Sims has been indefinitely suspended from all team activities.
E – Edwards, Braylon. When does attending a charity event for a teammate blow up in your face? When you are Braylon Edwards and you stumble out of a charity event for Jerricho Cotchery's foundation and get picked up for a DWI at 5:15 a.m. and blow a 0.16. No word on any possible punishment or suspension, but now with Edwards and Santonio Holmes the Jets have one wide receiver who likes to booze and cruise and one wide receiver who likes to wake a bake.
F – Forte, Matt. It appears as commitment is not exactly the forte of this 24-year old Chicago Bears running back. Forte and Chicago's Danielle Daniels were engaged in May after dating for more than a year. On Tuesday it was revealed that Forte's ex-girlfriend, who resides in Louisiana, is pregnant with his child and the expected due date is November. Daniels must have done the math as she immediately called off the wedding. Being named NFC Offensive Player of the Week after his performance in a win over Detroit in Week 1 was not even enough to sway Daniels' decision.
G – Geno Smith. The West Virginia sophomore quarterback has developed into one of the elite passers in college football this season. He does not fit the mold of the running quarterbacks who preceded him, Pat White and Jarrett Brown. Smith has led this Mountaineer team with his arm and his performance against Maryland in a 31-17 win garnered him Big East Offensive Player of the Week honors. Now comes the hard part. Smith and the Mountaineers head to Death Valley Saturday night for a 9 p.m. kickoff against No. 12 LSU. The Bayou Bengals are 25-1 at night in Death Valley under Les Miles.
H – Heart Attack. After nearly giving 78,411 people in Spartan Stadium a heart attack with his fake fieldgoal call in overtime around 11:50 p.m., Michigan State coach Mark Dantonio complained of tightness in his chest after numerous postgame interviews and he was admitted to a hospital Lansing's Sparrow Hospital where at 1 a.m. an EKG revealed he had suffered symptoms consistent with a heart attack. After an overnight procedure to open a blocked blood vessel Dantonio is expected to make a full recovery. Perhaps the same cannot be said for the Notre Dame program. Dantonio, who was replaced by Brian Kelly at Cincinnati in 2006, outsmarted the Notre Dame coach with the fake. Watching the replay of this play reveals a few things: the play clock had actually expired before Michigan State got the snap off on the final play. And ironically some of the final words from ABC commentator Brad Nessler were "It's going to be a pretty good night for Mark Dantonio."
I – Impaled. That's never a word you want to hear in any situation, but that is the official injury report on Cubs rookie outfield Tyler Colvin, who caught the sharp end of a shattered bat in a game Sunday in Miami. The piece of the bat punctured his chest as the 25-year old was rounding third base, but he still managed to score on the play before being rushed to the hospital where a tube was inserted into his chest to prevent a collapsed lung. The injury has ended Colvin's promising rookie season. It also sparked debate about the safety of maple bats, which are notorious for shattering and splintering and becoming projectiles. Colvin is one of the players in the league who uses a maple bat.
J – Jacory Harris. The Miami quarterback was the victim of a stifling Ohio State defense in the second week of the season, and then when he went home he found out he was the victim of an online racial rant posted to his Twitter account. After a four-interception game against the Buckeyes someone posted a racially motivated hate message against the African-American quarterback. Harris and the Hurricanes visit Pitt in a Thursday Night ACC/Big East showdown this week. The Hurricanes are 3.5-point favorites.
K – Kim Kardashian. Serial NFL dater Kim Kardashian and Dallas Cowboys wide receiver Miles Austin have ended their relationship. Sources say the breakup was due to the distance growing between them and not the distance of the 0-2 Cowboys out of first place. Odds on which NFL player Kardashian will move on to next have yet to be released, although the smart money will likely be on Arian Foster.
L – Lions Share. The Detroit Lions have very few legitimate football players, but after Sunday's breakthrough performance by Jahvid Best, the Lions have at least two fantasy playmakers. Wide receiver Calvin Johnson is capable of putting up big numbers and so is Best, who carried the Detroit offense to a near improbable win against Philadelphia in Week 2. In Detroit's 35-32 loss Best accumulated more than 240 yards of total offense and three touchdowns.
M – Matt Diaz. If not for the Atlanta Braves outfielder, the Red Man who raced around the field at Citizens Bank Park may still be running. Dressed in a red spandex full body suit, the Red Man eluded numerous ballpark security guards who were dropping like flies on the outfield grass until Diaz stepped in. He blindsided Red Man with a simple trip that sent the spandexed streaker flying to the grass where, finally, a security guard was able to apprehend him. Diaz's trip actually drew applause from the usually hostile Philadelphia crowd.
N – NBA Preseason. The NBA opens its preseason schedule in relative obscurity with the New York Knicks scrimmaging a team named after Armani Jeans and the New Jersey Nets hosting a team from Israel. The Knicks travel to Milan Italy to take on Armani Jeans Milano while the Nets welcome a team named Maccabi Haifa from the Israeli Basketball Super League.
O – Owls. Temple is 3-0 for the first time since 1979. They own a 31-24 win over the No. 1-ranked team in Division I-AA, Villanova. They also edged Central Michigan and played their best game of the season on Saturday in a 30-16 win over Big East favorite Connecticut. Temple will leave the friendly confines of Lincoln Financial Field for the first time, but for once the Owls are being given somewhat of a chance in Happy Valley. In-state big brother Penn State is favored by only 14 points on Saturday. Compare that to lines of 29.5 the last two seasons and a 36-point spread in 2006.
P- Peyton. Manning Bowl II belonged to the elder Manning. Peyton led the Colts to a 38-14 dominating win over Eli Manning and the Giants. Peyton threw six incomplete passes and three touchdowns. Eli was a pedestrian 13-for-24 for 161 yards, two TDs and one INT.
Q – Quitting. Chris Johnson had rushed for 12 consecutive 100-yard games, two shy of the NFL record. On Sunday at home against Pittsburgh he did not reach 100 yards – he actually didn't even reach 40 -- but he did do something else. According to some Steelers Johnson quit on Sunday while being held to 34 yards. Johnson shouldn't feel bad that his 12-game streak of topping 100 yards is over. It was the third time in three tries the Steelers held him to less than 100 yards and only two running backs have rushed for more than 100 yards against the Steelers since 2007.
R – Rufus. The Ohio University mascot became the most famous mascot this side of the drunken Nittany Lion when he blindsided Brutus the Buckeye and continued to brawl with him up and down the Ohio Stadium field to the shock of everybody. It turns out this was a premeditated mascot attack. Ohio University's mascot Rufus Bobcat was not simply content to be dressed as a mascot for his four years of college. He had ulterior motives. Going back to the day that Brandon Hanning tried out to become Rufus his goal was to tackle Brutus. He fulfilled his goal on Saturday after sideswiping Brutus Buckeye at midfield and later riding him down to the ground in the endzone in front of 105,075 stunned onlookers. The humor of the situation was not lost on Ohio coach Frank Solich, "Obviously we needed to tackle the guy with the ball, not the mascot."
S – Stewart, Bill. The West Virginia head football coach is well aware of the point spread, that much was evident during a recent press conference. Stewart was asked by legendary reporter Mickey Furfari if he was surprised that the Mountaineers were six-point favorites in their upcoming game in Baton Rouge against LSU. West Virginia is actually an underdog in the game. Stewart responded, "Mickey, you got the wrong bookie."
T – Two and Oh? 2-0 just isn't what it used to be in the NFL. Take for example some members of the current crop of 2-0 NFL teams: Chicago Bears, Tampa Bay Buccaneers, Miami Dolphins and the Kansas City Chiefs. All four teams missed the postseason last year and were a combined 22 games under .500. Want to talk about lack of respect? The 2-0 Chiefs are three-point underdogs this Sunday against 0-2 San Francisco…in KANSAS CITY.
U – USC. If you win a Heisman Trophy at USC you have a 71-percent chance of keeping it. Of the school's eight Heisman Trophy winners, one was vacated and one was auctioned off. Reggie Bush voluntarily returned his trophy this past week and back in 1999 O.J. Simpson's award was put on the auction block to help pay part of his $33 million penalty for the wrongful death civil suit he was found guilty of in the case of Nicole Brown and Ronald Goldman.
V – Vontae Davis. Numerous baseball players have been injured during walk off home run celebrations and, even a kicker in the NFL (Bill Gramatica) injured himself during a celebration. However, Miami Dolphins CB Vontae Davis may have been the first position player to injure himself during a tackle celebration. After a tackle on Minnesota TE Visanthe Shiancoe, Davis strained his hamstring doing some sort of remix of the Mile Hile Salute.
W – Week 2. They are who we thought they were! Three teams who were not happy to see Week 2 come around were Arizona, Jacksonville and Seattle. All three teams came crashing back down to earth after surprising Week 1 victories. It took NFL fans until the second week of the season not just to realize that the three teams in question remembered how to lose, but they all remember how to lose in style. Seattle lost by 17, the Jaguars lost by 25 and Arizona lost by 34 to a Falcon team who didn't score a touchdown in Week 1.
X – eXtra Point. College football programs in Arizona are finding out the importance of the extra point. Arizona State and Arizona were both involved in games against ranked Big Ten teams, and the key play of each game ended up being an extra point. On the road at No. 11 Wisconsin, the Sun Devils scored a fourth-quarter touchdown to pull within 20-19, but the ensuing extra point was blocked with just over four minutes remaining. The Sun Devils would not score again. The shoe was on the other foot for Arizona who watched as Iowa rallied back from a 24-7 lead in Tucson to tie the game 27-27 with an Iowa extra-point still to come. That fourth-quarter extra-point was also blocked. Iowa would not score again and Arizona escaped with a 34-27 win.
Y- Yards of Blue Paint. That is exactly what was delivered to Oregon State this past week as the Beavers painted their practice field blue as they prepare to head to Boise State and play on the blue smurf turf. The ingenious idea to paint the Beavers practice field blue came from Oregon State AD Bob De Carolis. The No. 24-ranked Beavers will need all the help they can get in preparation for the game. Oregon State is 17-point underdogs at No. 3 Boise State Saturday night. The total paint used on the field came out to 440 gallons with an anonymous donor covering the cost.
Z – Zbikowski, Tom. The Ravens offense has mustered exactly 20 points through two games this season, third worst in the NFL. Considering the struggling offense, plenty is being asked of punt returner Tom Zbikowski, the former Notre Dame standout. He took a lot of heat after looking far from comfortable in Week 1 and averaging only 1.3-yards per return on his four punts. Last week in a 15-10 loss to Cincinnati Zbikowski nearly broke two punt returns, returning one 10 yards and another 20 yards. It appears he may be the Ravens best chance at getting in the endzone again.