Tim Tebow in the NFL Draft
by Trevor Whenham - 3/26/2010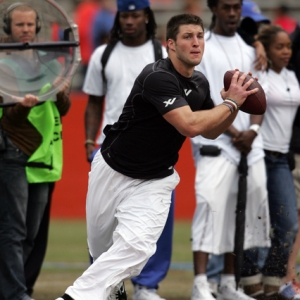 There are several players likely to have more impactful NFL careers in the NFL, including a couple of quarterbacks, but no player has been at the center of more discussion, debate or controversy than Tim Tebow. Opinions about him are all over the board. Coaches like John Fox and Pete Carroll have turned heads by gushing over him. Miami QB Chad Henne stirred up a hornet's nest last week when he suggested that he didn't think that Tebow was an NFL quarterback. So what kind of a pro is Tebow going to be? Is he worth a first round pick in the NFL Draft ? We likely won't know for at least a couple of years how this is going to turn out, but that doesn't mean that it's not fun to speculate. Here's a collection of thoughts and ideas about what we might see from Tebow:

New throwing motion - One of the big reasons given for the renewed optimism around Tebow - he was widely seen as a third rounder before his pro day, and now could even go in the first round if you believe the hype - is the new throwing motion that he has developed since the end of the season. His old motion was seen as too low for the pro game, so the new motion addresses that. It has been almost universally praised, and in glowing terms in many cases.
Am I the only one who finds this more than a little strange? It's one thing to change a motion on the practice field, but an entirely different thing for him to do it on the field in a game.
We don't know if he is going to be able to keep the motion in a game situation, and we can't know if it will work for him even if he does. A whole new motion at this point is a big risk. Besides, it's not like the guy was a total disaster - he threw for more than 2,700 yards three years in a row. If teams are basing their renewed love for this guy on what he showed with the motion, and it seems they are, then that makes me more than a little nervous.

Precedent - Pretty much no matter how you look at it, history doesn't paint a bright picture of the potential for Tebow's career. Heisman winners? Rushing quarterbacks? Neither have been particularly dominant in the pros. To say the least.
If you look back over the last 20 years you find just one Heisman winning QB, Carson Palmer, who has gone on to have a good career, and even he isn't as good as he has the potential to be. Smith and Leinart haven't had a chance yet; Crouch never had a chance; Weinke was ancient when he entered the league; Wuerffel, Ward, Torretta, Detmer - all big disappointments. Based on what has happened it's safer to just assume Tebow will be a bust.
Looking at guys who relied on their feet isn't much help, either. Eric Crouch leads the way in all time touchdowns with 59 - two more than Tebow. He couldn't even get a chance to be a quarterback. Pat White is the all-time leader in rushing yards. He's a quarterback in Miami, but only sort of. He only really plays in a wildcat set-up - though when a quarterback goes in for a wildcat formation it's really just a way for an NFL team to run an option without getting mocked. I'm not suggesting for a second that Tebow can't succeed because Crouch didn't. That's ridiculous. The league has not at all been accepting of running quarterbacks, though - and Michael Vick hasn't really helped that perception in a few different ways - so Tebow has more to prove and to overcome than other players in his situation would have.
That will especially be a problem if he is drafted as high as is speculated - and probably higher than he really merits. He's already going to face a whole lot of scrutiny and pressure, and the higher he is picked, the worse it will be. Up until this last season I wouldn't have worried about him and the pressure, but this last season wasn't exactly a storybook for him.

Draft invitation - This is one of the more interesting clues to discuss around this issue. The NFL has officially invited eight players to be present at the draft, and Tebow is not among them. There are more to be invited, though, and speculation is running high that Tebow has heard that he will be invited. Since the draft has moved to a format with just one round on the opening night the league would never invite a player - especially one as high profile as Tebow - if they weren't certain that he was going to be picked. If Tebow really is going to be invited then the league knows more than almost all of the people who are compiling mock drafts for various outlets. It's another wrinkle in a strangely compelling story.