Wide Receivers in the 2010 NFL Draft
by Aaron Smith - 3/25/2010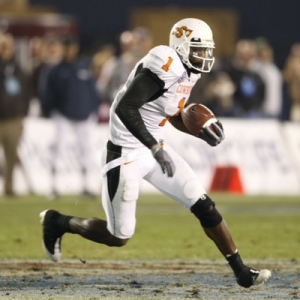 The wide receiver position is a need for many teams in the NFL today, but if anyone out there is looking for a Calvin Johnson-type of freak athlete in this draft, they'll be quite disappointed. This year's class of wide receivers is full of solid athletes with plenty of skill, but none are absolute sure-thing stars in the league. Those speedy receivers may as well get ready to find a home in Oakland! The group as a whole is fairly deep, but there are quite a few hit-or-miss type players in this year's NFL Draft.
Here are 2010 NFL Draft Wide Receiver Rankings:
Dez Bryant, Oklahoma State- The suspension in 2009 has raised some questions about his conduct, but his skills are tremendous, and he will likely be the top receiver drafted this year. Bryant proved himself on the field as a sophomore, and his 6-foot-2 frame and strong technique off the line of scrimmage is hard to look past. Expect Bryant to go off the board in the middle of the first round.
Golden Tate, Notre Dame- It's only fitting that someone with this name was a wide receiver at Notre Dame. Tate is a great prospect who has blossomed in a big way over the past year or so. He is only 5-foot-10 or 5-foot-11, but his great leaping ability does help his cause. The 4.36 40 yard dash he ran wowed the scouts, and Tate is already NFL ready. Many see him in the mold of a Steve Smith of the Carolina Panthers.
Arrelious Benn, Illinois- Benn is a tough one to measure because he may well have the highest upside of anyone in the draft, but he has to mature quite a bit. His junior season at Illinois wasn't spectacular, but we do have to remember that Juice Williams was the quarterback at Illinois. Benn drops too many passes and needs to stay focused, but he definitely has potential.
Damian Williams, USC- The Trojans have sent quite a few good receivers to the NFL of late, and Williams appears to be the next in line. Williams has great hands and is a solid route runner. He is fairly slight at just 6-foot-1 and 195 pounds, but he gets up the field well and should help a team quickly.
Mardy Gilyard, Cincinnati- Gilyard had a sensational season for the Bearcats last year. His numbers were astronomical, but he got a lot more chances in the spread offense than he ever will in the NFL. Gilyard will likely be drafted in the second or third round and will be used as a punt returner as well.
Demaryius Thomas, Georgia Tech- Don't look at Thomas' stats and wonder why he is listed this high. The Tech offense did absolutely nothing to help his cause, and Josh Nesbitt struggled mightily when forced to throw the football. Thomas has great size at 6-foot-3 and 225 and is an absolutely terrific blocker.
Brandon LaFell, LSU- Many lists will probably have LaFell higher than this, but I wonder about his lack of game-breaking speed. The 4.59 he ran at the combine didn't impress scouts. LaFell definitely uses his body well and is a good possession receiver.
Carlton Mitchell, South Florida- Mitchell has been quickly climbing the draft boards over the last few weeks. At 6-foot-3 and 215 pounds he has a big frame, and he also ran a solid 4.49 at the combine. Expect him to get drafted sooner than most experts are predicting.
Andre Roberts, The Citadel- Andre Roberts catches everything thrown near him, and he runs very clean routes. His 5-foot-11 frame is a bit of a problem, but with all the other intangibles he is showing; someone will definitely take a chance on him.
Jacoby Ford, Clemson- Surely Al Davis and the Oakland Raiders are interested in Ford. Jacoby ran a 4.28 40-yard dash at the combine and blew away the rest of the receivers. He is listed at just 5-foot-9, and can have trouble getting off the line; but with this speed he'll find his way to the league.
Jordan Shipley, Texas- Shipley was Colt McCoy's top target for several years at Texas. He has shown his ability at the collegiate level, but many question whether he can get open consistently in the NFL. At just 5-foot-11 and with a 40 time of 4.57, he'll be drafted late.
Dezmon Briscoe, Kansas- It takes Briscoe a while to get going because of his long strides, but he runs solid routes, and his 6-foot-3 frame makes him a difficult cover. The lack of experience in a pro-style offense is holding him back.
Eric Decker, Minnesota- Decker would likely be a little higher on the list if he hadn't suffered a season-ending foot injury last year. Decker is tall at 6-foot-3, and he is a great route runner. He won't be spectacular, but he could help an NFL team soon.
Riley Cooper, Florida- As Tim Tebow's deep threat, Cooper had a successful collegiate career at Florida. His 6-foot-3 frame and his ability to adjust to the ball, while in the air helps him greatly. Cooper will need to work on his route running.
Blair White, Michigan State- White ran a terrific 4.42 40 recently, and his experience in a pro-style offense is encouraging to scouts. He does nothing spectacularly, but does just about everything well. He'll get a shot in the late rounds.