2011 Detroit Tigers Predictions and MLB Futures Odds
by Robert Ferringo - 3/28/2011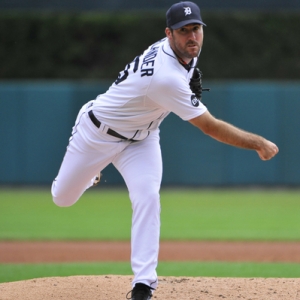 Despite four of five years at .500 or better the Detroit Tigers have yet to break through and really establish themselves among the American League's elite teams. A big part of that has to do with the fact that they haven't won a division title in 23 years. But in a division that should be as tightly contested as any in baseball the Tigers are one of two teams – Minnesota and the Chicago White Sox being the others – that should be fighting and clawing for the American League Central crown this summer.
And if there is one thing we know about Detroit and about a Jim Leyland-led team it is that they are always ready for a fight.
YouWager.eu is the Top sportsbook of choice when it comes to customer service and fast payouts. Make your first deposit and receive an additional 100% welcome bonus worth up to $1000 courtesy of YouWager.eu online sportsbook! Use PROMO CODE DOCSPORTS
Here are Doc's Sports 2011 Detroit Tigers Predictions and MLB Futures Odds:
2010 Record: 81-81
2011 Wins Over/Under: 83.5
Odds To Win 2011 AL Central: 2.3/1
Odds To Win 2011 AL Pennant: 11/1
2011 Detroit Tigers Odds to Win the World Series: 22/1
Pitching: Detroit's rotation isn't going to overwhelm anyone. However, I do think that they have the least number of question marks in their starting five arms than any other team in the division. Justin Verlander is a true ace and one of the best in the business. Max Scherzer and Rick Porcello are both a bit overrated, in my opinion, when you compare their production with their alleged "potential". However, they are a pair of live, young arms with plenty of upside. Brad Penny, who flamed out in Boston but has since shown promise, follows them up. In his last 15 starts from the end of 2009 he has notched a 2.96 ERA while winning eight games. Beyond that is the only lefty, Phil Coke, and I think that could be a weakness. The bullpen is a little untested, but is coming off a solid season. They were No. 2 in the Majors last year by blowing just 13 saves and their 3.97 pen ERA was No. 14 in the league. Joaquin Benoit is legit as their eighth-inning guy. And if they can ever get Joel Zumaya healthy he can be a light's out setup man. Jose Valverde is not a guy I would want closing for me, but he has converted 142 of 163 save opportunities over the last four seasons. Overall this is a solid, but not elite, staff with some legit upside.
Hitting: When you have Miguel Cabrera hitting in the middle of your order you are going to score some runs. (That is, when Cabrera is sober.) Detroit's first baseman is coming off another insanely productive year in which he finished No. 2 in MVP voting while going off for .328-38-126. Cabrera is bracketed by professional hitter Magglio Ordonez and free agent acquisition Victor Martinez and that trio is as good as any in the American League. Detroit has a young, scrappy core of hitters filling out the rest of the roster. I think Austin Jackson has the potential to be a special player and if he breaks out this season then all hell could break loose for this offense. Beyond that there are a bunch of tough outs, but no one that is going to scare opposing pitchers and no one with top-end talent. They were No. 6 in team batting last year but just No. 11 in runs scored. That may not seem like a big spread but it is just inefficient enough to hold them back.
Key Stat: At 16-26 the 2010 Tigers were the worst team in the Majors in one-run games. They had the fewest wins and the worst winning percentage of any team in the league. This is usually a great indicator of a team that is ready to bounce back.
2011 Detroit Tigers Predictions: I have good vibes about this Detroit team this year. "Solid" is just the word that comes to mind. Of course, they have the high-end superstar talent that any contender needs, with Miguel Cabrera, Victor Martinez and Justin Verlander among the best in the business. But the real strength of this team is that they don't have any obvious holes in the foundation around this team. I think the pitching is going to be inconsistent. But I think that the good outings are going to be exceptional and the bad ones are going to be dreadful. So this team may be streaky. But at the end of the day I think they are going to get in a three-way battle with Minnesota and Chicago for the Central crown, and I think they will get ahead of the Twins. And if any bad luck – injuries, bad bullpen play, etc. – befalls either or both of the Twins and Sox then Detroit will be right there to snatch a playoff berth.
2011 Detroit Tigers MLB Season Win Totals Predictions: Take 'Over' 83.5 Wins. I really like this Tigers team and it's easy to forget that they were just one week away from making the playoffs in 2009 and outside of one just horrific month last year they were one of the best teams in the Central. They went 6-22 between July 11 and August 10 but won 56 percent of their games otherwise. I think their offense is deeper and more consistent and as long as their pitching staff doesn't flame out I think they have enough quality to be in this race again in September.
Robert Ferringo is a professional sports handicapper for Doc's Sports. He is considered one of the top MLB cappers in the country and has turned a profit in four of the last five years on the diamond with his baseball picks. He closed 2010 with $6,000 in earnings over the last four months and is looking forward to a great upcoming season against the MLB odds. Click here for more information on his MLB picks.