Monday Couch Potato: NFL Week 2/NCAA Week 3 Betting Recap
by Alan Matthews - 9/19/2011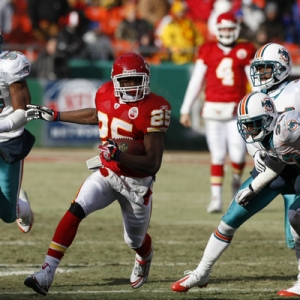 Welcome again to the Monday coach potato, a recap of the football weekend that was. Why the title? Everyone does "Monday morning quarterback" so what fun is that? I'm not a quarterback and I simply sat on the couch and watched as much football as humanly possible over the course of the weekend. So that title seems more apt. Yes, this is the same lead as last week, but I just wanted to make it clear!
Here, then, are three things that stood out to me over the weekend.
Now is the time to bet on Chiefs
No, I wasn't drinking when writing "now is the time to bet on Chiefs." Yes, I am aware that after getting blown out of the water 48-3 in Detroit on Sunday that Kansas City has been outscored 99-10 this year. That's the largest margin of defeat through a team's first two games by any NFL club since 1989 and the biggest for any reigning division champion ever.
Did Kansas City simply do it with mirrors last year? Perhaps. But the Chiefs had the NFL's top ground game in 2010 behind Jamaal Charles. And he tore his ACL in Sunday's loss, perhaps because he stepped on that piece of plastic that marks where the first down line is on the sideline. It's the third crushing season-ending injury already for K.C., which has seen tight end Tony Moeaki and safety Eric Berry go down. But as good as Charles may be, the Chiefs have some of the best depth in the NFL at running back with Thomas Jones, Dexter McCluster and Le'Ron McClain. Jones actually had more carries than Charles last season and rushed for 896 yards. McCluster, a Darren Sproles-type, had eight carries for 51 yards against the Lions as K.C. still managed to rush for 151 yards.
I guess my point here is that the Chiefs are now going to be undervalued as people pile on and they aren't that bad. The Chiefs already are 14.5-point dogs this week at San Diego. Jump on K.C. to cover.
Maybe Bears aren't that good after all
A lot of people were back on the Chicago Bears bandwagon following their impressive Week 1 home victory over Atlanta as three-point home dogs. Chicago was a popular pick to upset the Saints this week as seven-point dogs – in fact there was so much action on the Bears that the line dropped as low as 4.5 points at some books.
But people overlooked that Jay Cutler was sacked four times in the season-opening win, and he was under siege all day against the Saints. New Orleans got to Cutler six times and it could have easily been 12. Last year Cutler was sacked an NFL-leading 56 times. Now he's on pace to go down 88 times (plus right tackle Gabe Carimi was lost for a month).
Look for the Bears to appear very different offensively starting this week. Coach Lovie Smith seemed to throw OC Mike Martz under the bus in Monday's press conference. He said the Bears clearly didn't have the type of offensive balance he wanted as Chicago threw the ball 45 times and rushed it only 12 despite the fact that RB Matt Forte is the team's best offensive player.
What's with all the NCAA big-game 'unders'?
Apparently defense still rules in college football despite the proliferation of spread offenses across the country. LSU, which already shut down high-powered Oregon, held a Mississippi State rushing attack that was No. 6 in the nation to only 52 yards. Five days earlier MSU had put up 333 yards on Auburn. The LSU-MSU total was 48. LSU won, 19-6.
Oklahoma surprisingly got star LB Travis Lewis back from injury and held Florida State to 246 yards and had six sacks, including knocking FSU star QB E.J. Manuel out of the game. FSU's defense was about as good, holding the Sooners to only 310 total yards. QB Landry Jones had only 199 passing, his lowest total in nearly two years – which may have cost him a shot at the Heisman Trophy. The OU-FSU total was 56. It ended 23-13.
Miami's defense, bolstered by the return of three key starters, held Ohio State to four completed passes for a total of 35 yards. The Buckeyes clearly have QB issues as they lost a road game to an unranked nonconference opponent for the first time since 1988. The OSU-Miami total was 46. It ended 24-6 Hurricanes.
Other big games going 'under': Stanford-Arizona, Michigan State-Notre Dame, Navy-South Carolina and Arizona State-Illinois. Not saying this is a trend, but just be aware that defenses still matter. So keep that in mind when a high-powered offense faces a big-time defense: I'm looking at you Arkansas-Alabama (one of Week 4's top games).