NFL Draft Grades: First Round
by Robert Ferringo - 4/29/2011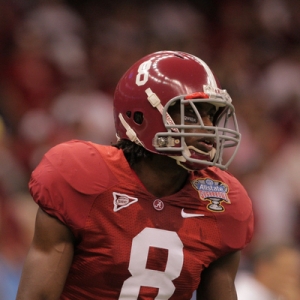 The first round of the 2011 NFL Draft is in the books. Since it takes at least three years to properly grade an NFL Draft it is tough (see: impossible) to make snap judgments and accurate NFL draft grades on how teams handled their first round selections. However, since we live in a now-isn't-fast-enough society and since I'm a Populist (sometimes) I will give the masses what they want.
Keep in mind: NFL Teams have about a 40 percent chance of striking gold with their first round pick. Since 1997 there has been an average of 12 players taken in the first round that go on to appear in at least one Pro Bowl. I excluded the 2008-2010 drafts because the players taken then really haven't had a fair amount of time to fully develop (although 16 of the 95 picks in those three years have already been named Pro Bowlers).
So my grades are based on a variety of factors. But, most importantly, I tried to gauge if teams were able to snag one of the guys headed for that 40 percent mark, and if so if the pick met a team's needs and if they made their play at the appropriate value.
Also, come back on Monday when I give a full, knee-jerk reaction, with analysis, as well full NFL draft grades for how teams handled the weekend. And without further ado, here are Doc's Sports 2011 NFL Draft grades, going in order of each team's first selection:
Carolina Panthers – B- (Cam Newton)
I can't fault anyone for taking the overall best player first overall. But I just know I wouldn't want Newton on my team.
Denver Broncos – A- (Von Miller)
John Fox is going right to the defensive side of the ball. They got the best player at his position and filled a need. Mission accomplished. (P.S. – Miller's glasses get a D-. Get some contacts, dude. You look like Bowfinger's brother.)
Buffalo Bills – B+ (Marcell Dareus)
They didn't end up with Newton – he would have been a disaster in Orchard Park – so that was a win, and they got a lineman that is ready for meaningful minutes. They only get knocked because their pick wasn't all that inspiring to their desperate fan base.
Cincinnati Bengals – C+ (A.J. Green)
First, let me say that I love A.J. Green. The guy has freakish ability and I think he could be a Larry Fitzgerald-type stud. So great job. But I don't think that wide receiver was the most pressing need for this club. Also, rumor has it that they could have traded this pick to Atlanta for a boatload of picks. But I will give credit: they avoided the vintage "Bengals move" by actually getting a potentially great player.
Arizona Cardinals – A (Patrick Paterson)
Great player. Fits a need. Obviously didn't want a QB. Nothing I can knock about this pick and I think that Paterson will be an excellent NFL player.
Atlanta Falcons – B- (Julio Jones)
Look, I swear I was one of – if not THE – only analyst in the country screaming for Atlanta to get a wide receiver. So I absolutely love the fact that they went out and got a potential stud to pair with Roddy White. Good times. But I think that they gave up entirely too much to make that happen. Had they got A.J. Green the city of Atlanta would have gone bonkers. They didn't. And this young team with an excellent foundation really just handcuffed itself for the next couple years.
San Francisco 49ers – B (Aldon Smith)
I'm not overwhelmed by this pick one way or another. He has excellent athleticism, but it is always dicey to take a defensive end and try to turn him into a linebacker.
Tennessee Titans – D+ (Jake Locker)
Good luck with that. This organization is a mess.
Dallas Cowboys – A (Tyron Smith)
For the first time ever, Jerry Jones takes an offensive lineman (as I predicted). It was a smart move and they got solid value in this spot. There really isn't a ton more to say: they got exactly what they needed.
Jacksonville Jaguars – B- (Blaine Gabbert)
I don't really understand trading up for him, but they must've loved him. I know that everyone and their sister have been praising Jacksonville's bravado today. But that all depends on how Gabbert pans out. I'm not sure he was worth the risk.
Houston Texans – D- (J.J. Watt)
Why? I just don't understand why this team constantly ignores its secondary, which has been one of the worst in NFL history over the last decade. They could have stolen Prince Amukamara, a very talented player, and started to address their most glaring need. Instead they took a high-risk, high-reward pass rusher who will likely be a one-down player his first year or two.
Minnesota Vikings – D (Christian Ponder)
They must know something I don't. I don't understand this pick at all and the bottom line is that I think they could have gotten him in the second round. And even if they didn't I think they could have taken a top prospect here and then, if they were desperate for a QB, gotten Ryan Mallet later. I don't totally dislike Ponder but there is no way he deserved to go here.
Detroit Lions – A- (Nick Fairley)
In the weeks after the national title game Fairley was the consensus No. 1 pick in every bobblehead mock draft in the country. So to get him at No. 13 is a steal. Detroit had other needs – and I think they would have been better served going with a cornerback – but I kind of love the fact that they went with another stud lineman. It shows that this team is committed to building its roster with a solid foundation.
St. Louis Rams – B+ (Robert Quinn)
The Rams scored by getting one of the best pure pass rushers in the draft. Good for them. But they had other needs. I would have much rather seen them take Mike Pouncey or Prince. I am assuming they couldn't trade down either because that would have been their best move. (Outside of trading up for one of the stud wideouts.)
Miami Dolphins – A- (Mike Pouncey)
I really felt like the Dolphins were in no-man's land in this spot. But because of the early run on quarterbacks Pouncey slid to them. I think the Fins need more help on defense. But Pouncey was too good to pass up.
Washington Redskins – B- (Ryan Kerrigan)
On the one hand I give the Redskins credit for not blowing their draft up by giving their picks away. On the other hand I really have to wonder about this pick. Kerrigan is a high motor guy. But they have plenty of them. This defense desperately needs an athletic pass rusher and I think they could've done better.
New England Patriots B+ – (Nate Solder)
The Patriots traded down. Ho-hum. And they were smart enough to use their one pick on a top end offensive line prospect rather than sift through the remaining defensive linemen. Good show.
San Diego Chargers B – (Corey Liuget)
I am very wary of Illinois players. I don't think that the Chargers had any real glaring needs and Liuget could fit well into their system. A.J. Smith always does well in the draft so I will give him the benefit of the doubt here.
New York Giants – A- (Prince Amukamara)
The G-Men are a very tough team to predict. But they got sensational value (I still can't believe both the Texans and Lions passed on him) and a guy that they can plug-and-play in his first year.
Tampa Bay Buccaneers – B+ (Adrian Clayborn)
Here was another prediction that I nailed. Clayborn was projected as a Top 15 pick last year and then saw his stock drop because of an underachieving senior season. But he has a lot of raw talent and a high upside. The Bucs have been red hot with these types of picks the last two years. We'll see if they stay that way.
Cleveland – A (Phil Taylor)
There is no doubt that this team desperately needs some skill position players. But they took the long view and they hauled in a load of draft picks from the Falcons. That was a great trade for a team that is still in the beginning stages of the Mike Holmgren era. Do you have any doubt he is going to put those picks to good use? Me neither.
Indianapolis – C+ (Anthony Castonzo)
I knew that the Colts were going to placate Peyton Manning once again. This team has sprung leaks all over the field, yet they continue to bring in guys for the express purpose of keeping Manning happy. Now, this team has been among the two or three best in football over the past decade precisely because they have mastered the draft. And Castonzo has a chance to be really good. But I felt like they had other needs to fill.
Philadelphia – B (Danny Watkins)
The Eagles took a lineman in the first round. Ho-hum.
New Orleans – A (Cameron Jordan, Mark Ingram)
There is nothing not to like here. I am not a huge fan of drafting running backs in the first round (because of their bust rate plus short shelf life). But Ingram is a legit Heisman winner and shows that he Saints are smart enough to realize that their offense is at its most dangerous when they can run the ball. Jordan fell in their lap and is kind of a boom-or-bust pick.
Seattle – C- (James Carpenter)
This headline from the Seattle PI sums it up: "(sic) who the heck is James Carpenter?" This was a huge reach, whether the Seahawks felt he fit a need or not. They still had their pick of the litter with Gabe Carimi and Derek Sherrod on the board.
Kansas City – B- (Jon Baldwin)
I thought that this one was a bit of a reach. Baldwin definitely has talent. But he also has plenty of baggage and when I watched him play I just never got the feeling that he was a superstar-in-waiting. I would have liked to have seen the Chiefs continue to build the foundation on their offensive line or their defense.
Baltimore – A- (Jimmy Smith)
The Ravens desperately needed a cornerback and they got one. Teams take note: sometimes it really can be that easy.
Chicago – A- (Gabe Carimi)
With the exception of their little snafu with Baltimore, the Bears had a solid first day for the first time in a long time. They needed a massive tackle to rebuild their offensive line around and they got one. Jerry Angelo – for once – didn't get cute and just took the best player available at the area of Chicago's biggest need. Kudos.
New York Jets – B (Muhammad Wilkerson)
I'm unmoved by this pick one way or another. Wilkerson was a man amongst boys in the MAC. It won't be as easy in the AFC East. But I trust Rex Ryan's analysis of defensive talent.

Pittsburgh – C+ (Cameron Heyward)
There is no way that I would be drafting Ohio State defensive players. If you look over the last five or six drafts the Buckeyes – the most overrated college program in the country – have produced nothing but busts. James Laurinaitis and Malcolm Jenkins have been the two best defensive players to come out of the school in the last half-decade. The rest have been busts.
Green Bay – A- (Derek Sherrod)
I will rarely bang on a team for using a first round pick on an offensive or defensive lineman. So I really like this pick for the Packers. Even though they are the Super Bowl champions there is no denying that their line is a weakness and needs a talent upgrade. Sherrod has the chance to be a stud and is one of the most athletic linemen in the draft.