NFL Draft: Players That Should Have Immediate Betting Impact
by Trevor Whenham - 2/11/2011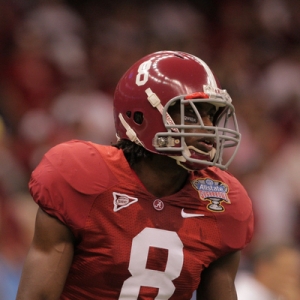 With the Super Bowl over we have officially entered NFL Draft season. Actually, this year we have entered lockout season, but that's too depressing to think about so I'll ignore that and concentrate on the draft. There is so much hype around the draft every year that it's ridiculous -- and it keeps growing. A lot of players don't have the impact that people expect them to right away -- people expect much more immediate gratification from the draft than is usually possible.
Every year, though, there are a few guys that have an immediate impact on their team, and which fatten the wallets of bettors because of how quickly they can contribute and improve their teams.
This is a strange year for the draft. Thanks to the absence of Andrew Luck there isn't a home-run quarterback. There also isn't a running back that is sure to blow things apart. Offensive linemen -- especially left tackles -- are highly valued in the draft, but there quite possibly won't be an offensive lineman in the Top 12 of the draft this year. This is a great year if you need a defensive lineman, but it's a stretch at a lot of other spots -- at least early on.
Here are seven guys that stand out right now as guys that have the combination of the skills and the likely draft spot to contribute right away and help bettors out. The notable exception from this list is DT Nick Fairly of Auburn. While he is a beast, and the Lions' showed what impact a DT can have on a team right away, I personally am not entirely sold on Fairley -- at least not right away. I think he will be a good player, but I expect more of a transition period than some people seem to:
Prince Amukamara, CB, Nebraska - Amukamara has the reputation for being the hardest working player in the first round. He's a pure athlete and a shutdown corner. A cornerback can have a big impact on a pass defense -- especially one that has been burned by the pass in the past.
The biggest reason that he could have an immediate impact, though, is where he is likely to be drafted. He's not a likely Top-5 pick, and is more likely to go in the 7-9 range. That would see him go to San Francisco, Tennessee, or Dallas -- three teams with nice defensive pieces in place that he could improve immediately and be a part of a winner.
Julio Jones, WR, Alabama and A.J. Green, WR, Georgia - Wide receivers often struggle as youngsters, but young guys can go in and have a solid impact if they have the right attitude and nice skills. Both of these guys fit on those fronts.
They both have been very well coached, they are hard workers that play right, and they are both ridiculously athletic.
It depends on where they end up, but both guys have the ability to make a good quarterback better right away. They would be best served if they land in a place that already has a No. 1 guy so that they don't have to carry the load and face top corners from the start.
Mike Pouncey, G/C, Florida - This one's all about the name. Mike's brother Maurkice was a Pro Bowler as a rookie center for the Steelers, and a big part of the reason they had the season they did. Mike is pretty much as talented, and he has the same type of work ethic and studiousness that was part of the recipe.
Ryan Kerrigan, DE, Purdue - I'm a Big Ten guy, so I have seen a lot of Kerrigan the last couple of years. I love his game. He doesn't have the raw physical tools of the top defensive ends in this draft, but he has a ruthlessness and relentlessness that is second to none. When the guy decides he is going to disrupt a play he doesn't stop until he does so.
The other reason to like him is that he is very likely to drop into the bottom half of the first round, so he is going to land on a team that is already pretty solid. Add a good pass rusher to a good team and big things can happen right away.

Da'Quan Bowers, DE, Clemson - This one is a no-brainer. Bowers is the best pure pass rusher in the draft. Beyond that he's a physical beast, and he plays very smart as well. He's going to go right near the top of the draft -- first is a good bet -- so he's going to be asked to step in right away, and he has the skills and desire to make a huge impact from the start.
Pass rushers are hit and miss in the draft, but we have seen several examples in recent years of guys who hit the ground running and improve their teams notably right away.
Blaine Gabbert, QB, Missouri - Gabbert is probably not the guy with the biggest potential upside in this draft -- that would be Cam Newton -- but he's the guy who is closest to being ready right away. If he ends up with a team who needs a new guy -- like potential landing spot Arizona, for example -- then he has a shot at starting right away.
He's no Sam Bradford, but guys less talented than Bradford have still been able to be surprisingly good right away and make bettors some money.